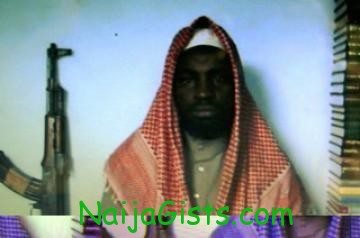 Sept 17, 2012 – Boko Haram, Abul Qaqa Spokesman Killed
On Monday Sept 17, 2012, Nigerian soldiers claimed they have killed a man who is suspected to be Abul Qaqa, the spokesman for Boko Haram terrorist Sect in Nigeria. naijagists.com
In addition to the death of Abul Qaqa aka Abu Qaqa, Abdul Qaqa, two other high ranking Boko Haram members have also been arrested.
"We carried out an operation early this morning in which we killed a media man of Boko Haram terrorists and arrested two field commanders of the sect," said Lieutenant Iweha Ikedichi, spokesman for a military task force, adding he did not have their exact identities. – a military official said.
The operation was carried out at a checkpoint on the outskirts of Kano
As at the time of this report, Boko Haram sect is yet to confirm his death.
It turned out that the man captured was not Qaqa as the Boko Haram spokesperson continued to act on behalf of the militant Islamic sect, calling journalists on phone and issuing statements on behalf of the sect.
The capture of Qaqa must have offered some relief to Nigeria's security agencies, in the wake of the continued killing of Nigerians by gunmen of the sect.