Entertainment News
Inside Aretha Franklin's Broken Marriages And Complicated Family History
By Juliet Ebrim, Vanguard
Behind her seemingly effortless stage performances and the endless adulation that was showered on her, Franklin was a troubled soul. The product of a broken home and a philandering preacher father, she became pregnant for the first time when she was 12 and had had two children by different fathers by the time she was 15. Clarence Franklin, her father and the single most influential person in her life, was an enormously successful Baptist preacher.

Aretha, one of five children, was born in Memphis but the family moved to Detroit when she was four. Her father, a close friend of Martin Luther King, drove a Cadillac and wore sharp suits and alligator skin shoes. His fame only fuelled his promiscuous behaviour, culminating in his fathering a child with a 12-year-old girl.
When Aretha was six, her mother left their home due to her husband's philandering and moved to Buffalo, New York. She died when Franklin was nine and the children were largely brought up by a string of their father's secretaries and girlfriends.
Traumatised by her mother's death and perhaps influenced by her father's lifestyle, Franklin became highly-sexualised at an early age. She gave birth to the first of her four sons just two months after her 13th birthday, calling him Clarence after her father.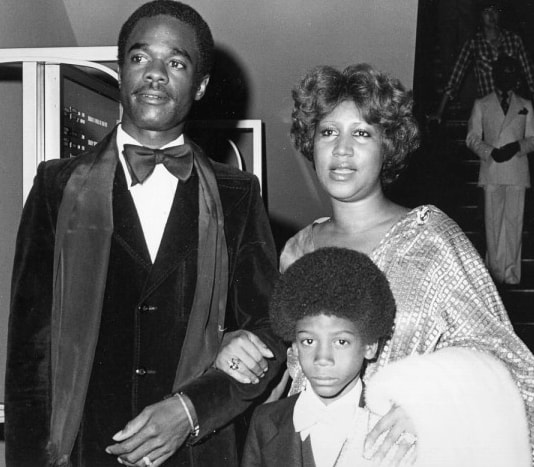 Franklin was the mother of four sons. She first became pregnant at the age of 12 and gave birth to her first child, named Clarence after her father, on January 28, 1955. According to sources, the father of the child was Donald Burk, a boy she knew from school. On January 22, 1957, then aged 14, Franklin had a second child, named Edward after his father Edward Jordan. Both children took her family name.
While Franklin pursued her career, her grandmother Rachel and sister Erma took turns raising the children. Franklin would visit them often. Franklin's third child, Ted White Jr., was born in February 1964 and is known professionally as Teddy Richards. He has provided guitar backing for his mother's band during live concerts. Her youngest son, Kecalf Cunningham was born in 1970 and is the child of her road manager, Ken Cunningham.
Franklin was married twice. Her first husband was Theodore "Ted" White, whom she married in 1961 at age 19. Franklin had actually seen White the first time at a party held at her house in 1954. After a contentious marriage that involved domestic violence, she separated from White in 1968, divorcing him in 1969. Franklin then married her second husband, actor, Glynn Turman, on April 11, 1978 at her father's church. By marrying Turman, Franklin became stepmother of Turman's three children from a previous marriage. Franklin and Turman separated in 1982 after Franklin returned to Michigan from California, and they divorced in 1984.
At one point, Franklin had plans to marry her longtime companion Willie Wilkerson. Franklin and Wilkerson had had two previous engagements stretching back to 1988. Franklin eventually called the 2012 engagement off.
[Story Timeline Source: Daily Mail and Wikipedia]