Crime News
Ecobank Manager Arrested For Defrauding The Bank Of ₦75 Million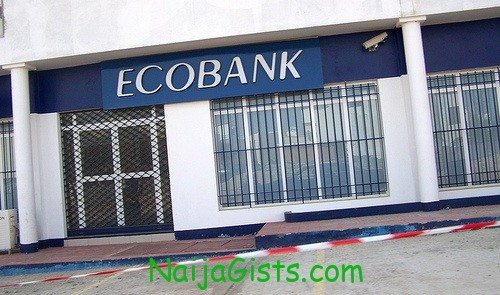 Dec 8, 2011 – Ecobank Manager Arrested For Defrauding The Bank Of  N75 Million
Mrs Oluwatosin Lawal, an Ex-branch manager of Ecobank Nigeria Plc, and her hubby, Mike Lawal, were on Wednesday arrestedt  by the Economic and Financial Crimes Commission, EFCC, for allegedly defrauding Ecobank of N75 Million.
The couple and a company called Samolu & Brothers Nigeria Limited were charged on a four-count charge of conspiracy to steal and stealing. Weirdly, all the arraigned parties pleaded not guilty to all the charges levelled against them in court. The accused were said to have between July 19 and 31, 2009 in Lagos within the Ikeja Judicial Division stolen at least N17Million.
The counsel of the accused parties, E. A. Alabi, told the court to grant them unconditional bail because the defendants had been in EFCC custody for two months and the 1st defendant is a nursing mother. The opposing lawyer, C. O. Ugwu of the EFFC, advised that the bail application of the accused parties be denied saying that at the time of arrest no baby was found with the 1st defendant. naijagists.com
Ugwu countered his opposition by saying that Oluwatosin Lawal and Mike Lawal (defendants) were charged seven years for stealing and not three years, adding "According to the evidence, the 1st defendant is guilty because she was withdrawing the money as if Christmas was fast approaching, and when it comes to law and trials, the fact that she is a nursing mother is no sentiment."
Trial judge in the case, Justice Candide Johnson, ordered that the 1st defendant (Oluwatosin Lawal) be remanded in prison custody, while the 2nd defendant (Mike Lawal) is to be kept at the EFCC custody, pending ruling on their bail application.
 This case was adjourned till the 19th of December, 2011.