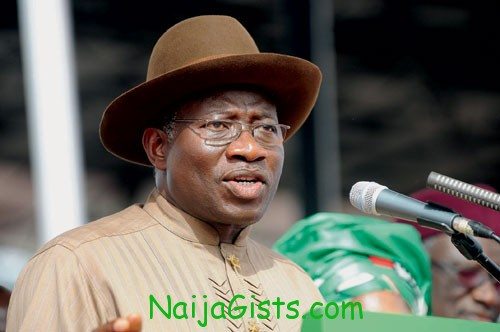 Dec 8, 2011 – Nigerian FG: No apologies on anti-gay bill
According to daily time report, the Federal Government, on Wednesday, said Nigeria has the right to democratically make and live by whatever laws it deems fit.
The FG therefore says it has no apologies whatsoever on the proposed anti-gay bill before the National Assembly.
Emerging from a seven-hour Federal Executive Council meeting which was Presided over by President Goodluck Jonathan, the Minister of Information, Labaran Maku told journalists that it was still premature to respond to comments on the proposed Gay marriage bill until it goes through all the processes and is signed into law. naijagists.com
He was speaking in response to comments by different foreign countries, latest of which is the United States.
The United States is concerned about reports of legislation in Nigeria that would restrict expression, assembly or organisation based on sexual orientation or gender identity, a statement issued by the US embassy said.
"The United States believes that all people deserve the full range of human rights and opposes the criminalisation of sexual relations between consenting adults. The United States is watching this matter closely," the statement read.
Nigeria's senate had last week approved the bill, which is yet to be voted on by the House of Representatives and signed by President Goodluck Jonathan.
The bill prescribes a 14-year jail term for anyone entering into same-sex marriage or civil union.
Those who abet or aid such unions could also be sentenced to 10 years imprisonment, as would "any person who registers, operates or participates in gay clubs, societies and organisations" – a provision that seems to target gay advocacy groups as well.
The bill also sets out a 10-year sentence for "any person who… directly or indirectly makes public show of same-sex amorous relationships".
While briefing journalists, Maku noted that Nigeria is an independent and democratic nation and its laws must be guided by its interests and values.
"The truth of the matter is our democracy will be guided by Nigeria's interest and values and if eventually this becomes law we will live with it," Maku said.
He however noted that the reported comments by the President of the United States on the proposed law have not fully come to government for a position.
"But let me say this, we live in a democracy, we live in a free country, we live in an independent country and in every democracy as you do know there are institutions, there are laws and also there are cultures, beliefs and there are values in every nation," he said.
"Relating to the law that is being proposed by the senate… It is a process that is going on normally through the Nigerian legislature; we have not reached that point where it has become law. But even if it becomes law as you do know, Nigeria reserves the rights as an independent nation to live under laws that are democratically passed by the National Assembly."
Maku said that foreign countries that may not be happy with certain aspects of laws passed in Nigeria were free to express their views concerning whatever law that is passed through the Nigerian legislature, "but at the same time those countries know how democracy works".
"Like I said the Federal Government has not yet come to a point of commenting on it because it is a legislative process that just passed through only one of the two legislative houses in Nigeria," he further said.
"If it becomes law I am sure the President would have a position on the matter. Let me make the point clear, our country is an independent country; we reserve the rights to make our laws without apologies to other countries."
Maku also noted that between Europe, America and Africa, there is a huge culture gap and some of the things that are considered fundamental rights by these countries can also be very offensive to the African culture and "to the way we live our lives here".