Entertainment News
Fun Places To Visit In Lagos State..Nigeria's Best Vacation Spots And Holiday Destinations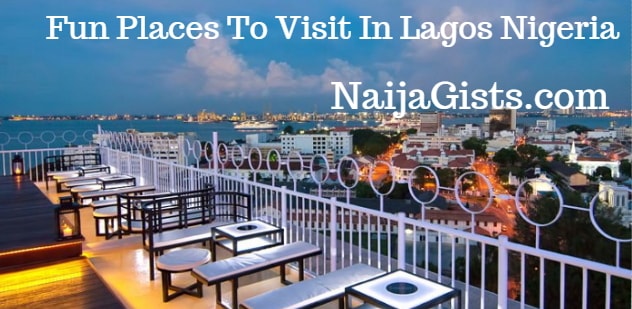 Best Vacation Spots And Holiday Destinations In Lagos State Nigeria…See List Of Fun Places To Visit In Nigeria
By Our Reporter,
Work, Work, Work, Work, Work! Yes, someone has to make the money, bills have to be paid, duties and responsibilities have to be met. But can I remind you, that wealth without health is useless.
Getting all of that money and not being alive or being in good health to enjoy it, is just sad. Do you take time off for yourself and your family? Or is your life just revolving around working, paying bills and more working. Everybody needs a break.
Working extra hours is good and all, but do not overdo it. When it is the holidays, take a full break from working, because guess what, your body also desperately needs this rest. According to Dr Olabode Shabi, the Chairman of Family Physicians of Nigeria (SFPN), Studies have shown that about 7 million Nigerians suffer from work related stress.
In 2017, a Japanese woman died after putting in more than 150 hours of overtime in a month due to congestive heart failure. There is a high level of overworked people around, and we wonder why the death statistics keep rising.
According to Wikipedia, a vacation is a leave of absence from a regular occupation, or a specific trip or journey usually for the purpose of recreation or tourism.
In this article, we will show you the best vacation spots to enjoy beauty of nature in Lagos.
Yes, there are beautiful places in Nigeria where you could visit when you decide to take that very necessary break.
Recreational Spots In Lagos
Lagos is one of the hottest locations for general fun and entertainment in Nigeria. Asides being Nigeria's largest city, it is also a home of tourist attraction. It is commendably one of the fastest growing cities in the world, and a major financial centre for Africa. It is no wonder Lagos has one of the best spots for vacations in the world.
For those that come alive in the night, try visiting these sites;
Bogobiri: It islocated in Ikoyi and recommended for lovers of highlife, jazz and afro beat
The Jazz hole; It is known as one of the best cultural music shops in the country.
For historians, art lovers and all those attracted to nature,
–Terra Kulture; A theatre and art gallery
–Omenka Gallery
–National Museum; Founded in 1957 by Kenneth Murray, the National museum is quite famous for its collections of prominent Nigerian arts.
–Kalakuta Museum
–Osh Gallery
Beaches In Lagos
For my fellow Aquarians, water and fresh air lovers;
–Eleko Beach
–Atican Beach
–Elegushi Royal beach
–Tarkwa Bay Beach
–Lekki Leisure Lake
–Freedom Park
–Coconut Beach Badagry
The beach list is endless.
For the sports and game lovers;
–Empire Sports Paintball; this one is located inside Elegushi beach Lekki. One of the highest recognized paintball places in Nigeria.
–Funtopia; everyone was once a child, release the inner baby in you and let loose.
–GET arena; ever climbed a wall or done an arcade? You should be here.
–Ikoyi Club
The Escape room; this is one place adventure lovers could live in given half a chance. It is the first live adventure game place in Lagos. Want to experience an adventure? Find your way there.
And we cannot leave out our Shopaholics. Spoil your closets with new stuff from;
–The palms shopping mall
–Ikeja shopping mall.
Book lovers are also inclusive. Looking for a quiet place with lots of books to bury your head in? Try the Liam and Noel's Book Club.
Tourist Attractions In Badagry Lagos
Badagry is a coastal town in the suburb of Lagos. It is situated between Lagos and the border with Benin at Seme. The municipality had a population of 241,093 persons during the 2006 general census. The town officially generates the highest Nigeria customs duties income till date. From the location of the first storey building in Nigeria to the slave museum, Badagry has always been a large centre of attraction for tourists. Let's find out some spots that draw attention;
This is also known as the Gberefu Island. It is symbolized by two poles slightly slanted towards each other whilst facing the Atlantic Ocean. In 1473, the Gberefu Island was opened as a slave port. Within three centuries, more than 500,000 Africans were sold into slavery through Badagry. As the name implies, the point of no return was that point where the slaves were handed over to their new owners. According to a 2015 statistics released on The Guardian, the total number of people who came to visit the spot in 6 months was about 3,634. And definitely, this number must have greatly increased by now. So, if you are a tourism lover, get your camera ready and go see for yourself.
If you are tired of your regular cuisine and crave new, more exciting meals, the whispering palms beach resort is where you should be. It is situated on the lagoon so you get to feel the cool Atlantic breeze. Hit this spot during summer, alone with friends or family to have a memorable experience. For all nature lovers, the zoo and environmental serene is just what you need.
This is the exact spot where Christianity was first preached in Nigeria. This was done by Thomas Birch Freeman and Henry Townsend on September 24, 1842. The tree is said to have survived for over 300 years until it was destroyed by a storm in 1959. In place of the tree, an obelisk was erected in 2012 to celebrate 170 years of Christianity.
The First Multi Story Building In Nigeria:
This building was built by Reverend Henry Townsend in the year 1845. He was a missionary of the Christian Missionary Society(CMS) church. The building is still very much erected and has not been destroyed till date though it is 173 year old. The building is also where Bishop Ajayi Crowther translated the bible from English to Yoruba for the first time. Two Great Happenings in just one building, you definitely need to visit it.
Fun Places To Visit In Victoria Island Lagos
Victoria Island is popularly known amongst Nigerians. It is one of the most expensive and classy place one can reside in Lagos. Today, VI has the headquarters of most of the prominent businesses both national and international, situated in it. It is now one of the favorite spots for all classes of Nigerians and foreigners to visit and live in. Judging by this, the level of fun one can have here is quite high, like all round high. Okay, well just the environment itself is a fun place. I mean, the way everything is done orderly, the different classes of people everywhere, the site of well constructed buildings and wonderful architectural plan, the air, everything! VI is a total out of the world spot. Let's show you some fun hangout spots in Victoria Island:
Do you feel like you really need time away from the normal world? You know when people say they just want to get away from the whole world. If that is you, then I give you Tarkwa Bay for a change. The clean, serene environment is just amazing. Unlike most, this particular beach is always less populated so it is the perfect place to just be alone with nature. Since the bay is located on the Island, the only way to get to it is by water. You can either board a ferry or a high speed boat at convenient amounts to visit this safe haven.
The name says a lot already. For all history lovers, the spot where the freedom park now occupies was formerly Her Majesty's Broad Street Prisons. There is a museum complex where artifacts and history is being preserved. If you feel like going back in time to found out what life was like, the live bands, film festivals, theatre and drama events are all sure to not disappoint you.
Because what is a fun day without popcorns and a big screen, you have to be at the Silverbird Galleria at least once while on the Island. It has five cinema halls, a large number of retail shops and of course eateries. Live concerts, shows, stage plays and movies are all available in this beautiful place. During the holidays, most retail stores offer huge discounts off their products. Do not forget the exquisite cuisine of both local and international dishes.
Every sweet tooth has to be here sometime. The assorted ranges of Cakes, chocolates and ice cream are things you do not want to miss. Excite your taste buds here with varieties of deserts. They prepare Pastries, Chocolates, Ice creams, Donuts, Bread, all of which are exquisitely done for all food lovers.
It is situated on a stretch of Lagos coast near Ikare Village. The resort can only be accessed by a boat. It's Miami styled beach environment will leave you thinking you are outside Nigeria. There are fully air conditioned bungalows around the beach, in case you get too hot or feel like spending a night around nature.
Other places you can visit while on the island are The National Museum, The Lekki Conservation Centre, Jhalobia recreation Parks and Garden, Shoprite, Radisson Blu Anchorage Hotel, Kuramo Waters, Ruff n Tumble, The Regent, Tako juice Bar and restaurant, the list is almost endless. Give yourself a whole new unforgettable experience on the Island.
For those on the mainland, you are not exempted either. There are also fun packed places on the Lagos mainland.
Fun Places To Visit On Lagos Mainland
–Coconut beach Badagry: Who knew coconut trees could look so beautiful. Located on the mainland, Badagry, the coconut beach is one place you don't want to miss visiting. It is a combination of beautiful environment, soul alluring waterside and the sights of coconut trees and fruits.
–Rumors Nightclub; if you enjoy the night life and need a place to dance, drink and have fun, Rumors Nightclub is a go. It is located at Ikeja.
–Markets; you may have heard so much about the Lagos markets especially those on the mainland. Try visiting them just for fun. Just watching the actions of people, the bustling crowd, listening to how they speak and maybe even trying to buy some stuff at moderate prices. The Balogun, Oshodi, Yaba, Aswani, Eko Markets and the likes are some places you should try.
–Game Arcade:  For lovers and learners and even novices in arcade, there are several fun arcade centers on the mainland like Game Arcade Professionals, Hardcore Extreme Sports, etc.
–Malls: The Ikeja city mall is the main tourist attraction in Ikeja. It has a cinema with fair prices, and discounts for kids and students. The gigantic structure is just alluring and a perfect place for shopaholics.
–Pizza: We cannot even leave the Domino's Pizza. The Domino's Pizza joint Ikeja is one of the best places to get pizza on the mainland.
In conclusion, there is a lot of fun stuff and body relaxing things waiting for you in the city of Lagos. If you ever think about a vacation spot no matter the area of Lagos, there is always space for you there. Take that well deserved break and make memories.