Crime News
Rev. King' Trial Update: Killer Reverend Appeals Death Verdict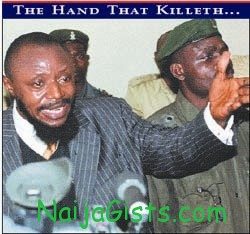 Nov 06, 2012 – Rev. King' Trial Update: Killer Reverend Appeals Death Verdict
The convict urged the court to take his appeal, saying the lower court, presided over by Justice Joseph Oyewole, erred in law in many respects and miscarried justice on the matter.
At the hearing of the appeal, counsel to Ezeugo, Mr Olalekan Ojo, adopted the appellant's brief and his reply.
The respondent, Lagos State Government, represented by its Solicitor-General, Mr Lawal Pedro (SAN), also adopted its brief.
Ezeugo was arraigned on Sept. 26, 2006 on a six-count charge of attempted murder and murder but he pleaded not guilty to all the charges.
The prosecutor had said that the convict poured petrol on the deceased and five other persons and that Uzoh died on Aug. 2, 2006 , 11 days after the act was done to her.
Counsel to Ezeugo had filed a notice of appeal on Jan. 16, 2007, containing 16 grounds of appeal against the judgment.
On June 10, 2008 , the Court of Appeal had granted him leave to argue the additional 16 grounds of appeal through an amended notice of appeal filed on June 15, 2008.
Ojo had argued that Ezeugo was innocent of the crime he was convicted of because he was never at the scene of the act. He said that the deceased had in two statements made after the incident and before her death stated that she was burnt in a generator accident and that the convict was not responsible for her burns.
Ojo said that the Investigating Police Officer (IPO) had tendered statements which stated that the appellant was not responsible for the burns which led to Uzoh's death but these were not admitted in evidence.
He argued that if those vital exhibits had not been expunged by the trial judge, they would have operated to cast serious doubt on the case of the prosecution.
Ojo added that the refusal by the trial judge to admit the exhibits in evidence, occasioned a miscarriage of justice.
He urged the appeal court to determine whether the trial judge was right in expunging from the record in writing its judgment, the declaration of the deceased, exhibits P1 and P4, as well as oral evidence of the deceased that the burn injuries were from a generator accident.
The lawyer added that an aspect of fairness and impartiality which a court should exhibit was that it must not raise an issue suo motu and resolve it against a party without having heard the side of the party against whom the issue had been resolved.
Meanwhile, counsel to the state, Pedro, urged the court to uphold the court verdict and dismiss the appeal for lack of merit.
He argued that the Evidence Act permitted the expunging of inadmissible evidence, adding that the fact that counsel to Ezeugo did not address the court was immaterial as the court was the master of the evidence before it.
Pedro said there was enough corroborating evidence, both written and oral, upon which the conviction was secured.
The court reserved judgment to a date that would be communicated to both parties.(PM reports)