General
Nigeria Disowns Drug Traffickers In Indonesian Prisons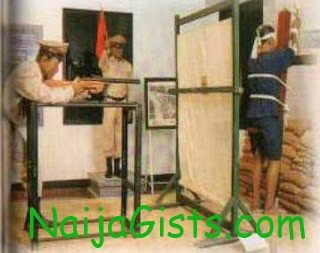 Drug trafficker being executed
May 16, 2012 – Nigeria Disowns Drug Traffickers In Indonesian Prisons
Several Nigerians who are currently serving various jail terms abroad for drug trafficking deals or any other criminal activity shouldn't expect the intervention of the Senate from henceforth. naijagists.com
According to Nigeria's Senate President, David Mark who made the statement yesterday at the plenary session of the chamber was reacting to an observation of Chairman, Senate Committee on Foreign Affairs, Senator Mathew Nwagwu, on the newspaper reports last weekend that over 300 Nigerians are in Indonesian prisons, out of whom 16 are on death row and would be killed any moment.
He recalled that the issue was raised in the sixth Senate and a delegation sent there and other countries where they were serving jail terms. He stressed that the delegation realised that most of them were involved in drug trafficking.
"Unfortunately, we took up this matter in the sixth Senate and sent a delegation to Indonesia, Singapore China and they brought a report back that all the people on death row were people who had gone for trafficking in drugs and they had exhausted all the legal system possible. It was only our intervention that stopped them from being killed. If they are still alive, they should thank their God."
Meanwhile, the Senate has confirmed Mr. Inuwa Abdul-Kadir's nomination for ministerial appointment. Before his confirmation, however, the candidate was made to answer questions from senators on the state of the nation.
One of such questions came from Senator Abubakar Sadiq Yar'Adua (Katsina Central). As a former Attorney General, Sokoto State, his reaction was sought on how he would advise President Goodluck Jonathan if appointed the Attorney General of the Federation and Minister of Justice should the President decide to contest the Presidency in 2015.
Yar'Adua, however, stated that for him, that would be illegal and criminal subversion of justice because Jonathan would be taking the third oath of office. Mark overruled him on the grounds that the decision to contest or not was personal.
"If Yar'Adua wants to contest the election under PDP, he does not need any Attorney General to advise him."
Mark warned that though the legislators would not allow Nigerians to suffer illegitimately abroad, anyone caught for breaching laws should not expect government's protection.
"People who go and break laws in other countries should not expect us to protect them. We will not allow any Nigerian to be maltreated outside the shores of Nigeria. We can even go to war for it even for one Nigerian if he is unfairly treated. But Nigerians, who go to traffic in drugs, should know the risk they are taking and we will not defend them also.
He continued: "I think there is a clear line between an honest Nigerian, who goes out there for genuine business in accordance with the laws of the country and those, who go there to smear the name of Nigeria. That we just won't take.
"So leave them there let them face whet they have gone for. You can ask the minister if you want but we have had a proper briefing on this matter before. My conclusion is that we have done our best and it should serve as warning for other Nigerians.
"The punishment in those countries is death, so if they misfire, they face the punishment", he stated.
Nwagwu said his Committee had contacted the Minister of Foreign Affairs who said efforts were being made to see how the judgement, especially those that have to do with death penalty could be reversed.
"I have called the Minister of Foreign Affairs and he assured me that he will get in touch with our mission in Jakarta. Although he was of the opinion that most of the issues related to drug related offences. I wish to suggest that we invite the minister of foreign affairs to address the Senate on what is happening and what can be done to reduce and review some of these cases."