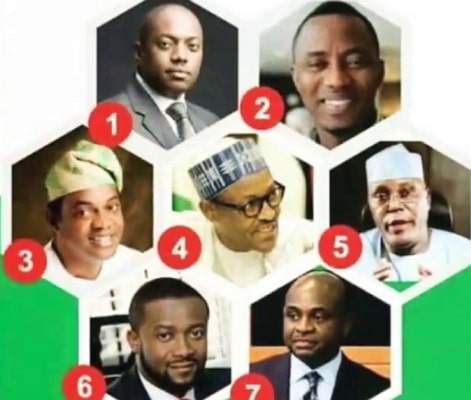 Nigerian Presidential Election 2019 Candidates & Aspirants: List & Short Profiles of People Running for President of Nigeria Next Year
Thursday. October 18, 2018 marks the 121st day, in the countdown to the forthcoming General elections, which holds on February 16, 2019. The anticipation and anxiety are unprecedented, as Nigerians await the big day. With each passing day, the polity is heating up and the presidential campaigns of the respective candidates are gaining steam. One interesting thing is, there are some political novices, who are relatively unknown to the Nigerian populace, seeking to test their popularities in the forthcoming presidential election. We have compiled for you, the list and summarized the profile of each of the candidates in the 2019 Presidential contest.
All political parties have submitted the names and details of their respective candidates to the Nigerian election body, Independent National Electoral Commission (INEC). Read on to know about the men and women, who are aspiring to become the supreme-ruler of this great nation.
President Muhammadu Buhari (GCFR) 
Party: All Progressive Congress (APC)
Running Mate: Professor Yemi Osibanjo
Date of Birth: December 17, 1942 (75 years)
Qualification/Education: SSCE (Debatable)
Tribe: Fulani
Religion: Islam
State of Origin: Katsina
Home town: Daura
Prior Political Office: Military Head of State (1982 – 1983)
Candidacy: 2003; 2007; 2011 & 2015
Alhaji Atiku Abubakar (GCON)
 Party: People Democratic Party (PDP)
Running Mate: Peter Obi
Date of Birth: November 25, 1946 (71 years)
Qualification/Education: Bachelors Degree
Tribe: Fulani
Religion: Islam
State of Origin: Adamawa
Former Political Office: Vice President (1999 – 2007)
Candidacy: First time
Profession: Politician (President)/Soldier (Rtd Army General)
 Party: Social Democratic Party (SDP)
Running Mate: Dr. Chinnan Dikwal Maclean
Date of Birth: 30th September, 1961 (57 years)
Qualification/Education: Masters of Law (L.L.M)
Religion: Christianity
State of Origin: Cross River
Home Town: Calabar
Former Political Position(s): Governor of Cross River State (1999 – 2007)
Candidacy: First time
Profession: Politician/Businessman
 Party: African Action Congress (AAC)
Date of Birth: February 16, 1971 (47 years)
Qualification/Education: Masters degree
Tribe: Yoruba
State of Origin: Ondo
Home Town: Ilaje
Candidacy: First time
Profession: Reporter/Activist
Oby Ezekwesili
 Party: Allied Congress Party of Nigeria
Date of Birth: April 28, 1963 (55 years)
Qualification/Education: Masters (Doctor – Honorary)
Tribe: Igbo
Religion: Christianity
State of Origin: Anambra
Candidacy: First time
Profession: Activist/Chartered Accountant/Lawyer
Gbenga Olawepo Hashim
 Party: Alliance of New Nigeria (ANN)
Date of Birth: June 28, 1965 (53 years)
Qualification/Education: Bachelors
Tribe: Yoruba
State of Origin:
Candidacy: First time
Kingsley Moghalu
 Party: Young Progressive Party (YPP)
Date of Birth: 7th May, 1963 (55 years)
Education/Qualification: Professorship
Tribe: Igbo
Religion: Christianity
State of Origin: Abia
Candidacy: First time
Profession: Political Economist
Hamza Al Mustapha
 Party: Peoples Party of Nigeria (PPN)
Date of Birth: Unrevealed
Education/Qualification: Unrevealed
Tribe: Fulani
Religion: Islam
State of Origin: Yobe
Candidacy: First time
Profession: Retired Soldier (Major)
Olusegun Mimiko
 Party: Zenith Labour Party (ZLP)
Date of Birth: October 3, 1954 (54 years)
Qualification/Education: Bachelors (MBBS)
Tribe: Yoruba
State of Origin: Ondo
Former Political Position(s): Governor of Ondo State
Candidacy: First time
Profession: Politician
Chris Okotie
 Party: Fresh Democratic Party (FDP)
Date of Birth: June 16, 1958 (60 years)
Qualification/Education: Bachelors (Law)
State of Origin: Delta
Candidacy: 2003; 2007 & 2011
Profession: Pastor
Obadiah Mailafia
 Party: African Democratic Congress (ADC)
Date of Birth: December 24, 1956 (62 years)
Qualification/Education: Masters
State of Origin: Kaduna
Candidacy: First time
Profession: Financial Economist (rtd)
John Ghor
 Party: All Progressive Grand Alliance
Running Mate: Jerry Chukwueke
Date of Birth: Unrevealed
Qualification/Education: Unrevealed
Tribe: Igbo
Candidacy: First time
Profession: Soldier (Rtd Army General)
Ali Soyode
 Party: Yes Electorate Solidarity (YES)
Date of Birth: Unrevealed
Qualification/Education: Bachelors
Tribe: Yoruba
Candidacy: First time
Profession: ex-CEO BEN TV/Reporter 
Eunice Atuejide 
Party: National Interest Party (NIP)
Date of Birth: August 16, 1978 (40 years)
Qualification/Education: Masters (LLM)
Tribe: Igbo
State of Origin: Enugu
Candidacy: First time
Profession: Lawyer
Edozie Madu 
Party: Independent Democrat Party (IDP)
Date of Birth: Unrevealed
State of Origin: Anambra
Candidacy: First time
Profession: Politician
Davidson Isibor Akhimien 
Party: Grassroots Development Party of Nigeria (GDPN)
Education/Qualification: Bachelors
State of Origin: Edo
Candidacy: First time
Profession: Soldier (Rtd)/Administrator
Ike Keke 
Party: New Nigerian Peoples Party (NNPP)
Date of Birth: Unrevealed
Qualification/Education: Masters
Tribe: Igbo
Candidacy: First time
Profession: Retired Serviceman (US Military)
Alhaji Yahaya Ndu 
Party: African Renaissance Party
Date of Birth: April 1957 (61 years)
State of Origin: Enugu
Religion: Islam
Candidacy: 2011 & 2015
Babatunde Ademola 
Party: Nigerian Community Movement Party (NMCP)
Date of Birth: Unrevealed
Tribe: Yoruba
Past Candidacy: First time
Adesina Fagbenro Bryon 
Party: Kowa
Date of Birth: Unrevealed
Qualification/Education: PhD
Tribe: Yoruba
Past Candidacy: First time
Chuks Nwachukwu 
Party: All Grassroots Alliance (AGA)
Date of Birth: Unrevealed
Education/Qualification: LLB (Law)
Tribe: Igbo
Candidacy: First time
Profession: Lawyer 
Tope Fasua 
Party: Abundant Nigeria Renewal Party (ANRP)
Date of Birth: September 11, 1971 (47 years)
Education/Qualification: Ph.D
State of Origin: Ondo
Candidacy: First time
Profession: Economist/Writer
Ahmed Bee Buhari 
Party: Sustainable National Party (SNP)
Date of Birth: April 7, 1978 (40 years)
Education/Qualification: Masters degree
State of Origin: Niger State
Candidacy: First time
Profession: ICT Consultant/Businessman
Moses Shipi 
Party: All Blending Party (ABP)
Date of Birth: March 2, 1979 (39 years)
Education/Qualification: Bachelors degree
State of Origin: Bauchi
Candidacy: First time
Profession: Quantity Surveyor/CEO LA Shipson Group
Sunday Chukwu-Eguzolugo 
Party: Justice Must Prevail Party (JMPP)
Date of Birth: Unrevealed
Education/Qualification: Unrevealed
Tribe: Igbo
Former Elective Position(s): None
Candidacy: First time
Profession: Pastor/Apostle 
Peter Nwangwu 
Party: We the People of Nigeria Party (WPNP)
Education/Qualification: Professorship
State of Origin: Anambra
Candidacy: First time
Profession: Medical Scientist
Habu Aminchi 
Party: Peoples Democratic Movement (PDM)
Date of Birth: Unrevealed
Education/Qualification: Unrevealed
State of Origin: Bauchi State
Candidacy: First time
Profession: Pastor
Yabagi Yusuf Sani 
Party: Action Democratic Party
Date of Birth: July 1, 1954 (64 years)
Qualification: Bachelors
State of Origin: Niger
Candidacy: First time
Profession: Engineer
Hamisu Santuraki 
Party: Mega Party of Nigeria (NPN)
Date of Birth: Unrevealed
Candidacy: First time
Habib Muhammed Gajo
 Party: Young Democratic Party (YDP)
Candidacy: First time