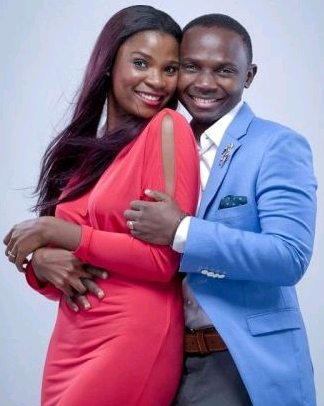 Teju Oyelakin & wife
Oct 28, 2012 – Teju Babyface: Marrying A Woman That Completes You Is The Best Gift Ever
Ace Nigerian comedian Teju Babyface real name Teju Oyelakin in a recent interview revealed how his marriage to his wife, Tobi Banjoko is the best gift he has ever received from God. naijagists.com
Teju babyface who got married to Tobi in a glamorous wedding setting in Lagos on the 1st of September, 2012 speaks up on his marriage life.
Interview excerpt below:
Your chubby cheeks have disappeared. stress or age?
Really? That's interesting. You tell me. In Nigeria where an average comedian is his own marketer, image maker, book manager, etc, where is the time for one to rest? On the real, I am not getting younger. I should naturally age
Now that you are married, don't you think it's time to dump the name Babyface and be addressed as Mr …
I am now called Teju Jacobs-Oyelakin, though the Babyface still sticks
How's it being married?
Oh, it's been a great experience. A lot of maturity has come in. I no longer think about myself, neither do I think only for myself. I have a wife to think of, a new future to chart with her and our future kids. These have got me acting, thinking and talking like a grown up. There is nothing on earth that's better than marrying the woman that completes you, it's the ultimate gift.
What has your new status taken away from you?
The Bible says 'he that findeth a wife finds a good thing and obtains favor from the Lord', yes. It also says that 'the blessing of the Lord maketh rich and addeth no sorrow', yes. So, do the math. Status taken away? Nothing has been taken away bro, it has added more to me, my life. You want to know how? I now receive more favours from above and from men. I have not lost my freedom, if that is what you mean
What did she see in you?
It might have been my smoldering hotness! (laughs). Seriously, till now, I don't know. I have not bothered to ask her because it won't matter now. I sought her, she agreed and now we are married. She is the only one that can tell you why she freaks for me oh. (Sunday Tribune Interview)
Lovely interview!