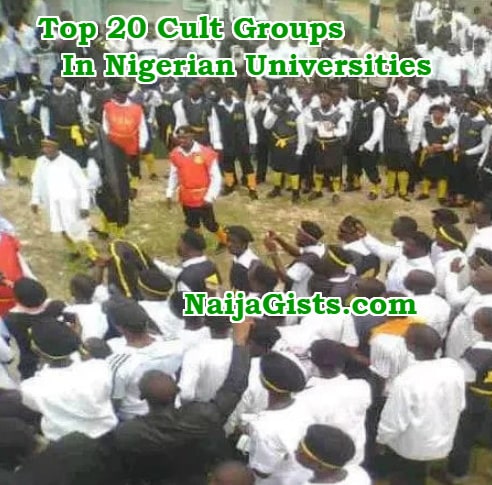 A cult refers to a group of people with similar goals and interest it could be religious, social, spiritual or otherwise. This group could range from a small number of individuals to a large number of people. Its first established appearance was in the 1930s.  The argument on the true nature of a cult has been ongoing for centuries.
Top 20 Cult Groups In Nigerian Universities: Symbols, Coded Names, Slangs & Colours
However with reference to the nature of cultism in Nigeria this group is defined as a violent group of individuals, whose ethics and views are mostly only understood by a very limited number of individuals. They are a dangerous group of people prone to violent practices at the slightest provocation. There are sometimes referred to by the term secret cult as their objectives are main known only to their members alone. Like any organization, they operate in hierarchy as they also have leaders and sub leaders.
First Cult Group In Nigeria And Founder
The first cult group in Nigeria was referred to as the Pyrates. It was formed by Wole Soyinka and six other students in 1952. This group also goes by the name National Association of Sea Dogs. Although this group is reported to have been harmless in its formative years, its creation eventually led to the establishment of many more cult groups over the years. These cult groups have mostly become a menace to society as they endanger the lives of not only its members but innocent individuals also, as they mostly made up of power hungry bullies. These cults are also referred to as a confraternity.
Cult Groups in Nigeria And Their Symbols
Pyrates Confraternity/ National Association of Sea Dogs
As earlier stated, the pyrates confraternity was the pioneer cult group in Nigeria and was set up in 1952 at the University College Ibadan. It was set up by seven students referred to as the magnificent seven. Their symbol constitutes an anchor, a skull and two crossed bones. This cult was never intended to be violent it was meant to be a gathering of people with academically and intellectually sound minds. From this group, other confraternities were born.
The Buccaneers Confraternity/National Association of Sea Lords
This cult was created by Bolaji Carew who after being expelled from the pyrates in 1972 for falling below the standard for membership of the pyrates, started this group alongside a few other expelled members. This cult eventually grew to become an arch enemy of its mother cult. Their symbol is a skull flanked on both sides by two machetes and a single bone.
The Black Axe / Aye-Axemen
It was established by a group of students in the University of Benin in 1976 as a neo-black movement. This group was aimed at creating a stronghold which could withstand confrontation on behalf of black students. It is said to be a movement which was started by a group of people from a Neo-black South African organization. Their rules are never to betray, forgive and whoever goes against the rules has to pay the price. Their symbol is a black axe breaking the chains off two black fists.
Supreme Eiye Confraternity/Association of Air Lords
This confraternity goes by either the Supreme Eiye confraternity or Association of Air Lords. It was established in University of Ibadan in 1965. The symbol of this group is a black skull and two crossed bones beneath it. They believe in discipline and the spirit of brotherhood. The confraternity is believed to have been started to promote self development.
Mafia Confraternity/ The family Fraternity-Cosanosyra
The mafia confraternity also known as the family fraternity and ciaos sons was founded in 1978. It is structured after the Chicago mafia. Its pioneer members were eight in number. It began in the University of Ilorin and began functioning in Obafemi Awolowo University two years later. Its pioneer members were eight in number. Its members are referred to as Mafians, they belief in secrecy, revenge and having fun.
Kegite Club
This club is next on the list; it is hardly considered a confraternity as most people would rather refer to it as a social club. They do not follow the rules and regulations of other cults but rather stand by their own rules which one of which is to remain true to themselves. This group is not of a violent nature as there has hardly been any record of such in the history of its creation. Their symbol is a green palm tree.
Supreme Vikings Confraternity/De Norsemen Club of Nigeria
This next group  was established by three students in the University of Port Harcourt in 1982 who were once a member of the buccaneer confraternity. Their symbol is made up of a Viking hat, two crossed axes and a boat. They are said to be against ill treatment of people in society and to be a form of defence against certain crimes like kidnapping, terrorism and the likes.
The initiation into this club supposedly takes place ever two years and the conditions for membership are as follows: potential members should possess a university degree or its equivalent, must make a good and honest living and possess not record of criminal activities. Their motto more or less portrays violence as it is expects its members to die rather than retreat. Their symbol is a boat and two crossed axes.
Two- Two Confraternity/ the Brotherhood of Blood
This cult is considered be of an ill reputation. It started at the Enugu State University.
Eternal Fraternal Order of Legion Consortium/Dedy Na Debt
This cult is stated to have been adopted from a cult in California. It was established in University of Calabar in the year 1986. Members are called klansmen. Their symbol is that of a human skull supposedly that of a mad man. They believe and worship a demon god known as ogor. They go by the 'all for one and one for all' policy as they stand up for each member and as with all other confraternities, they are sworn to secrecy.
Maphite Confraternity/ Green Circuit Association
The origin and objectives of this cult is not really known however, based on its activities this cult is considered dangerous as reports cites this cult as being responsible for a lot of bloodshed during cult clashes in Ambrose Ali University Benin, Edo State.
Black Bra
This is a female confraternity but also a cult in its own right. The initiation rite into this group is a rather terrible affair. Members of this cult are always clothed in black down to their underwear. Their symbol is a black bra.
There are several other cults which can be found in Nigerians all with their various aims and objectives. Other confraternities male and female include: scorpion, canary, black cobra, the blood spot, snow men, black cat, red sea, green berets, white angels, golden daughters, pink lady, royal queens, sisterhood of darkness, amazons and others.
Common Cult Slangs And Coded Words
Pyrates Confraternity/ National Association of Sea Dogs
Among these group members who are referred to as seadogs you hear slangs like, No Friend, No Foe, Absolute No Lagging and Odas Is Odas.
The Buccaneers Association of Nigeria/National Association of Sea Lords
These members are often called names like Lords, Alora, Bucketmen, fine boys. They have slangs like: No Laughing On Board, No Price No Pay and Blood for Blood, No Brothers in the Wood.
The Black Axe/ Aye-Axemen
Members are called Aye, Amigos, Axemen or simply referred to as seven (7). They have sayings like: forgiveness is sin, he who price must pay, don't betray your brother in the hood, and obey before complain.
Supreme Eiye Confraternity/ Association of Air Lords
This confraternity have sayings like brotherhood, No Friend No Foe etc. they are often called Air lords, fliers, Air force and the likes.
Mafia Confraternity/ The family Fraternity-Cosanosyra
Its members are called Maf/Mafians. They have sayings like: secrecy is where our power lies, Retaliation after oppression. They refer to those who are non cult members as bastards and members of other cults as numbered bastards.
Supreme Vikings Confraternity/De Norsemen Club of Nigeria
The three founders of this group went by the code names Rising Angel, Eric De Red and Troppence. Members are called vultures, Aro-mates, adventurers. They have slangs like blood on the high sea, singing songs of Hoja, Never to hang a leg, even in the face of death.
Eternal Fraternal Order of Legion Consortium/Dedy Na Debt
Also referred to as the klansmen Konfraternity, members are called klansmen. They have sayings like: peaceful man in a deadly mood, what concerns klansman concerns klansmen, the affairs of klansman before any other thing in life, disagree to agree and others.
Considering the plans and rules laid down by many of these confraternities at inception, it was obvious they originally set out to help people in one way or the other. But along the way their aims and objectives have deviated from what it was originally intended to be, as many of these groups have now become a menace to society.
This post officially ends our series on Cultism in Nigeria. Look below for all the posts in this series.
I started this project last week.
A big thanks to all the writers who contributed to this project.
I hope this project helps someone out there.
Say no to cultism!!!.