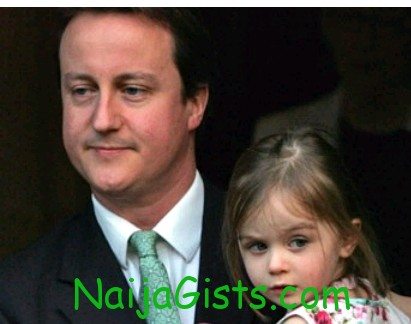 June 12, 2012 – UK PM Leaves 8-year-old Daughter Behind In Pub
Prime Minister David Cameron and his wife got home from lunch with friends at a pub in the English countryside to discover they forgot something: 8-year-old daughter Nancy.
Nancy was fine; she was quickly reunited with her parents after they realized she was missing. But Cameron's parenting skills took a drubbing Monday, just weeks after the government set up a program to give parents of young children classes on how to raise them.
Downing Street said the incident happened "a couple of months ago" as the family was leaving a pub near Chequers, the official country house of the prime minister.
The Camerons, some friends and their children had gone for Sunday lunch to the Plough, an establishment in the village of Cadsden.
Like many British pubs, particularly in rural villages, it offers a pleasant local gathering place with a garden where children are welcome along with their parents and even their pets. It's common to see several generations spending entire afternoons catching up while children and dogs run free.
As the Camerons' visit with friends neared its conclusion, Nancy went off to use the bathroom. Minutes later, the families piled into two cars to drive back to Chequers, in the countryside west of London.
Cameron was traveling in one car with his bodyguards and assumed that Nancy was in the other car with his wife, Samantha, and their two other children. Samantha assumed Nancy was with her father, and they only realized she was missing when they got home.
"The prime minister and Samantha were distraught when they realized Nancy wasn't with them," said his spokeswoman. "Thankfully when they phoned the pub she was there, safe and well."
Nancy was separated from her parents for about 15 minutes until Samantha Cameron arrived to pick her up, she added.
On the popular British parenting website Mumsnet, some people said the mistake was "easily done" while others wondered why the Camerons had not kept a closer watch on their daughter.
The case also highlighted a sharp contrast with security procedures in the United States. Secret Service agents guard and monitor the president's family when they are out in public. (AP, London)
What was he and his wife thinking?