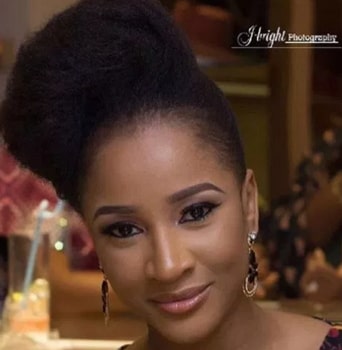 Adesua Etomi Biography & Net Worth
Banky W's Wife Profile, Life History And Educational Background
Adesua Etomi-Wellington is a Nigerian actress, fashion expert and prominent social media personality. She crept her way to the top of the Nollywood movie scene few years back. There are, of course, many things you already know about this talented actress. In the same vein, there are a host of interesting facts you might not know about her. Follow this post with rapt attention, to get a full picture of the life and career of this beautiful actress.
[adinserter block="1″]
Adesuwa Etomi Profile
Adesua Tolulope Etomi Wellington, better known as Adesua Etomi, was born on 22nd February, 1988 (debatable) in the south eastern city of Owerri, Imo State. She was born into a family of five, which include her two siblings and her parents. Although, Adesua was born in the south eastern part of Nigeria, she had her early life in Lagos (a south western city).
Adesua was enrolled at the popular Corona School, located within the corporate headquarters of Lagos, Victoria Island. She was an active member of Corona School's drama group, during her time. After her primary education, she was enrolled at Queen's College, one of the top secondary schools in Lagos at that time (till today).
Shortly after her graduation from high school, she left the shores of Nigeria for UK, at the age of 13, and subsequently got admitted into Coventry City College, UK. She obtained her diploma, with distinctions in Physical Theatre, Performing Arts and Musical Theatre. Her excellence, while in college, fast-tracked her admission into the University of Wolverhampton, where she eventually obtained her bachelors degree, with first class honours, in Drama & Performance. Exceptional!.
[adinserter block="21″]
With a formal background training in Drama and Theatre Arts, the elegant actress, expectedly, sought a career in the movie industry. Her choice was to come home and pursue a career in the Nigerian movie industry; Nollywood. She subsequently made her first TV appearance in 2012, as a relatively unknown actress. Two years later, in 2014, Adesuwa made her first major appearance in a Nollywood movie titled, Knocking on Heavens Door.
The movie, Knocking on Heavon's Door, eventually set her up for an illustrious career to come. She peaked only one year later, in 2015, with her starring role in Falling. Her role in the film, Falling, won her the award for Best Actress in a Drama, at the 2016 African Magic Viewers Choice Awards (AMVCA).
Between 2014 and 2018, a period spanning over only four (4) years, Adesua has featured in many top-ranked movies (short films and TV series). Some of these movies include; Falling (2015), The Wedding Party (2016), Lasgidi Cops (2015) Soldier's Story (2015), 10 Days in Sun City (2017), Shuga and many more.
Although, Adesua has had a relatively big success, over such short period, in Nollywood, the more interesting gist about this beautiful actress, over the past few years, is her personal life.
Adesua Etomi Baby: Does Adesua Etomi Have a Child?
As at the time of compiling this report, having carried out all necessary researches, the star actress does not have a child, yet.
In one her recent movies, Wedding Party 2, her real life husband, Banky W, played the role of her husband. The couple adopted the role of Mr. & Mrs. Coker. In the movie, Adesua gave birth to a set of twins. She was, however, defiant when asked about her wish of giving birth to twins in real life.
Is Adesua Etomi Pregnant
The beautiful actress has been married for close to one year now; hence, everyone is anxious to know when she will get pregnant and have a baby. At the moment, there is no credible information to ascertain or indicate whether the actress is pregnant or not; hence, it is safe to say "SHE IS NOT PREGNANT". Hopefully, sooner, rather than later, she would be blessed with the seed of the womb.
Adesua Etomi Siblings
The beautiful actress has two siblings; one elder brother and one elder sister. Her elder brother is named Tosin Etomi, while her sister is named Temidayo Etomi.
Adesua and her siblings were raised by their parents. Their father is a Nigerian military officer, while their mother, Eniiwaju Etomi, is an Engineer and a Redeem Christian Church of God (RCCG) pastor, in the United Kingdoms. Adesua father is an Esan from Edo state, while her mother is of Yoruba origin.
Adesua Etomi Wedding
The most trending gist about this actress, is without doubt, her wedding, which held late last year. The star actress got married to her heartrob, Bankole Wellington (Banky W) at a lavish, highly publicized wedding ceremony.
The couple had their Traditional Wedding in Lagos on 19th November, 2017, which was followed by the Court Wedding at a registry in Lagos a day later, on 20th November, 2017. The grand wedding ceremony, the White Wedding, was taken outside the country to Cape Town, South Africa. The wedding was graced by every who-is-who in the Nigerian entertainment industry. It was, indeed, the most talked about wedding in Nigeria over the past one year.
The power couple would be celebrating their one year wedding anniversary come November 20, later this year. We wish them the best of marital life!
Adesua Etomi Husband
Adesua Etomi husband, Banky W, whose full name is Olubankole Wellington, is a popular Nigerian musician and actor. He is the CEO of prominent music recording label, E.M.E, a music recording platform which has produced the likes of Wizkid, Shaydee and Skales among others. E.M.E is, today, one of the top recording labels in the Nigerian music scene and its founder/owner, Banky W, is one of richest and most popular musicians in Nigeria today.
It was gathered that, Banky W met Adesua at an event way back in 2015 and the couple hit it off at once. They dated for about 18 months before they got engaged in February, 2017. Nine months later, they became husband and wife and their marriage has been one of the most celebrated in Nigeria.
One interesting fact about the power couple which recently came to the forefront of the Nigerian media-scape was the fact that, Adesua Etomi and Banky W actually attended the same primary school, Corona, in Lagos. It is uncertain if they were classmates but rumours have it that, they were school mates at some point.
Banky W Twin Brother
Adesua Etomi's husband, Banky W, does not have a twin brother. However, he has two brothers, Temi and Funmi, who look very much like him.
Adesua Etomi has a brother, Tosin Etomi, who shares a striking resemblance with Banky W's younger brother, Funmi Wellington. Banky W posted a picture of the pair some time ago and their striking resemblance could well pass them for identical twins. Take a look at their picture below.
Adesua Etomi Movies
Memoirs of 4 (2018)
King of Boys (2018)
Date Night (2018)
My Sassy Girl (2018)
Unseen Chains (2017)
The Wedding Party 2 (2017)
Ten Days in Sun City (2017)
Something Wicked (2017)
In Line (2017)
Shuga Down South – TV Series (2017)
The Wedding Party (2016)
Ayamma (2016)
The Arbitration (2016)
Couple of Days (2016)
Falling (2015)
Shuga – TV Series (2015)
LasGidi Cops – TV Series (2015)
A Soldier's Story (2015)
Brave (2014)
Knocking On Heaven's Door (2014)
The Call (2013)
Adesua Etomi Awards
Below is an outline of Adesua Etomi awards collection.
2016 Best Actress in a Drama – African Magic Viewers Choice Awards (AMVCA)
2015 Actress of the Year (Big Screen) – ELOY Awards
2015 Discovery of the Year – Golden Movie Awards
2014 Best New Actress – Nollywood Reinvented Awards
2009 Best Performance in a Devised Piece of Work – Foresight Theatre Awards
Adesua Etomi Net Worth
While the beautiful actress is married to one of the richest music artistes in Nigeria, she has earned a sizeable income for herself. Recent estimates put her net worth in the region of 150 million naira.