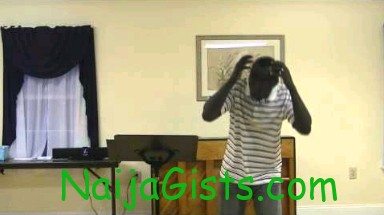 August 27, 2012 – Pastor Fights Doctor Over Church Member's Corpse In Abuja
A Pastor identified as Moses of one of the new generation churches (name withheld) in Nyanya , Abuja had challenged a doctor of one of the private hospitals who confirmed one of  his patients, Mrs Agnes Ameh  dead in the early hours of Sunday.naijagists.com
Trouble started when Mrs. Agnes Ameh who was in a critical condition, was rushed to one of the private hospitals in Nyanya, Abuja at the early hour of Saturday.  It was confirmed that the doctor's effort to fight the ailment yielded no result as the young woman died on Sunday morning.
An eye witness account, Mr John Ojobo told our reporters that when the doctor confirmed to the family members that the lady was dead, they had decided to take the body to the mortuary in order to begin necessary burial arrangement.   However, the pastor and his prayer warriors rushed in after a bus had been brought in to convey the corpse to the mortuary, shouting 'Halleluiah', and declaring the glory of the lord. The pastor told the family members to relax, saying that Agnes was only going to be asleep for few hours, and will rise again.
Our source disclosed that the doctor who came out of his office was enraged by the pastor's declaration, and further confirmed that Agnes was dead. The doctor had told the family members to ignore the doctor's position, and deposit the dead body in a nearby mortuary. In his swift reaction to the doctor's position, the pastor declared him as an agent of the devil, affirming that the devil was using him to achieve his purpose.  The angry doctor quickly ordered the pastor out of his hospital premises. However, the family members agreed with the pastor and rushed Agnes to the church where the pastor and others considered as strong members of his church commenced serious prayers in order to revive her.
Mr. John Ojobo further affirmed that the prayer warriors and their pastors began prayers from 8am and ended 5pm with no result at all as the corpse remained unmoved.
According to Ojobo, "the pastor gave up around 5pm when he saw that his prayer was not working; leaving many members, even his prayer warriors to doubt his capability as a man of God. One even wonders why he spoke with such conviction that he was going to raise the dead. He compounded the family's pain because at the end of the day, they all wept when their last hope was dashed. I don't think you need to do all that to retain your members"
However, the pastor who was reached on the phone refused to speak with our correspondent. According to him, it was against the will of God to engage in a telephone conversation with a worldly journalist, especially at the time of the night. Calls were put across to him around 10 pm on Sunday.