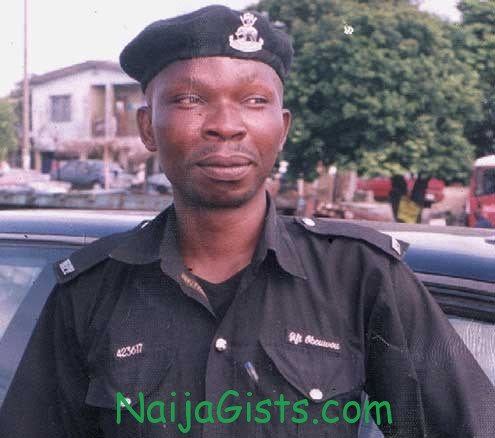 The Late Constable Ayoola
Sept 13, 2012 – Victim Of Lagos Armed Robbery Attack For Burial Today (Constable Ayoola Ifonlaja)
One of the Police officers who was killed on the line of duty during Sunday's mass armed robbery operation in Lagos is set for burial today.
Constable Ayoola Oluwatodimu Ifonlaja and Corporal Gift Obouwu Ogbor were both killed on Sunday while responding to distress call of an armed robbery attack in different parts of Lagos.
On that fateful day he called us about 3 44p.m. that he won't be able to attend the family meeting which holds every second Sunday of the month. He said he was on his way to respond to a distress call, but we later heard that  he was killed by robbers at 4 p.m. same day.
"His birthday and that of his twins was on 23 of this month. An arrangement for the burial anniversary of our late father was also slated for the same day. But this has been cancelled because of his death. He left behind a mother  aged 76 years old." – said the late Policeman's brother
He used to work at Zenith Bank before joining the Nigerian Police Force.
He is survived by his 76-year old mother and 3 kids.
May his soul and that of the other corporal rest in perfect peace.