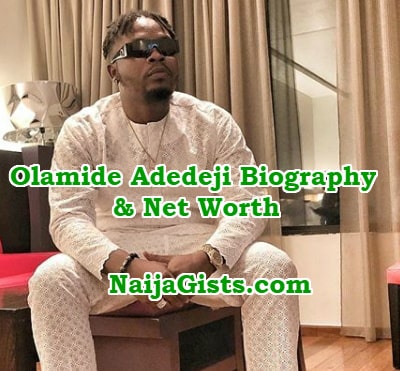 Olamide Adedeji Biography, Net Worth History: Wife, Contact Phone Number, Album Lists, Awards, Cars, House
Olamide Adedeji is a popular Nigerian Hip hop singer and song writer he is fondly referred to as BaddoSneh and also by his stage name Olamide. He is the creator of the YBNL record label which is an association of talented musicians. His music and lyrics is often done in his indigenous language (Yoruba).
Olamide Adedeji Biography Early Life and History
He was born on March the 15th 1989 in Bariga a district Suburb in Lagos state. A graduate of Tai Solarin University of Education, Olamide discovered his musical passion and talent quite early, as far back as the year 2000 and has moved in that direction ever since.
He released a song Eni Duro in 2010 under a record label known as Coded Tunes. The song was immediately a big hit and this brought him into fame. The following year, he released his first studio recorded album which was titled Rapsodi. In 2012 he began his own record label (YBNL), leaving his former record label Coded Tunes behind.
Olamide Album List And Popular Songs
Olamide has released close to ten albums since 2010 and has over 120 songs. He is indeed a talented singer and all his albums so far seem to be a hit from the moment of release. He has a very solid fan base and has a knack for always attracting great crowds of people with his performance.
He mostly releases one album each year except for the year 2015 in which he released two albums. Below are Olamide's Album lists and popular tracks contained in them.
His first album was titled Rapsodi. The release of this album marked his official introduction to the world and to fame. It was released in 2011 and came out via the Coded Tunes record label. It featured artists like Pheelz, Adol, AB1, Jumoke, B Rock, Lord of Ajasa, Soul Joe, ID Cabasa, 9ice, Wiz Kid, Reminisce and Terry Tha Rap Man.
The album became popular for songs like eni duro, omo toh san which was performed with musician Wiz Kid, boys are not smiling and also the song tribute to Dagrin
The YBNL album which was released in 2012 marked his exist from Coded Tunes and the launch of his own record label YBNL nation. The YBNL is an abbreviation for yahoo boy no laptop. The brand became a well known brand which formerly included stars like Adekunle Gold and Lil Kesh. This album was famous for songs like money, jale, fuji house, ilefo illuminati and jesu o kola.
The following year, the album Baddest guy ever liveth hit the streets, this was as expected also a hit but the songs gbadun arawa, eleda mi, turn up and durosoke, were the most popular songs of this album. Some other songs in the album include:  mu emu, skit and esu pofo. Etc.
Street OT
This Album was released in 2014 and was packed full with great tracks some of which are as follows: Up in the Club, Oga Nla, goons mi, skelemba and batifeori. Some songs however stood out more than others goons mi, story for the gods and 1999 were a complete hit.
Eyan Mayweather (2015)
The album contains songs solely sung by Olamide as he featured no other Artist. The album made an impression with songs like: say something, melo melo, eyan mayweather, boom boom boom, Lagos boys, mama mi, bobo.
2 Kings also came out in 2015; this album was released in collaboration with acclaimed musician Phyno a king of music in his own right. The songs for this Album are: Cypher, Koba Koba, Nobody's Fault, Ladi, God be with Us, Real Nigga, Confam Ni, Carry Me Go and For My City.
The Glory was Olamide's album released in 2016. Through some tracks in this album he incorporated a letter to his son detailing what kind of legacy he would like to live him with while giving glory to God for how far he has come in other tracks. In total it comprises of about sixteen tracks, common tracks include: Who You Help, Letter to Milli, Journey of a Thousand Miles, the Glory, Pepper Dem Gang, Oluwa, Omo Wobe, Owo Blow and others.
Lagos Nawa
Released in 2017, the tracks include:
Fe Nu Shey Street
Radio Lagos
Yagaga
The One
Oro Pawpaw
Send It Over (Ft Reminsce & Timaya)
Shine
Saysaymaley
Moje Dodo
Lagos Nawa
Every Day Is Not Christmas
On A Must Buzz (Ft Phyno)
Shanko Baby
Fine Fine Girls (Ft Tiwa Savage)
Wo,
Enimimomi
Wo Spiritual
YBNL Mafia Family (2018)
This album was released just before the end of 2018; it contains acts from DJ Enimoney, Limerick, Yomi Blaze, Fire Boy, LK Kuddy, Kranium, Lil Kesh, Picazo, Temmie, Ovwasa and Kiss Daniel.
Welcome
Oke Suna
Macaroni
Motigbana
Jealous
Ika
Send Her Money
I'll Be Fine
Poverty Die
Fire Down
Le Le Yi
Lie
Finally
Other singles by Olamide include: science student, criteria, Logba Logba.
Olamide Wife and Son
Olamide surprisingly keeps his personal affairs private and he is one of the few stars who have stayed with one lady rather than an array of them as most stars are known to do when they encounter fame.
He reportedly wedded his long time girlfriend and the mother of his son Adebukunmi Aisha Suleiman sometime in 2018; Earlier in that year news of their engagement surfaced. The couple has been to together since 2011 which is quite a solid record considering.
They have a son together who was born on January 30, 2015 and he is called Batifeori Maximilaino Adedeji. The pregnancy was not really publicized however, the naming ceremony was a colorful affair graced by several dignitaries including the governor of Lagos as at the time governor Raji Fashola.
The couple welcomed their child with much pride and joy as Olamide could not but publicly appreciate his then girlfriend for agreeing to birth his child despite the fact that they were not married. Olamide seems to enjoy his sons company going by how much time they are said to spend together.
Olamide Cars, Houses And Net Worth
Olamide Adedeji's net worth is around $6 million. He lives in a 38 million naira house located in Lekki Lagos State. He supposedly owns three other houses two are said to be located somewhere on the mainland while the last one is located on the Island. He also has two other houses in his birth town Bariga collectively worth about N50 million.
It is hardly news that Olamide is a lover of big luxurious cars the cost of these cars run into several millions of Naira. He owns a Range Rover sports, Toyota Camry, a Rolls Royce and many cars.
Olamide Twitter , Instagram & Facebook Username
His tweeter handle is @olamide_YBNL and on instagram Olamide Adedeji (@baddosneh).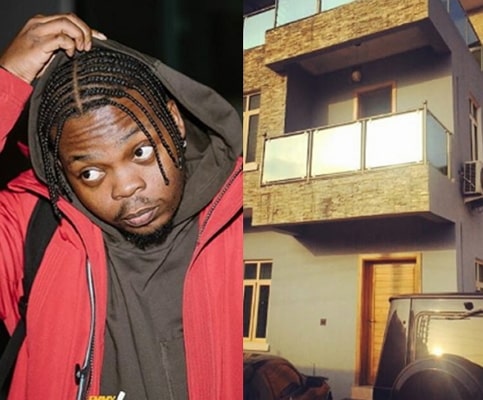 Awards Received By Olamide Adedeji
Olamide has won several awards for his songs and albums he also has several endorsement deals with companies like Peak and Etisalat.
In 2011 he was nominated for three different awards: Best Rap Single (Young Erikina), Best Rap Album (Rapsodi), and for The Headies 2011 Next Rated. He however did not win any.
He was nominated for the Headies 2013. He won the Nigeria Entertainment Awards for Best Collabo (Ghost Mode), another for Best Indigenous Artiste. He also bagged the Headies 2013 for Album of the Year, Best Rap Album and Best Street Hip-hop Artiste and finally for that year the Nigeria Music Video Awards for Best Afro Hip-hop Video.
2014 brought him three awards two from the Headies 2014 for Best Album of the year and Best Rap Album while channel O awarded him the Most Gifted West.
In 2015 he won about eleven awards one from City People Entertainment Awards for Rap Artist of the Year, three from The Headies 2015 for Best Street Hip-hop Artiste, Artiste of the Year and Best Pop Single. He got seven Awards all from TooXclusive  Awards for Album of the Year, Mixtape of the year, Best Hip-hop Track, Male Artiste of the Year, Artiste of the Year, Video Wonder of the year and also Certified Banger of the Year.
For 2016, he won two awards one for the Rap Act of the Year and the other was from Nigeria Entertainment Awards for Album of the Year.
From then up until 2018 he has only been nominated for awards but is yet to win any. Olamide was only nominated for the following: the Headies Viewers Choice Awards, Song of the Year, Artiste of the Year, Best Rap Album and the 2018 Headies for Best Street Hip-hip.
As can be seen Olamide is one of those rare talents to come into the Music industry and dominate in such a short time. His events and concerts (Olamide Live in Concert) which began in 2014 and has held every year since then, attracts massive crowd of people from around the Country.