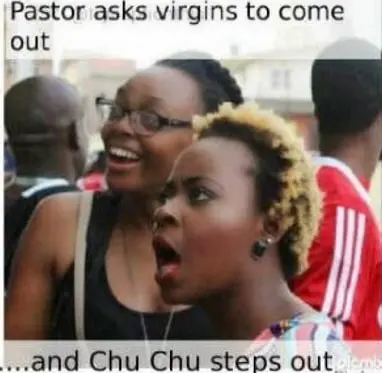 Nigerian joke of the Week 2018: Funny Nigerian Jokes, Gist and Stories That Will Crack You Up
Nigerians are happy people, we are known to make a humour of virtually everything. In fact, a recent United Nations' research revealed that, Nigerian citizens are some of the happiest people on earth. This is laudable, in the face of extremely tough economic/living conditions, we still find a way to make ourselves happy. Call it suffering and smiling! Hence. without doubt, the Nigerian humour industry is the best in the world.
After or during a bad/tough day at work, school, home and so on, we often require a calming sensation. We bring you some of the funniest jokes to help you forget your worries and keep you hydrated with the fluid of happiness. Stay close.
Funny Nigerian Stories
Otuocha & the Motivational Speaker
Otuocha was among the audience at a conference. A special motivational speaker, during his speech, made a statement which stunned his audience. The statement goes thus, "the greatest moment of my existence was spent in the arms of a woman". He, however, stressed further that, "the woman in question, is my mother who catered for me as a baby". Otuocha was inspired by the statement and he decided to replicate it when he get home.
While at home, Otuocha said loudly in front of his wife's bedroom, "My greatest moment in life, so far, has been in the warmth of the arms of a woman ………". Unfortunately for him, he was unable to recollect the concluding line. He woke up the next morning with a bandaged head.
White Man Directions vs Nigerian Man Directions
White Man
Me: Hello, please I'm going to St. Allen at New Gate. Kindly help me with the directions.
George Smith: Okay, head down this road for about 5km, then take a right turn at Moore Junction. Navigate for like 5 minutes, then turn to your left, you'll see New Gate's sign post. Drive in and head straight down for like 2 minutes; by your left will be St. Allen. Be safe!
Me: Thank you!!!.
Nigerian Man
Me: Bros, abeg I dey find road wey go Cleveland hotel.
Maraji: First first how much you wan pay?
Me: I no hold money, help me abeg.
Maraji: All this kind broke people sef….; just waka follow the road wey dey behind where dem dey sell bread. Wen you don waka tire small, turn right and cross that big gutter wey dey beside one yellow tank. Waka small, den you go see one woman wey dey sell akara. Tell her say na that ashawo hotel you dey go, she go direct you.
Me: Thank you! (deep breath)
Funny Naija Gist
Below are some common Nigerian statements and their actual meaning.
Baby, I missed my period – Baby, I am pregnant
Baba you don fresh oo – My guy, it's been a while.
Mother to child: If you like don't stay at home – If dem born you well, don't stay at home!
Sweetheart, I'm not happy – Sweetheart, I need money.
Say the truth I won't beat you – If you don't talk, you are in trouble.
Daddy, they said only few people passed the exam – Daddy, I failed woefully in the exam.
The food is not too bad – The food is very bad.
"Will you go to Church tomorrow?" I never know – I don't want to go.
With all due respect – Permit me to abuse you.
Do you have a girlfriend – I like you.
I don tire – I'm hungry.
I am not sure – I know, but I won't tell you.
Hello, you look familiar – Hello, may I know you?
Son, don't fight anybody in school oo – Son, I love you.
Boy to girl: I love you; girl: Okay – I'm not interested
Naija Jokes 2018
Naija Police Jokes
"In Nigeria, once Police catch you and you are well-dressed, well-fed and you own a laptop and iPhone; my friend, don't argue, you are a Yahoo boy".
Friendship
"When your friend's Facebook status reads, 'No real friend in this world'; just know that baba is broke and needs money"
Long Thing
"You are using iPhone XS Max and you are looking for someone to bless you with 50K for your school fees; my friend, you are on a long thing".
Fact
"In Nigeria, there's always that one building to check if there is light in your area or not".
Evolution of Ambition
"At 10: I want to be a Pilot.
At 18: 1 want to be an Engineer
At 25: We buy bitcoin at good prices, contact me"
Naija Women
"A Nigeria woman between 17 & 24 – I want a good looking man with a mansion in Banana Island and also drives a Rolls Royce…
…25 to 30 – I want a man who is godfearing and has a well paying job….
…31 & above – I just want a man who will care for me; he doesn't have to be rich, money is not everything".
Naija Comedy Clubs
There are some very prominent comedy groups and clubs, where you can get readily entertained, live, with very funny jokes. Some of these include:
Naija Comedy Club, Lagos
De Don's Friday Night, Ikeja Lagos
Omo Baba's Unknot Your Tie, Lekki Lagos
Jokes That Mattaz with De Stalker, Lekki, Lagos
Lekki Comedy Club (with Whale Mouth), Lekki Lagos
Comedy Night (with Buchi), Yaba, Lagos
Naija Birthday Jokes
We have compiled the following for you to ensure you stay cracked up on your birthdays.
"You must be a very bad guy, because good people die young". Happy Birthday!"
"Laugh as much as you can now, in some years time, you might not have many teeth left".
"Some say, why celebrate birthdays, when you know with each passing year you are moving closer to your death".
"For the first few years of my life I didn't talk to anyone. Why? Because I couldn't talk!"
"Call the fire service, the cake is on fire; oh no, it's the candles. Happy Birthday".
"According to a popular saying, maturity comes with age. Now I understand why you look so young".
"It takes an average Nigerian woman 40 years to clock 30".
"Men age like wine, that is why more men are alcoholics than women".
"I pray you grow old, till you become toothless; Happy Birthday!".