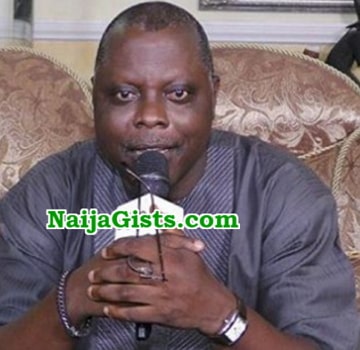 Dele Odule: I Regret Having Children Out Of Wedlock..My Acting Career Exposes Me To Women
Nollywood actor Dele Odule recently spoke with Joy Marcus about the challenges of an actor, his marriage and mistakes he made in the past.
See excerpt:
What stirred your interest in acting?

I started acting because of the environment I grew up in. When I was a young boy in the village, I was exposed to a lot of traditional activities through which I discovered that I could sing, drum and dance. When I eventually had the opportunity of going to a modern school, I realised that the same thing I could do was what actors were doing and getting paid for. This led me to give it a try. Also, I lost my mum who could have supported my education.

What is the name of the first movie you featured in?

I started acting on the stage. As of that time, the traditional home video was not so popular then but I had acted alongside veterans in the industry. However, my first home video movie was titled, Agbe bo adi ye, which was produced by the late Akin Ogungbe. In 1987, I featured in Aribi Sebi. I also featured briefly in Ayanmo. Those were the few films I featured in before home video became popular. I think I have featured in over a thousand movies so far but the movie that brought me fame was Ti Oluwa Ni Le. The movie brought me closer to reasonable people. After Ti Oluwa Ni Le, I produced Oro kan kan, Baba Agba and more than ten movies.

Can you recall your experience the first time you were on set?

I was not scared because when you start acting on stage, you won't be intimidated in any form. My first time on set was not intimidating at all because I already had the experience of facing crowds from all walks of life. The first time on set was nothing because I didn't face any crowd.

What inspires the kind of characters you play in movies?
As an artiste, you should be able to carry your audience along. When I am acting; irrespective of how serious the movie is, I try to inject some comic relief so that it doesn't get too serious. At the same time, I usually step back into the character in the movie. Unfortunately, that is what some of my colleagues lack because they don't have sufficient orientation. Many actors capitalise on the raw talent they have without fully understanding the nitty-gritty of acting. You need to understand how you can draw your viewers closer when you are acting; and that is why I inject a little bit of comic relief in movies. However, when you meet me personally, I am a very strict person. I am not funny at all; I am the opposite of what I portray on screen. Even if you observe me well on screen, you will notice the strictness in me. I don't compromise on what I believe in.
Do you only feature in Yoruba movies?
Not really! But I feature more in Yoruba movies than English movies. I have featured in many of Wale Adenuga's productions. I have acted in one or two English movies but I cannot remember their names.
Do you think there is conflict between Yoruba and English movie practitioners?
There is no conflict. I think we are one big family. Some actors who don't major in Yoruba movies still feature in Yoruba movies. Acting is the same, regardless of the language you decide to interpret it in. Movie makers are one all over the world.
Do you feel that the money given to the movie industry by former President Goodluck Jonathan was well managed?
I wouldn't say it was properly managed, neither will I say it was mismanaged because I don't know the beneficiaries. I think it was a political action and not because the government was genuine about improving the industry. I don't know if there was any committee set up to handle that but I think those who benefited from the money were those who were close to the government.
What are some of the qualities that have helped you become successful in the movie industry?
I was trained by those who had been there before me and it really helped me a lot. It gave me the opportunity to know the nitty-gritty of stage acting. The little education I had helped me as well. I believe that is what makes me tick in the industry.
What are some of the most important lessons you have learned in the industry?
One of the things I learnt is being independent, because if I wasn't independent, I would not have gone this far. When I started acting, it wasn't too profitable and that can be frustrating for some people who are not acting out of passion. But if you are determined and independent, you will go very far and that is what has helped me thus far.
If you had a second chance, is there anything you would have done differently?
If I had a second chance, I may not want to be an actor. I would prefer to be something else though I enjoy being an actor and I thank God for where I am today. I don't qualify success by the amount of cash I have in my account; it is rather about being relevant to my generation. However, acting takes your privacy away, and I, personally, don't like that. The job can also lure a person into doing things that they have no business doing. There is no way you would be deeply involved in acting and it won't take over you. If I had to come back again, I will prefer not to become an actor because I cherish my privacy.
What are some of the challenges you face and how do you surmount them?
We don't have an enabling environment to practise the way we want to in Nigeria; and it is not because we don't have enough money. When you shoot a movie, the owners of the cinema that would help show the movie may exploit you. At the end of the day, you will realise that you are labouring for them. Also, movie production involves a lot of money.
What would you consider your most challenging movie?
I actually don't see any movie as challenging. Like I said, I am passionate about acting; so, I fit into any character very easily. Maybe it is because of my passion for it, which is why people think I am a versatile actor.
How did you meet your wife?
I met her when I was living in Abeokuta, Ogun State. I used to visit a place in Abeokuta and my wife happened to live around the area. I saw her one day and one thing led to the other.
What attracted you to her?
She was from a very humble background; so, I believed she would make a good wife.
How would you describe your marriage?
There are hurdles that one has to struggle with in marriage; you know women are a peculiar being. We have been together for about 28 years but I am still learning. There is no marriage that is 100 per cent perfect.
What is your view on having children outside wedlock?
I am a victim of that. Like I said, if I had a second chance, I wouldn't be an actor. When you are famous, you are bound to do some things that you don't wish to do; but I am not saying everybody that is famous does that. Seriously, I don't like it much.
How do you manage controversies that come with your job?
There is no way you will enjoy stardom and not face controversies. When they come, I try to manage them the best way I can. I am a very good manager of controversial issues. But I can't remember any one that really got to me.
Where were you born and raised?
I was born in Ile-Ife, Osun State, but I am originally from Oru town, Ijebu North Local Government Area, Ogun State, where I grew up after the death of my mother.
What do you remember about your childhood?
I was brought up in the village and I lost my mum at a very young age. I don't like to talk about the past because as long as I have overcome them, I move on. It was quite difficult for a young boy, who was less than 10-year-old, to survive without parents. I won't say I am the only one that falls into this category but I thank God. Also, I don't want to talk about it because I don't want to offend the people who were there for me then.
Which schools did you attend?
For my elementary education, I attended St. Mark Anglican Primary School, Talafomu, Oru, Ijebu, Ogun State. Then, I went to Itamerin Secondary Modern School Oru, Ijebu. I also attended Muslim Teachers Training College, Oru, Ijebu, and I have a Bachelor in Mass Communication from the Onabisi Onabanjo University, Ago Iwoye, Ogun State.
How do you relax?
I don't do a particular thing to relax. I like hanging out with friends when I have the opportunity and playing table tennis.
[Sunday Scoop]