First Night Ideas and Tips for Bride and Groom: Preparing Your Body For Wedding Night
After the stress of preparing for a wedding, no one takes into account the 'after'. We are often caught up in the whole frenzy that we take little or no time to plan for our own selves.
What happens when everyone has left the wedding and it is just you and your husband? You should plan for it because as far as I am concerned, that is the best part of the wedding. So while you plan, include this tiny yet huge part in your schedule.
What exactly do you need to know about your wedding night? How do you and yours prepare your body and even mind for that ultimate night?
Below are some tips I have found helpful for couples on their wedding night. Let us start with some tips for the bride:
Take it Slowly: I know you are excited and you have a million and one butterflies fluttering in your belly. I am also sure you must have thought of all the giddy stuffs you both will do but alas! You find out you are bone tired after the whole stress and as much as you wish to consummate the memorable night, your entire body is screaming for the bed.
Take it slowly. No one says it must be hot and heated. It could be nice, warm and gentle. The important thing is that you both are going at your own pace. Your idea of a first night may be a beautiful candle-light dinner, massages and cuddles.
Flatter His Senses: Remember that saying about men being moved more by what they see? Great, and I am sure your husband is no exception. But beyond what he sees, flatter his sense of smell too.
Wear a delicately scented perfume that is guaranteed to set him on fire. Choose a lingerie that reveals enough to hide the essentials. Bring your A game and watch him melt in your palms.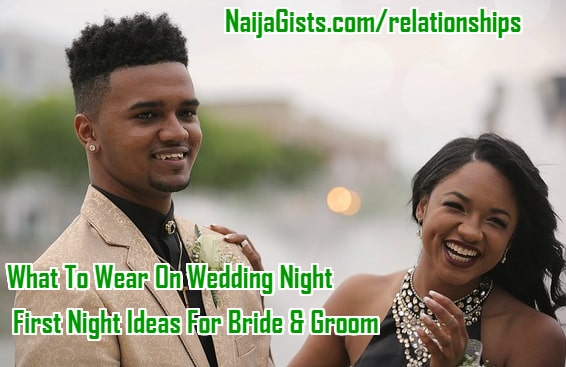 You Do not Know Everything: Let us face it, no matter how much of an experience you think you have got, you still do not know it all. Here is something you need to know: sex within marriage is entirely different from outside it.
Let us put it this way, you are now doing it with an abandonment, a sense of security. Take  your time and be in the moment. Do not try to impress him or outdo yourself. This does not mean you should not try to wow him. Just do not make it look like you are trying too hard. Make room for spontaneity for there in lies the true pleasure of it all.
Understand That This Is a New Chapter: You both may have been making love before your wedding but that of the wedding is definitely a new chapter. It begins and seals the consummation of your marriage. It is the start of your life together so embrace it with open hands.
Make love like it is your first time and treat the night with all the sacredness it deserves. You just got into the longest journey in human history.
You Must Communicate: Nothing beats communication for what is interaction without it? It is your wedding night you both are tired and stressed out of your minds fine. But do not allow him to be the one doing all the humping.
Talk to your husband, show him what drives you off the chain. Most women feel their husbands have to figure them out with  little or no input from them. He is human too you know and will want you to talk to him. Tell him where to kiss, touch, bite, lick suck you (which ever works for you).
Trust me, it makes for better love making and by so doing, he too will communicate his feelings as well.
Do not Do Nothing: Okay let me rephrase this, I mean do something! It is your wedding night, you both are tired, agreed. But that is no excuse to just lie there numb, like some sack.
Your husband has gone through some stress too so do not let him do all the humping and puffing. Pleasure him- touch, kiss,squeeze, suck, just do something for and to him. It is called love making not some monologue.
It May Not be Perfect: I bet you have so many ideas and imaginations about how your wedding night is going to be. Roses, champagne, candles, soft music, white sheets etc. Well sorry to burst your bubble: you may not be getting that.
Yes you may have the roses and music but the sex may be far from perfect. For instance, you may have a bunch of inconsiderate guests ( in my own opinion) who will stay till midnight all in the name of helping you with the clean-up when actually you both are screaming for them to leave.
When they finally do, you are both so tired that the moment you both hit the bed, you just want to sleep off. You may therefore not have the entire night to yourselves as planned. So you see, it may not go as planned.
Find a Memorable Location: You could decide to go to the city where he proposed for your honeymoon or where you both first met. This is not compulsory though. Just be sure to find where works for both of you.
Just as the bride needs to prepare for the wedding night, so does the groom too. He needs to be prepared for his bride and here are some tips for him to bear in mind:
He Should Be Clean: Need I stress this? Immediately after saying good bye to the last guest, he should go take a shower. His nails should also be neatly trimmed (now we do not want that hurting the wife do we)? His hair (I mean every hair) should have been neatly trimmed.
Bottom line is, your overall should be spick and span. Wear a cologne that you are sure will whip her into a state of frenzy.
Get Her a Gift: You know how sentimentally attached women are to gifts more so when give by a husband? Great, so get her something really nice and cute(you already know the know the sort of things she adores). Present it or them to her and watch her giggle like a school girl falling in love for the first time.
Try Removing Your Mind From Sex: That is right. Listen, there is no set down rule that you both must make love on your wedding night. We have seen cases where some brides where recuperating from an illness and did not have sex on their wedding night or some were just tired from months of planning for the wedding.
Rather than having sex at the uppermost of your mind, relax and get comfortable. Let it come naturally.
Make Her Feel Comfortable: This should be the goal especially if you both are consummating it for the first time. Do not be in a hurry to initiate sex. Allow her to rest from the stress. The thing to note is that you both are spending together forever, so need to rush. Just have fun and enjoy your day.
Surprise Her: Besides getting her a gift, women love surprises. It literally gives them more life. So plan a little surprise that you are sure will wow her. It could be a change of plans to somewhere more exotic. With that, you see sure to have all your heart desires granted.
Do not Force Her: Do not force your wife for see. If she does not feel up to it, show some sense of maturity and let her be. You may make one or two advances but if it does not work, let it be. Just be sure to enjoy time with yours and make it your own definition of a perfect wedding night.
How was your wedding night?. Please share your experience with us.