Online Loans In Nigeria – Guide To Borrowing Money Quick & Instantly Online From Home In Nigeria
There is that business idea dancing at the core of your mind doing the rumba and the tango and you can't just wait to bring that idea to the dance floor and give it the actual spotlight it needs but you don't have the substantial capital to make it a reality and this is where loan comes in to give that idea the hope to breathe and come to life.
[adinserter block="23″]
Have you ever been in a situation where you urgently need money but you have to wait till the end of the month before you can collect your salary which by the way would not be enough due to the lot of debts incurred and loan my friend is what you need to save the day.
It is important to know what loan means which by the way is the borrowing of money with an agreed sum of interest to be paid back at a stipulated time but it has always been an issue when the money isn't available to payback as at when due and as such it creates fear in the minds of the debtors. But guess what, you don't need to have your mind up in the ceiling because loans can be granted to you easily at a low or no interest rate and at a reasonable agreed time for repayment.
[adinserter block="20″]
There are online platforms where loans can be easily accessed in Nigeria without the rigorous process associated in the application of loan from any Micro Finance Bank and the painful time required for waiting for approval.
Read How To Get Fast Cash Loans In Nigeria.
In this present precarious economic situation Nigeria is undergoing , the idea of a loan is not a bad idea.
Due to the severe hardship Nigerians are experiencing, loan is like a free ticket out of the precarious situation.
The supply of money is at a minimal rate and money basically is needed to fulfill essential basic amenities.
Those looking to meet the demand for money which comprises of the transactions, precautionary and speculative motives, it is quite possible because of the online platforms available to access loan at your convenience and here is the good news it can be done from the comfort of your home with your device, no stress and no hassle.
The fresh out graduates are also not left out because now jobs are not available and the idea of starting up a small scale business would be considered to which loan must be available.
Websites & Apps To Borrow Loans Quickly & Instantly In Nigeria
1.Palm credit App : This is an online platform and app in Nigeria that grant you access to instant loans and at an instant approval rate of 7%.
It also makes interest free for 2 days.
[adinserter block="21″]
It is also beneficial because bonus is awarded whenever you refer a friend to palm credit which is 10,000 naira reward.
It is easy, just follow the steps by registering then approval follow suit and then withdrawal.
Its credit limit is 100,000 naira. It does not require paper work, collateral and office visit.
Its online service help is available 24/7. For more information you can visit their website: www.facebook.com/palm credit.
2. Branch.com.ng: This instant loan online platform and app is available in four countries which includes Kenya, Tanzania, Nigeria and Mexico.
It makes it easy for you to access loans and you can borrow up to 150,000 naira.
The term range for repayment is 4 to 64 weeks which is quite amazing.
It does not require collateral or any other documents.
Just visit the website and register and your loan would be immediately deposited in your account.
You can visit their website for more information :branch.com.ng or contact them at nigeria@branch.co
3. kwick cash : This instant loan online platform is solely sponsored by 9mobile and within 3 mins your loan would be granted to you.
Just simply dial *561# and follow the steps but their interest fee is 10 to 20%.
Their website : 9mobile.com.ng/kwick cash
4.Quick check : This is yet another beneficial instant loan app in Nigeria that makes life easy and comfortable for you.
You don't need to stress yourself thinking of medical bills to pay or school fees or any other unexpected cash problems.
Quick check grants you loan within 24hrs of application.
Read Private Money Lenders, Loan Givers In Nigeria
It also gives you the opportunity of buying airtime for yourself and loved ones in a seamless manner.
It is secure, fast, and easy to use. You can borrow up to 30,000 naira with no hidden charges.
Interest can be paid for the number of days you take the loan at 1% daily. For more information you can check out their website : www.quickcheck.ng
5. Fairmoney: This instant loan app makes it easy for you to access loans via your mobile phone anytime and anywhere.
All you need to do is to download the app, sign up in minutes and apply for a loan which would be sent directly to your account via the fairmoney loan app.
It's fast, secure and reliable. Fairmoney uses your smartphone data including your sms history to verify your identity.
You can borrow up to 100,000 naira and within few seconds you would receive your loan.
Reward or discount can also be granted to you when you payback on time.
You can pay in multiple installments for more flexibility and ease.
For more inquiries, complaints, questions, you can send them an email @help@fairmoney.ng
6. Rapid cash: Loan can be accessed on this platform by signing up using your Facebook or
Twitter account.
Then you complete the registration details.
You can choose any loan package that suits your financial needs. Once approved, your fund would be received within 10 minutes.
Their loan package is from 5,000 to 50,000 naira which comprises of bronze, silver, gold and diamond.
The interest rate is 30% and repayment can be made within 30 days.
To access higher credit limit, you have to make timely repayments.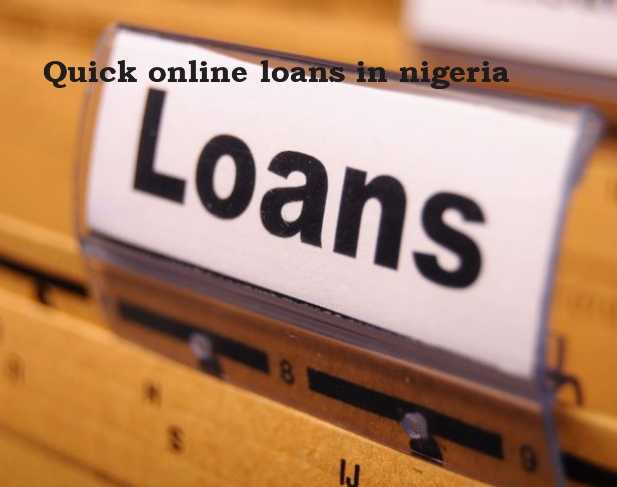 No collateral, no phone calls and no paperwork needed.
Visit www.rapidcash.ng for more information.
Well, the above listed online platforms/apps is not all there is to accessing instant loans online in Nigeria.
There are so many other online platforms but to mention a few where loans can easily be accessed in Nigeria.
It would not be complete if steps or guidelines are not taken into consideration when borrowing money quickly and instantly online in Nigeria from home.
There are basic guidelines to follow when applying for a loan online. But before the guidelines you should know that requirements for accessing a loan online in Nigeria is very important
Magic don't just happen out of the blues and you expect that loan would be granted to you without guarantee that you would payback besides this online platforms do make money too from the interest fee and precautionary procedures have to be adopted to ensure that the loan given to you would be repaid.
How To Qualify For Online Loans In Nigeria
REQUIREMENTS TO BE CONSIDERED WHEN APPLYING FOR A LOAN ONLINE IN NIGERIA
1.You must have a steady source of income that is verifiable i.e you must be handy and not financially handicapped .
If you have nothing doing, then there is that likeable chance that your application would not be considered.
You must be able to show that you can payback as at when due.
2.You must be 22 years and above before your application can be considered.
Applying for a loan when you are in school or a minor cannot be accepted because the capacity to payback is extremely slim and as such loan cannot be granted to you.
3.You must have an active account that is used frequently.
The traffic of money into your account must be stable.
If your account has been inactive for a while then your application for a loan would be rejected.
4.You must have a means of identification. Due to fraud which is becoming rampant nowadays, it is necessary to have a valid means of identification before your online loan application can be approved.
5.You must be a confirm employee of a company or an organization.This is very essential for loan repayment affirmation.
When you know you have successfully passed these requirements then it would be a piece of cake to get the loan you need.
How To Borrow Money Quickly & Instantly Online From Home In Nigeria
GUIDE TO BORROWING MONEY QUICKLY AND INSTANTLY ONLINE FROM HOME IN NIGERIA.
1.Visit any of the online loan platforms or you can simply download the app if you have an Android device then locate the application form and simply fill it.
2. Follow the steps carefully to the final part
3.Once you have finished with the application form, wait for a confirmation of approval or decline as the case maybe.
4.Once your loan has been approved, you might be required to send some important documents to them online.
5.After all is settled, your loan would be sent to your account in a matter of minutes or hours but it won't exceed 24hrs.
It is as easy as spelling your name or don't you think so. Wait, i just thought about it some people can't spell their name but it is still easy anyway.
So don't run into any roadblock when trying to think of ways to acquire a loan for that pressing want because your phone is just a step away from you or to some the phone is their second skin.
Well, just have it in mind that you can't be imprisoned anymore in that financial mess because there is an easy solution which is online loans.
I hope this article has been able to help you immensely in solving your financial problems.
If you have any question, leave it in the comment box below