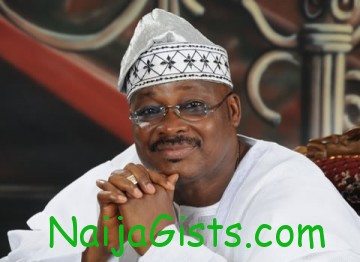 Sept 4, 2012 – Governor Ajimobi To Reshuffle Cabinet
Governor Abiola Ajimobi of Oyo State, Southwest Nigeria, on Monday confirmed his plan to reshuffle his cabinet.
Ajimobi made the confirmation to newsmen in Ibadan after inspecting some ongoing projects in the city.
He said there was nothing new or extra-ordinary in cabinet reshuffle, adding that the practice was used by governments around the world to improve service delivery.
The governor said that after 16 months in office, there was a need to review the performance of his administration with renewed commitment to the people of the state.
Ajimobi said that the dropping of some cabinet members was not because they performed below expectation, rather, they added value to governance in the state.
He described the current commissioners as a group of intelligent young men and women with commitment to serve the state.
The governor said the contributions of members of the cabinet made his first year in office a success.
He said that those who would be leaving the executive council had greater responsibilities ahead of them.
Meanwhile, the governor expressed satisfaction with the performance of contractors handling projects in the city and urged them to deliver the jobs on schedule.
He advised traders whose shops were demolished at the Iwo road inter change to send delegation to his office for possible palliative measures.