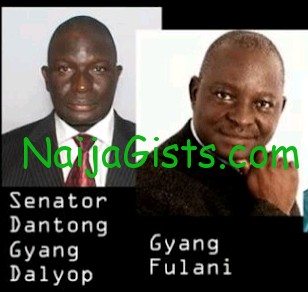 July 9, 2012 – How Senator Gyang Dantong Died In Plateau
A member of the House of Representatives, Mr Simon Mwadkon, who slumped along with late Senator Gyang Dantong when gunmen attacked them during a burial ceremony on Sunday, said that the 53-year-old senator might have died of "exhaustion''.
Also killed by likely exhaustion at the Masei burial ground in Bachit District of Barkin Ladi, Plateau, was the Majority Leader of the state House of Assembly, 54-year-old Gyang Fulani.
The two died while Mwadkon, who represents Barkin-Ladi Federal Constituency, was revived at the Barkin Ladi Hospital, according to his story.
Mwadkon spoke in Jos on Monday when Governor Jonah Jang visited him in his residence.
"We were at the burial ground preparing to bury the victims of a massive attack on the villages when the gunmen started shooting, forcing everyone to abandon the corpses and scurry to safety.
"Everyone was racing away, but the senator slumped first and there was a rush to take him,'' he said.
He described the persistent killings as "very outrageous and embarrassing'' in an area under a state of emergency imposed by the Federal Government.
He said that hundreds of villagers had been killed in the past few months, stressing that in some cases, whole villages were wiped out in such attacks.
Mwadon called on the Federal Government to protect the villagers as they remain vulnerable to attacks every day.
Earlier, Jang had asked Mwadon to tell the world "exactly what happened'', pointing out that God spared his life to enable him relay what had happened.
He said that Dantong and Fulani lived exemplary lives, and declared that the Almighty had called them to rest in his glory.
"I have already visited the families of the deceased and have reminded them that God is the comforter and will never abandon them,'' Jang said.
The Governor said that the duo sacrificed their lives for their people and declared that such sacrifice would not go in vain.
"They will be remembered for the great sacrifice they made to their people because what happened to them could have happened to anyone,'' he said.
"I have also asked their families never to ask God why he did it because He certainly knows why.''
Jang said that he had worked very closely with the duo and was sure they were at the bosom of the Lord, and urged the Federal Government to take steps to wipe out marauders in the country.
He called on Plateau people to fast and pray for peace and expressed utmost optimism that God would not abandon the state. (NAN)
TYC/ETS/BP