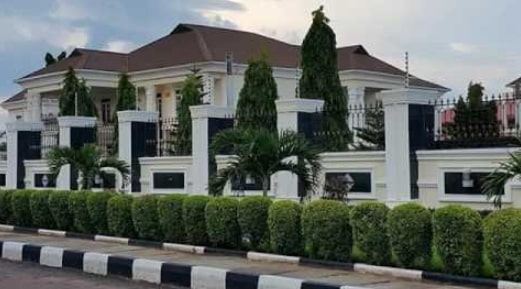 Most people usually try to acquire a house or houses as soon as their fortunes increase. It is a necessity that offers comfort  and assurance. After all, it is clearly listed as one of the three basic human needs.
For celebrities however, getting a house is not just to satisfy a basic need, it goes beyond that. It is like making a statement, an identity. Besides being an investment, it is a show of class, style and opulence.
Nollywood actors are definitely no different. Most of them have edifices which they either bought or built. In recent times, it appears a lot of them are investing in real estate and so we have the number of those who own  houses clearly in the majority.
We therefore present to you a selection of Nollywood stars (actors) who own very beautiful houses:
Ramsey Nouah: One of the classiest actors in Nollywood, RMD as he is fondly called never fails to make a statement on a regular basis. From his clothes down to shoes and accessories, it  spells splendour and we can imagine that his house is no exception.
It is located at Lekki with the most modern facilities. It has a court yard, a swimming pool and a big garage. It is meant specifically for his family, the actor says and sees it as a haven and a relaxation spot  when he is not working.
The house is said tohave gulped a mind blowing #500 million and the hi-tech devices and decors inside and outside the house leaves us with no doubt that it is indeed worth it.
Jim Iyke: Another actor who has invested in real estate is Jim Iyke. Shortly after completing the building, the actor relocated from Lagos to Abuja. There is a certain modest touch to the house.
It is not overtly outlandish as one would expect from him. Instead, it has warm, serene and comfortable touches to it.  Even the paintings and decor are all simple yet stylish.
Knowing how liberal Jim can be in spending, we know that this house must have cost him quite a fortune to acquire. Form what we hear, the house cost him about #200 million to complete and it is a masterpiece.
John Okafor: He is one of the best best comic actors in Nigeria. He is mostly loved by his fans for the foolish and silly roles in movies.
He recently acquired his house in one of the high-brow areas in Lagos. The exact location of the house is not known but it sure looks like Lekki. The house is large and has several  rooms and a very large kitchen. We do not know exactly how much the house is worth but we are sure it is a six-zero amount.
Osita Iheme: Popularly known as "Pawpaw" by his fans. Aside from acting Osita, he has a couple of endorsement deals, to keep him going. He is also an author and a motivational speaker.
He loves investing in real estate and has a hotel named "The Resident" in Owerri. From the look of things, the actor wants to have more in every state already and also has one now in Enugu state.
Although the actor keeps his private life and achievements private, fans could not help but wonder if he has a house of his own. This  detail was hidden from the public knowledge until recently, when he announced that had moved in to his own house.
His house is located at Owerri and has modern facilities and other luxurious amenities. The mansion is said to have cost over #100 million.
Kanayo O. Kanayo: The veteran actor is definitely on our list. He can be said to be among the pioneers of Nollywood. He is also a business man and is doing well for himself. It therefore came as no surprise when he officially opened his towering house on December 27, 2017 at his home town, Aboh-Mbaise.
The house which took roughly a year to complete is definitely in a class of its own. The house warming party was attended by family, friends and colleagues from the industry while the official tape cutting was done by the former Governor of Anambra state, Mr. Peter Obi. The one-storey building has a large terrace, a garage and a sit out.
Mike Ezuruonye: The actor is definitely trendy in every sense of the word. The star who shuttles between Nigeria and Canada has a beautiful house here in Nigeria which is tastefully furnished to meet his big boy standard.
The star who is known for being loud and bright has his house decor done is several bright shades such as white and red. There is a large swimming pool and a garage in the compound. There is a beautiful well-trimmed garden and a standby generating set.
Desmond Elliot: Desmond Elliot is surely one of Nollywood's biggest boy. However, after he became a father and a politician, it was though he went on a low key and became more of a director.
This did not diminish his taste and style in any way whatsoever as his house clearly speaks for him. The house which he said is strictly for family is dedicated to his wife and four lovely kids. The house interior is quite simple and very homely. The painting is done in very warm and neutral colours which give the house the ambience that it has.
There is a relaxation spot and a sort of play ground for the kids. Aside from his own house, he gifted a homeless woman a full furnished apartment in Lagos after she powered the borehole he rehabilitated. This is as part of his campaign promises to help fight the erratic power situation in Lagos state.
Yul Edochie: He is a great actor just like his father, Pete Edochie. It has not been long since the actor moved in with his family to his duplex located in the tranquil area of Lekki. The house was said to have cost several millions of naira. It is tastefully furnished and has all it takes to make life comfortable.