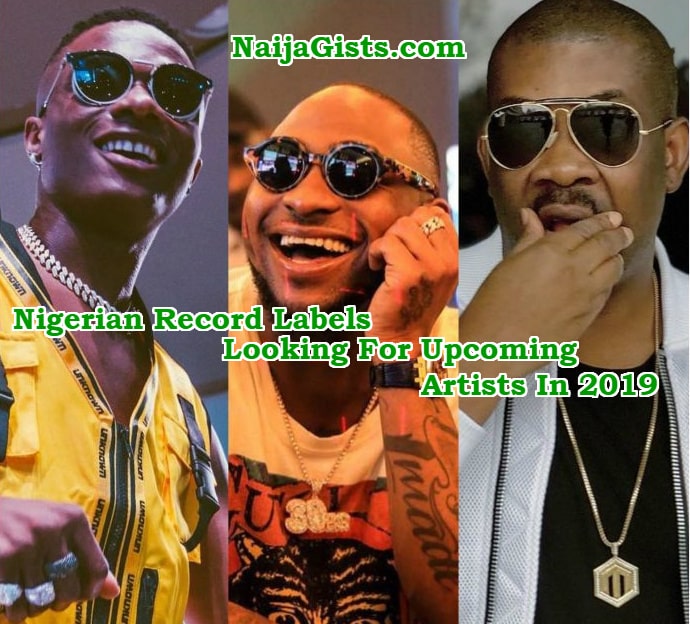 How To Get Signed To Nigerian Record Labels As A Rapper Or Musician (2019 Best Guide)
Note: This article might have been written on the 17th of January 2019, it still applies today.
It is a known fact that an average upcoming rapper or musician needs a durable platform to develop his/her career. The term "platform", in this context, refers to a record label. So if you are an upcoming musician, this article is designed to enlighten you on how to get signed to a record label as a rapper.
Rap music is not indigenous to Nigeria; hence, it is not as revered as the likes of Afro-pop, which dominates the Nigeria music scene. Nevertheless, a number of Nigerian rappers have been able to forge their way to the top of the music industry. Prominent names in this regard include M.I Abaga, Vector, Ice Prince, Jesse Jagz, Naeto C, Reminisce and Phyno to mention a few.
How To Get Signed To Nigerian Record Labels
While some of these rappers have diluted the rap genre with Afro-pop, a number of them have maintained their originality. So either you are an upcoming rapper/musician or a full-blooded rapper, you need a forward-thinking record label to help launch your career in the Nigerian music industry.
How To Get Signed To A Record Label As A Rapper
There are only a handful of Nigerian record labels with interest in rap music, and we will be looking at how you can join some of them in this article.
Getting signed to a record label is, without doubt, one of the biggest achievements of any upcoming artiste. However, to get signed by a prominent record label, you need to be expectionally talented, as no record label would invest in you if your prospective ROI (Return On Investment) is not promising.
This is even more difficult for a rapper, as there are only few rap-oriented record labels out there; hence, the competition for the few available slots is highly stiff.
Nevertheless, you can give yourself an edge by honing your lyrical skill, while also expanding your fanbase. And with dedication and discipline, you will definitely stand out. Once you are confident in your ability, you can go ahead and seek out record labels with track records (interest) in rap music.
Some of these record labels have been outlined below:
How to Get Signed to Chocolate City as a Rapper
Chocolate City Music group is probably the number one talent hub for Nigerian rappers. The record label, founded by Audu Maikori, has discovered (and developed) a host of top rap talents in the country, including the likes of Jesse Jagz, Ice Prince and the current CEO of the group, M.I Abaga. Also among the crop of Choc City's ex acts is Brymo, who is a highly dedicated Afro-pop/Juju music artiste.
While M.I remains the only prominent name under the label, there are a number of fast rising musicians under his tutelage. A noteworthy name is Dice Ailes, who is conveniently one of best young rappers in Nigeria today. Others include Classiq, DJ Lamba, Koker, Ruby, Nosa and the newly signed artiste, Yung L.
To become a protégé of M.I Abaga, under Chocolate City Music, you need to be a very hardworking musician, with a fairly large fanbase. According to the group's CEO, M.I, an upcoming musician/rapper who wants to join his label must already be established in his locality, and must have a minimum of one hundred records (songs).
Hence. if you meet the above outlined criteria, kindly organise your songs and reach out to the record label as soon as possible.
You can get in touch with Chocolate City Music group through the following channels:
Log on to their website, fill the contact form and leave your message.
Connect and reach out to the group on LinkedIn.
Connect and reach out to the group on Twitter.
Take samples of your work yo their corporate headquarters in Lekki, Lagos.
With a bit of luck, you might just be the newest Nigerian rap sensation under Chocolate City Music.
How to Get Signed to YBNL as a Rapper
YBNL Nation is another top recording label in Nigeria, with interest in rap music. The music group's CEO and founder, Olamide, is a rapper himself, albeit an indigenous Yoruba rapper.
Founded in 2012, YBNL Nation has been the leading record label in Nigeria, in terms of talent discovery and propagation of Yoruba-styled indigenous rap music. Noteworthy names, who rose to fame under YBNL Nation, include Chinko Ekun, Lil Kesh, Adekunle Gold and Viktoh.
To get signed to YBNL Nation, you need to be a talented and hardworking upcoming indigenous rapper or Afro-pop musician. If you fit this criteria, follow the guideline below to join YBNL Nation.
Select your best song and send it as a file attachment (MP3 format) to the e-mail address below;
Remember to accompany your email with a catchy title and a captivating body.
Wait and hope for the best.
If your song is good enough, a member of YBNL Nation's management team would contact you.
You can also try your luck via an unconventional way; by reaching out directly to the record label's CEO, Olamide, on social media.
Send Olamide a direct message (with links to your songs) on Twitter and Instagram.
If you are successful, you can look forward to joining the likes of Picazo Rhap, Lyta, Limerick, Temmie Ovwasa, Davolee, Yomi Blaze and others music acts under YBNL Nation music group.
How to Get Signed to DMW as a Rapper
Although, DMW is not specific to a particular music genre, the group has more of Afro-pop artistes. Nevertheless, one of the most prominent artistes under the label, Dremo, is a full-blown rapper. Hence, you can reach out to DMW and try your luck.
To get signed to DMW, you can reach out to the record label CEO, Davido or his manager, Asa Asika, and hope for the best. If you are lucky, you could just be the next Dremo.
Go through this article to know more on how to join DMW.
Other Record Labels You Can Sign For As A Rapper
The era of rap music in Nigeria is fast fading off, with many renowned rappers now veering off course, into Afro-pop music. This has resulted in a significant reduction in the number of rap-oriented record labels in the country.
Nevertheless, there are still a handful of record labels who are actively looking for talented rappers, to help rejuvenate the rap spirit in the Nigerian music industry. We have outlined some of these rap-oriented record labels, including how you can get signed to their platforms.