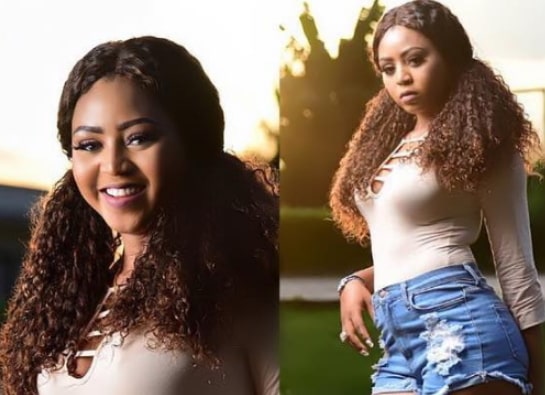 Regina Daniels Biography & Net Worth: Education & Family Background Of Nollywood Most Beautiful Teenage Actress
You all probably need no introduction to the sweet-sixteen actress, who just celebrated her 18th birthday less than 24hours ago. She is one of the fastest rising movie artistes in Nollywood, having busted onto the big stage some years back.
Regina Daniels was born on October 10, 2000 in the capital of her home state, Asaba, Delta state. She was raised by her mother, in the midst of her siblings. She was enrolled into Hollywood International School, in Asaba, where she acquired her secondary education.
Regina started acting way back since when she was in Primary school. She was introduced to acting, as a child actress, under the guidance of her mother, Rita, who, herself, is a popular movie star in Nigeria. She made her first TV appearance in 2006, at the age of 6. However, she made her first professional Nollywood debut just three years ago, in 2015 and has since gone on to become one of the most recognizable faces in the industry.
Not much is known about the teen actress' personal life. Her mother, Rita, has made sure not much is revealed about her daughter's early life and Regina, herself, has also been playing to the gallery. She is, just like her mother, playing the game of hide and seek with the public, regarding her personal life. However, we've made some discoveries in this regard. Read on to stay informed.
Regina Daniels Husband: Is Regina Daniels in a Relationship? 
As a beautiful, young and brainy lady, it is expected that Regina Daniels would attract loads of admiration from fans, as well as from her male colleagues in Nollywood. Regarding this, she pointed out that, her mother helps her keep the aforementioned classes of people at bay.
One of the closely kept secret of the teenage actress is her romantic life. It is not entirely certain if she's in a relationship or not. However, there are strong indications that she is romantically involved with a fellow teenage actor, known by the name, Somadina Adinma.
Somadina, just like Regina Daniels, is a new player in the Nigerian movie industry. The couple have been spotted together on many occasions, at different events. Their relationship go way back, when Regina and Somadina both debuted as child actress and child actor respectively, in 2006. Although, there is no confirmation from either of the pair regarding the nature of their relationship, they sure look good together.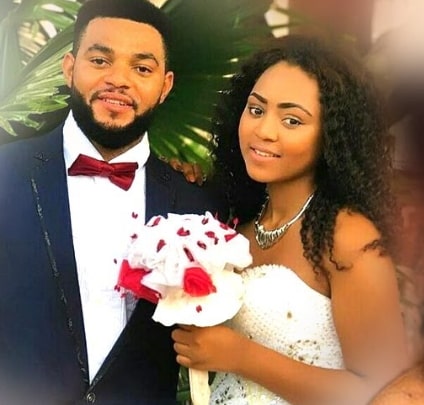 Regina Daniels recently pulled a fast one on her Instagram followers, when she posted a wedding picture on her page. The picture, as it was later discovered, was a shot from a movie scene.
Regina Daniels Siblings
The teenage actress has five siblings; three brothers and two sisters. She is the fifth of six children in her family.
Regina's sisters include: Ifeoma Daniels (the first born and eldest sister), and Destiny Daniels (the last born). Her brothers are Emmanuel, Lawrence and Samuel.
Ifeoma Daniels is, reportedly, happily married with kids. Samuel and Lawrence, the third and fourth born, are students of Ambrose Alli University, Ekpoma in Edo state. The duo are aspiring music artistes. The eldest son, Emmanuel Daniels, prefers the lowkey life and not much is known about him. The baby of the family, Destiny Daniels, is still in secondary school; she is the only younger sibling of the teenage actress.
Regina Daniels Mother
Regina was introduced to acting by her actress mother, Rita Daniels, a native of Ogwashi Uku in Delta state. She is a veteran actress, a movie producer and a politician.
Currently, the veteran actress hardly features in movies. She was, at a time, the chair-lady of Delta State chapter of Actors Guild of Nigeria. She manages all of her child's (Regina) professional affairs in the Nigerian movie industry.
In a recent interview, Rita Daniels pointed out that, Regina has always been passionate about acting and she inherited her acting talents from her.
Regina Daniels Parents: Who Is Regina Daniels Father?
One of the unsolved mysteries surrounding the life of teenage actress is the identity of her father. Her mother is her sole parent. No credible information is available on the teenage actress' father. It is, perhaps, the greatest kept secret of the actress' mother.
Regina Daniels First Movie
The fast rising actress made her first TV appearance at a very tender age of 6,  while she was still in basic school. She, however, made her professional Nollywood debut eight years later, in 2015, in a movie titled, Marriage in Sorrow. She, reportedly, earned a paltry ten (10) thousand naira for her role in the movie.
However, the money served as a mere compensation, as her sterling performance in the movie, Marriage in Sorrow, turned out to be her stepping stone. She consequently got more movie roles down the line. She went on to feature alongside top actors and actresses in the industry, in top movies like Hanging Coffin, Jaja The Great. The King and Python, Wipe Your Sorrows and many more
Along the line, she has produced two movies so far; Twins Apart and The Jericho. Today, Regina Daniels charges a minimum of 500,000 naira per movie.
The teenage actress has been recognized for her exceptional performance in Nollywood. She has been nominated for different award categories at City People Movie Awards; in 2015, 2016 and 2017.
Regina Daniels School
Regina is, without doubt, an intelligent kid. In fact, she has always balanced her school activities with her acting work, right from when she was in primary school. She has proven her excellence both in education and her acting career.
She is currently undertaking her programme in the University. She enrolled, to study Mass Communications, at Igbinedion University in Edo state, about a year ago. She recently won two departmental awards, a couple of months ago. She was unveiled as the "Face of Mass Communications Department" and also won the award for "Outstanding Student" in her department.
She dedicated the awards to her mother, Rita Daniels, who has always being her primary source of inspiration and guidance.
Regina Daniels Net Worth
The teen actress started off as a ten-thousand-naira artiste; today, she earns fifty times more. She is probably the youngest professional star in Nollywood today. At 18, she has achieved what a 30-year old movie star would dream of. She is, however, still under her mother's management, which oversees her movie productions, as well as her charity foundation.
There is no reliable parameter to accurately evaluate the teenage actress' wealth. However, with respect to her acclaimed earning of 500,000 naira per movie feature, her net worth has been roughly estimated in the region of 100 million naira.