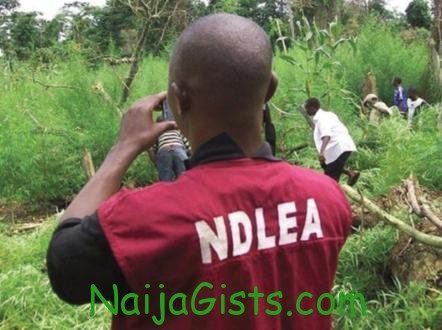 Sept 4, 2012 – Drug Trafficking In Nigeria: A Time To Review It's Penalty
Officials of the National Drug Law Enforcement Agency, NDLEA, at the Murtala Muhammed International Airport, MMIA, Ikeja, Lagos made a startling discovery at the weekend during inward clearance of passengers on a Turkish airline flight from Sao Paulo, Brazil. They found 2.655 kilogrammes of cocaine neatly hidden inside roasted necks of chicken! Of course, the roasted chickens were promptly seized and the owner arrested. NDLEA officials put the street value of the seized drug at about N24 million.
It is amazing that a Nigerian could go to this extent in order to make money. Even the NDLEA Airport Commander, Mr. Hamza Umar, was so baffled that he said: "It is a remarkable seizure because no one would have imagined cocaine worth many millions of naira inside roasted chickens."
Upon interrogation, the arrested suspect disclosed that it took him three days to stuff the chicken necks with the illicit drug. What a task! We marvel at the ingenuity of some Nigerians in their search for the filthy lucre. Some Nigerians have no qualms stuffing their private part with banned drugs. Some of them ingest the drugs in order to conceal them from immigration officials at airports around the world.
Recently, a pregnant Nigerian woman was caught at the same MMIA with illicit drug tied round her protruding belly and thigh. One was also caught with banned drug concealed inside her wig which she wore. Some of them have also been arrested after they were found to have concealed drugs inside gas cylinders, bags and different parts of the body.  If only half of this ingenuity is channelled towards good causes, this country will by now be rubbing shoulders with the likes of the United Kingdom, China, Russia, United States and Canada.
We are concerned at the alarming rate at which Nigerians continue to engage in illicit drug trafficking, despite measures taken by the NDLEA to dissuade them from the illegal act. The drug traffickers continue to get desperate and invent novel methods of carrying out their lawless act. It is our opinion that many Nigerians continue to traffic in drugs because the punishment for the offence is not harsh enough. They continue to engage in it because they feel the benefits far outweigh the risks.
This is why we are calling on the Federal Government to revisit the penalty for drug trafficking in the country and make it more severe. If a would-be drug trafficker knew that the risks far outweigh the benefits, he or she would think twice before engaging in the illicit trade. We think that the 15 years maximum sentence for drug trafficking offences is not punitive enough and that is why we still have many of our citizens engaging in it. In a country such as Malaysia, drug traffic face the death penalty if found guilty.
Government should also beam its searchlight on the activities of some unscrupulous NDLEA officials who tamper with seized drug exhibits and prevent the prosecution of some of these drug suspects. It is also important that we carry out more enlightenment campaigns to dissuade Nigerians from embarking on illicit drug trafficking.  Government should also make it a priority to improve the welfare of citizens by formulating and implementing policies that will make life easy for them. This is very important because a contented citizenry will not engage in acts that are inimical to the wellbeing of their country.