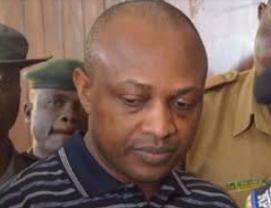 Welcome to NaijaGists.com Crime Watch.
I believe you are here looking for updated information on the suspected kidnap kingpin.
Is Evans The Kidnapper Dead?… No
To clear your doubt, we can authoritatively confirm with you that Evans is not dead.
He is currently in detention at Kirikiri Maximum Prison in Lagos.
He last appeared in court on Monday the 7th of May 2018 where he broke down in tears over ill treatment.
His next court appearance was not mentioned but be sure to keep in touch with NaijaGists.com for latest on his case.