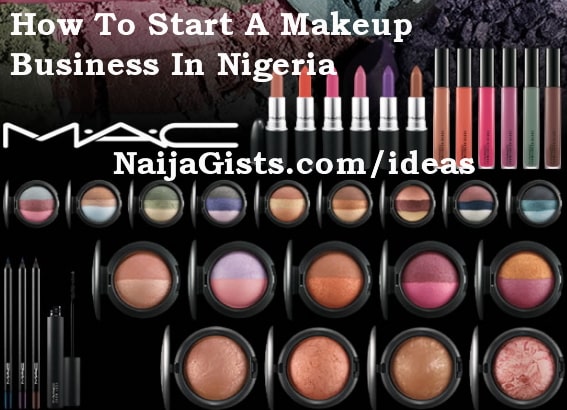 How To Start A Makeup Artist Studio Cosmetic Business In Nigeria
Generally, unemployment has become more rampant among the thousands of young and old graduates in Nigeria, and because of this, a lot of people had gone into so many entrepreneurial ventures of which the makeup business is one.
Many Nigerians have now seen the need to learn one skill or the other which may help them make a living or, perhaps, turn into a stable source of revenue despite the economic recession that is currently frustrating lives in the country.
Studying at any tertiary institution wouldn't be sufficient to make you a professional make-up artist in Nigeria except by acquiring more skills from the professional makeup artists.
A lot of fashion shops and hairdressing salons are found in the cities of Nigeria and are owned by some people who have acquired those skills.
Because of the economic situation of the country, a lot of graduates have now become entrepreneurs making a living and getting their major source of revenue from those skills they've acquired so far.
How Profitable is the Makeup Business in Nigeria?
Starting a make-up studio is just like any other major enterprise that so many people run in Nigeria and does not require more than anyone can incur/afford for starting up.
In order to find out whether the makeup business would be profitable for you or not, you'll need to visualize certain things such as:
The caliber of women that would love to patronize your professional make-up business.
The business scale on which you'll be operating right from scratch.
The profitability of becoming a professional make-up artist.
The durability of the equipment used in this business when compared to that of the most entrepreneurial businesses run in Nigeria.
How promising the business had been so far for those who started earlier than you.
The running expenses in this business and the profit potentials.
Sequel to the factors highlighted above, a make-up business is highly-promising in Nigeria as women in their respective calibers cannot do without observing the deserved make-ups for their loved ones.
Despite the fact that the make-up process takes a lot of time per head, yet, women wouldn't mind observing it for their personal beautification.
One of the most interesting things about this business is that there are no fixed charges for individual make-ups as women are permitted to negotiate with their respective artists.
Professional make-up artists are highly needed at occasions like wedding ceremonies whereby proper make-ups need to be done for the bride to beautify her exceedingly.
As a make-up artist, you have a great potential to receive the contracts of bridal make-ups at ceremonies, for films and the film artists, for entertainment industries as well as for the fashion industries.
Alternatively, you can be selling hair attachments, skin care products, and nails to your potential customers in your own fashion/beauty store.
Another strategy to really commercialize the makeup business is to implement the beauty/fashion therapy for customers who would love such a service and pay well for it.
Tools Needed for Starting a Makeup Business In Nigeria
The following are the basic tools needed for running a make-up business in Nigeria:
Make-up kit holders
Lip glosses
Lip Balms
Foundations
Brushes
Wipes
Lipsticks
Contouring sets
Powders
Mirror
Steps to Follow  To Set Up a Makeup Business
Get the Capital
To ensure that the kits are made available for all the different make-up styles, a lot of money would be needed to get these in place. Probably N200,000 or a bit less than that should be okay to get all the make-up kits ready.
At inception, you may not necessarily create a make-up studio, but may simply start up first as a make-up freelancer providing the numerous make-up services to the people at their shops, homes, and other convenient places.
If the capital set aside is sufficient for opening up a studio, this would be better, though you may not be able to run a make-up studio all alone. So, you will have to hire the services of other make-up artists around you, or alternatively, get some volunteers around.
To go higher in the make-up industry, you would have to incur some extra cost on learning/acquiring professional make-up skills from other studios that are offering such training opportunities to the beginners and amateurs.
Get a Practicing License
As part of the requirements to run a make-up business in Nigeria, it's a must to register with the Corporate Affairs Commission (CAC).
Incorporating a business increases its credibility in the sight of the potential customers. People are usually afraid of dealing with any business that isn't legally set-up.
It would also be required to be a registered and certified makeup artist to partner with the television, film, and fashion industries.
To become certified, you will need to register your make-up business with the National Agency for Food and Drugs.
Aside from incorporating your business with the Corporation Affairs Commission (CAC), there are other bodies within the industry that you will need to register with to become fully certified.
Get a Marketable Location
Your location is as important as becoming prosperous in that business. People will only prefer to patronize those studio owners who have their studios located around.
If you really want to become successful, you must bear this in mind. It's one of the key factors in running an ideal make-up business in Nigeria.
In case you can't find a nearby location on time, you may need to consult with the estate agents. They do have many vacant shops in their custody.
Market Your Business
Find every possible means to promote your business as a make-up studio owner. One of the working strategies is using the Facebook Ad marketing packages. Twitter Ad is equally promising.
Some people do attract many potential customers by giving discounts. At every festive season, some studio owners do a lot of promos by distributing attractive gifts such key holders, handbags, handkerchiefs, hand towels, and lots more to everyone that patronizes them. You can be doing the same too as a marketing strategy to gain more customers into your business.
Printing flyers, banners, and posters may help you broadcast your business to more potential customers far and near.