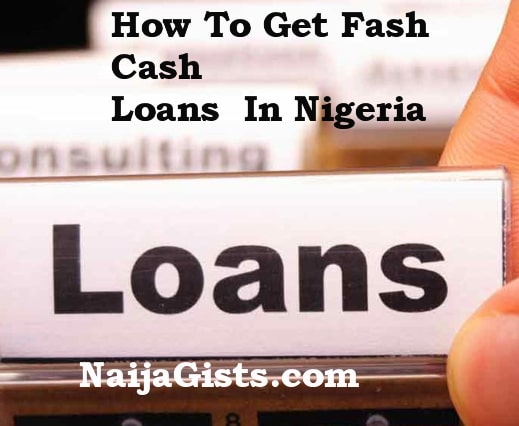 How To Get Fast Cash Loans In Nigeria.. Private Business Loan Givers & Money Lenders In Lagos Nigeria (Step By Step Guide)
It can be quite discomforting when the immediate need for money arises and you are stuck on the bridge of confusion.
Many questions runs through your mind on how and where to get money to satisfy your most pressing want but the light bulb of solution switches on and off sporadically and you are left drifting on the sea of frustration.
Loan in this case can solve the financial problem but the problem is where to look and how to get it immediately.
Private & Business Loan Givers & Money Lenders In Lagos Nigeria
In Nigeria, there are many loan platforms /companies that offers loans at a fast rate and with no collateral.
Their interest rate are also reasonable and they give enough time for loan repayment depending on the type of loan given.
If you are sourcing for fund to pay your rent, pay your children school fees, travel, pay medical bills, buy a car or get a salary advance, then there are online loan platforms suitable for you.
The same is applicable to corporate businesses , small and medium scale entrepreneurs, organizations and companies who need loans in the payment of employees salaries , purchase of equipments or for investment purposes, then there are online loan platforms and companies that give such loans .
Loans in general can be received from the traditional /commercial banks, the microfinance banks, the money lenders and the online loan providers.
If you are looking for quick loans then the online loan providers are the best option.
If you are looking for medium or long-term loans then the commercial banks are what you need but it attracts a collateral and also documents which are precautionary measures taken to ensure your capability and repayment of loans.
If you fall into the category of short term or medium term loans then the microfinance banks and money lenders seems the most suitable choice. They may or may not require collateral but documents are needed here to proof the authenticity of commitment to repaying the loan.
Commercial Banks That Gives Fast Cash Loan In Lagos Nigeria
The commercial banks are very strict when it comes to giving out loans. They require your bank statement, the reason for your application for a loan and collateral.
Commercial banks like First bank, Zenith bank, UBA, Access bank gives any type of loan such as private loan, business loan, domestic loan, vehicle loan, etc. They fall into the category of private and business loan givers.
Microfinance Banks That Give Personal & Business Loans In Nigeria
There is also the microfinance finance banks who needs the permission and approval from the central bank of Nigeria before they can give out loans to the general public.
They are both private and corporate loan givers and they also offer short or medium term loans.
They are not as strict as the commercial banks and don't require collateral. They give loans from #50,000 to # 3,000,000 and it can be repayable between 3 to 365 days.
MONEY LENDERS
They offer small personal loans at high rates of interest and they are quite different from banks and financial institutions that also give out loans.
They also play active role in lending to people who have no access to banking facilities such as those who don't have bank account or those whose account have little or no money and also those who do not have good credit history.
The CBN do not directly monitor the activities of these money lenders but the banks in which they operate.
They give short term loan ranging from #10, 000 to #100, 000 and are designed to tide you over to the next payday.
They are used as an emergency exit to solve financial problems you couldn't meet from your monthly salary or savings.
They collect their money from your account as at when due and loans are repayable in six months.
Online Loan Providers In Nigeria
These are the easiest and simplest solution to getting loans within 24hrs of application and no collateral is required.
They provide loans as low as #5000 to #2, 000,000 and you are entitled to choose when to repay back the loan.
They pay directly to your account after your loan application is approved.
Fast cash loans in Nigeria can be accessed more easily due to their online platforms.
No need to stress your mind anymore in looking for where to access that loan which you need because you can get a loan now through the avenues I aforementioned.
Whichever floats your boat is solely your choice.
If you are looking for loans that can be processed fast due to the state of emergency of your needs then I would make them known to you.
The providers of fast cash loans in Nigeria are: First bank, UBA, Zenith bank, Union bank, Stanbic IBTC, Access bank, etc.
Private Money Lenders, Companies That Give Fast Cash Loans In Nigeria
1. Lmoney: This is a leading salary advance and consumer credit platform owned and operated by Lubeck capital ltd.
It is a registered microfinance institution in Nigeria.
They provide cash loans to individuals, group of individuals either directly or via their employers.
They offer the quickest and most easily accessible salary advance and payday loan facilities to corporate professionals in Nigeria.
Loans accessed on this platform extends to #2, 000,000 and can be granted within 24hrs.
Office location: 43 Church Gate Street, Victoria Island, Lagos, Nigeria.
You can also contact them for more inquiries on these lines: +2347017690819, +2347083453505, +2349081712843.
Website : lmoney.com.ng for more information.
2. Upladder: To access loan on this platform, you would have to visit their website and fill the application form to which you would get a response via email within 15 to 30 minutes.
Then the staff will contact you to clear up details. Payment is received with a cheque leaf.
Their interest rates is 15%
More loans can also be granted to faithful clients who repays their loan. Their customer service is 24/7 round the clock.
Email : info@upladder.com.ng
You can contact them on 08157213030
Office located in: suite 4, law Gas Complex, Old Lagos Express, New Garage, Ibadan, Oyo state, Nigeria.
For more information visit their website on upladder.com.ng
3.Grofin:They provides small and medium enterprises (SME) finance /business across Africa and the Middle East.
They offer loans of 100,000 to 1,500,000 dollars. For more information: www.grofin.com
4.C24 limited : It is a financial institution which provides retail loans for consumers in need of quick financial solutions.
It comprises of personal loans, group loans and business loans just when you need it without collateral.
It offers low interest rate of 4% and it is available 24hrs. The duration for loan repayment is 1 to 9 months.
The eligibility requirements to apply for a loan consists of the following :
You must be employed for at least six months.
You must 22 years of age or over.
Your bank account must be functional
You must have a good credit history.
Office location: 4 Adenubi Close Off Majekodunmi Street, Off Allen Avenue, Ikeja, Lagos.
Phone lines : 08103155826, 09090891441
Email : contact@c24.com.ng
For more information : www.c24.com.ng.
5.Zedvance: They provide cash loans to individuals, groups and offers point of sale finance for consumer goods.
This company provides loans up to #5, 000,000 within 24hrs. Office location :177A ligali Ayorinde Street, Victoria Island, Lagos. Phone : 07001001000
Email : customercare@zedvance.com More information : www.zedvance.com.
OTHER LOAN COMPANIES
credit ville
snap credit
pay connect
specta
salary advance
starcredit
one credit
There are still numerous loan companies that offers fast cash loans in Nigeria but I mentioned just a few.
If you are kind of wondering how to get fast cash loans in Nigeria, it is quite simple.
It doesn't require any stress whatsoever to get the loan of your choice.
Everyone wants access to quick loans which they can have within a short duration of time and not loans that takes long period before approval and as such the fast cash loans companies were formed to ensure that.
How To Get Fast Cash Loans In Nigeria
1.Source for information on where to get fast cash loans which is very important and with the search engine Google you can get quick access to lot of companies which offer this services or check out their list here.
2.Visit their websites to fill in the loan application form.
3.Necessary documents before loan approval would be required which you can send to them via email or by visiting their office if the need arises.
4.wait for a feedback which will not take more than a day.
5.If approved, the loan would be sent directly to your account or through other means suitable to you.
Apart from fast cash loans, there are also financial institutions that provides business loans in Nigeria which includes :
Diamond Bank
Zenith Bank
GTI Microfinance Bank
Sterling Bank
Apex Microfinance Bank.
If you are looking for that loan to boost your business or for long-term projects then you can visit the financial institutions mentioned above.
They offer all types of loans as long as you are worthy of been granted a loan.
One thing is clear though, that with fast cash loans you can immediately tackle that financial problem seamlessly.
Break that financial issue by getting your loan today either private loan, business loans or other loans as the case maybe and be wise in your choice.
For breaking news in Nigeria, don't forget to visit our main website at NaijaGists.com.