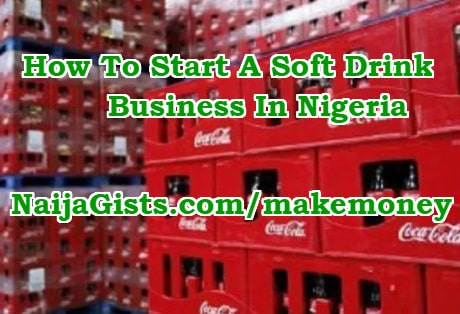 How To Start Soft Drink Retailing, Selling & Distribution Business in Nigeria (2018-2019 Guide)
Do you have passion for selling soft drinks in Nigeria? Are you still contemplating whether you should venture into this particular business or not? Are you still doubting the profitability or becoming reluctant as a result of being discouraged by some people? You don't have to bother anymore as to whether you should be starting or not. It's a promising business.
Before starting, you should first of all make proper findings on all that you'll need to know so you can operate at the highest level of earning profits in the short-run. The same applies to all other businesses in Nigeria, finding out first about a business before investing in it.
What are those vital things you should find out about first before starting up? What are the profit potentials you expect? Soft drink business is a volatile business in Nigeria as we know we're in a country where a lot of people struggle to make a living at the expense of health, rest, and pleasure.
For instance, people go into businesses that demand drinking a lot in order to satisfy their thirst. And aside from that, people naturally love drinking before, during and even after meals including those in other countries of the world. This makes the soft drink business more profitable than most of the lucrative businesses in Nigeria.
Here are a few steps you should note when planning to start soft drink business in Nigeria:
Find out how much is required for the start-up
Visit the soft drink depots in your locality to make inquiries
Get ready to start the business and start in a strategic location
Buy some crates of empty bottles of soft drinks
Deal in plastic bottle drinks
Add table water to your soft drink business
Attract customers by reducing prices
 Find out How Much is required for the Start-Up
Prior to starting up, you need to know the minimum amount with which you're going to start first. Of course, you know that expansion is feasible once you've started selling soft drinks.
The minimum capital you'll need for starting up is what is regarded as the start-up capital and every business requires this for a start. No business can be started without setting aside some certain sum of money.
Visit the Soft Drink Depots in Your Locality to Make Inquiries
Because there a couple of things you might want to know before you decide to try out this business, you may have to visit the nearby soft drink depots in your locality to make proper inquiries.
You'll get all the details you need and this will help you start the business properly.
Though certain soft drinks like Sprite, Mirinda, Pepsi-Cola are not produced in certain localities in Nigeria, you'll surely find the depots for Coca-Cola and Fanta near you. That's very sure. Coke and Fanta are found in almost all localities in Nigeria.
Get Ready to Start the Business and Start in a Strategic Location
Once you've made the right findings about the business, the next step is to give the readiness to start without any further delay.
You need to be an action taker so that you can be a money maker. If you don't take the proper actions from the onset, you won't be able to make money on time. Apply creativity into business and make sure you give your time to planning.
There is no barrier to success for anyone so far the readiness is given. Readiness to start and succeed is all you need to be a success in that business. You'll be a role model for others who will be starting the same business in the nearest future. They too will learn from your own selling experience in the business and a lot of people will become successful through you.
One more crucial thing to bear in mind is the location you're going to choose for the business. You need to rent a shop where the business will move rapidly.
Buy Some Crates of Empty Bottles of Soft Drinks
Soft drinks are in two main categories; the ones that come in glass bottles and others which come in plastic bottles.
For the ones that come in glass bottles, you'll need to buy some extra bottles first before you proceed to the depot to order drinks.
For the ones that come in plastic bottles, they sell higher than the ones in glass bottles though, bottles are sold together with the drinks inside.
Deal in Plastic Bottle Drinks
As you sell the soft drinks in glass bottles, you should also add the ones in plastic bottles as this may be easier to sell to those who are traveling and may not be able to drink from the glass bottles immediately. Because of the problem of returning glass bottles after buying and drinking, plastic bottle drinks are more demanding by customers than the ones in glass bottles.
And aside from the issue of returning bottles after buying, dealing in bottle soft drinks encourages you to add several other bottle drinks such as Viju Milk, Lacasera, Yhoghurt and others. This improves sales and encourages expansion.
Add Table Water to Your Soft Drink Business
Once you've embarked on soft drink business, it's a must to add table water as most customers who buy drinks may want to ask for table water too. People believe they can't be satisfied by taking soft drinks alone without adding table water.
Water is natural and it helps to satisfy thirst more quickly than soft drinks. So, you'll be wiser than other sellers who don't sell table water if you can add table water to your soft drink business. You'll make more gains, and expansion is guaranteed.
Attract More Customers by Reducing Prices
One of the best and most working ways to attract more customers is by reducing prices. Reduce the prices of your drinks a bit compared to that of other sellers and watch your sales skyrocket in no time.
People love to buy where things are cheaper than elsewhere. This is naturally the character of the generality of men. Everybody naturally loves to patronize those who sell at cheaper prices and with better quality.
This means quality should be put in mind while selling at reduced prices to the people.