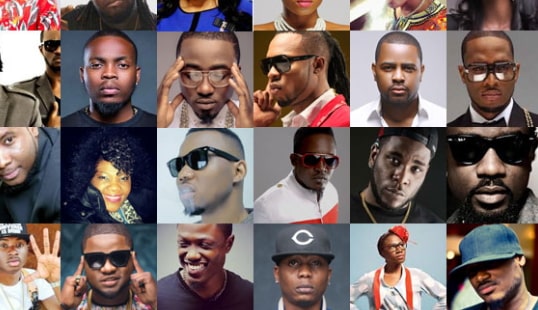 Top 10 Nigerian Musicians & Celebrities Who Are Cultists and Illuminati Members
Some ten years ago, the Nigerian entertainment arena witnessed a surge in prominence, which has significantly increased the wealth profiles of Nigerian entertainers (musicians, actors, actresses and comedians). This sudden turn in fortune was attributed, in certain quarters, to the dark spirituality of some entertainers. Today, many Nigerian entertainers have been accused (and some condemned) of being involved in cultism and devil worshipping. In this article, we are going to be looking at the top ten Nigerian celebrities who are cultists and those who are members of Illuminati.
Top 10 Nigerian Musicians & Celebrities Who Are Cultists
Cultism is no child's play; it is often a game of life and death. However, it comes with a feeling of power and superiority, which often get a lot of young folks carried away. Today, in Nigeria, cultism has become a rampaging menace; which is spreading like wildfire among the young generation. In this regard, many top Nigerian entertainers appear to be the grand pioneers of these cult groups. Read on, to get a good grip on the Nigerian entertainers who are or have been accused of cultism.
Burna Boy
Burna Boy rose to prominence only a few years back and he's not made secret his involvement with Aiye Confraternity. The artiste has always donned a rastarfarian look, with a touch of gangsterism. In fact, most of his songs centres around violence, alcohol, drugs and sex. Hence, his cultism status is not in doubt.
Emeka Ike
Emeka is one of the few known Nollywood actors, who have been associated with cultism. Reports have it that, he's one of the lords of Airloads in Nigeria and he is widely respected.
Olamide Badoo
 The YBNL Nation's founder is widely regarded as a street lord. He is reportedly a member Buccaneers fraternity. His dress sense is always reflective of this; he is always spotting a toutish appearance.
9ice
The Afro-pop singer, whose real name is Abolore, has never been discreet about his involvement with cultists. He is reportedly a member of the dreaded Eiye Confraternity.
It was gathered that, the Living Things crooner is one of the kingpins of the group, with lordship presence in Oyo State and Lagos state.
Flavour
Flavour, the most popular Igbo musician, is allegedly a cultist. Although, he has been very discreet about his involvement with any cult group, he has been spotted carrying out several cult-themed traditions. For instance, he was allegedly spotted recently, in the midst of fellow Aiye frat-mates.
 Wizkid
 Starboy, as he's fondly called, is also alleged to have been a member of the Eiye Confraternity, popular called Airlords. He is said to be one of the most prominent members of the group, globally.
Wizkid has been spotted alongside many renowned Airlords in Lagos. He's been known to show off his colours at popular events, even during live shows, both home and abroad.
 2Face
Although, 2face has been highly discreet about his involvement in cultism, he has been accused in several quarters of being one of the lords of Black Axe group in Nigeria.
Many years ago, when the hiphop legend barely escaped with his life after he was shot, there were uunconfirmed reports that, the artiste was shot by rival cultists. This and many other events have led many to believe that; the legendary artiste is a cultist.
Davido
 The DMW boss is one of most vocal members of the Aiye fraternity, popularly called Black Axe. Davido has been reported in several quarters to be one of the chief financiers of the Black Axe cult group in Nigeria.
Earlier this year, it was gathered that, the star artiste inscribed "7" on his head, which is a sign indicating his rank (local or international). The young music star seems to be one of the most powerful and highest ranked members of the Black Axe group.
Kizz Daniel
 Flyboy might just be the dopest cultist around the block. In recent times, the fast-rising artiste has been flying his colours; always showing off his beret and yellow-yellow outfits.
The One Ticket crooner, who is expected to drop his latest studio album later this year, could very much be a lord. However, not much is known about his frat-engagements aside from his newly developed dressing habit.
CDQ Olowo
 The number one cultist in the Nigerian entertainment arena could very well be CDQ. The rapper, who is a graduate of Lagos State University (LASU), is one of the few Nigerian entertainers, who are always showing off their colours.
CDQ is known for his trademark bandana-tying style, which is typical of most cultists. Also, his choice of music and lyrical contents further give credence to be this claim.
Top 10 Nigerian Musicians & Celebrities Who Are Illuminati Members
While cultism is a very strong issue, some prominent personalities in Nigeria have taken it one step further by "selling their souls to the devil", which is the primary requirement for becoming an Illuminati member.
Although, there is no credible evidence to indict any Nigerian celebrity of selling his/her soul, there's been conjectures here and there, which, when put together, make a whole lot of sense.  Let us take a look at the top Nigerian celebrities who might be Illuminati members.
 T. B. Joshua
Well, this is a little hard-to-believe right? A man of God who sold his soul to the devil? It is indeed hard to believe. However, the popular pastor has been severally accused of being a member of Illuminati, simply because of his wealth and magical exploits in his church, which many people attribute to the power of voodooism.
Rudeboy (Paul Okoye)
The first-half of the defunct P-Square group, Paul Okoye, is reportedly one of the popular Nigerian personalities, who are members of the Illuminati group.
Some years back, it was widely rumoured that Paul and his twin brother "sold their souls to the devil" in exchange for more power and fame. These rumours were not even addressed by either of the brothers. Hence, their status in the group remains unknown.
Mr. P (Peter Okoye)
Mr. P has also been rumoured to be an Illuminati member, alongside his brother.
2face
Next on our list is 2face Idibia, The legendary artiste is one of the most successful Nigerian music artistes. This is the reason many people see him as an Illuminati member.
Davido
 Davido is believed to be one of the few prominent Illuminants in Nigeria. Reports suggested that, some of the clauses on his SONY contract some years back entailed Illuminati membership. Although, Davido left SONY after a little while, it is unsure if his membership was revoked.
Despite the uncertainties clouding the Illuminati membership of Davido, many people still believe he's one of their youngest members in Africa.
 Wizkid
Starboy, who is Davido's main rival in Nigeria, is also a member of Illuminati. His trademark "W-sign" is seen by some people as an Illuminati sign. Also, he has been seen several times flashing the 666-sign, which depicts the eye of Oris.
Furthermore, Wizkid is regularly involved with several American artistes today. Notable artistes he's been involved with include TreySongz, Chris  Brown, Jeezy, and many more. The interesting thing is, most of these artistes are core members of Illuminati.
Tiwa Savage
Tiwatope Savage, who is simply known as Tiwa Savage, is arguably the biggest female music star in Nigeria today. She is one of Don Jazzy's Mavin artiste. In fact, she is the unchallenged queen of Mavin.
Earlier this year, Tiwa Savage signed a contract with US-based ROC Nation, which is owned by Illuminati kingpin, Jay Z. The deal is a lucrative one. However, there were rumours, which claimed that, the star musician took a deal to join Illuminati, as one of the clauses on her contract.
Although, it still remains unclear if Tiwa Savage is an Illuminati member or not, she could very well be the female leader of the group in Nigeria, if she is actually a member.
Don Jazzy
 Don Jazzy is obviously one of the richest and most influential figures in the Nigerian entertainment scene. The Don, as he is fondly called, has produced some of the best talents in Nigeria today. According to reports, some critics are of the opinion that, the celebrated producer owes his wealth, fame and power to Illuminati
The revered Nigeria producer, who is also the CEO of Mavin Records, is a known ally of ROC Nation and its owner, Jay Z. Hence, it is believed that, the pair (Don Jazzy and Jay Z) share more than just professional bond; they also belong to the same brotherhood, Illuminati.
Charlie Boy
Charlie Boy is the supreme leader of "Our mumu don do" movement. He is famous for his clownish looks and his skewed view that everything revolves around him. Also, the Area Father, as Charlie Boy is often called, is literally being worshipped by some of his area wards. He is reportedly a prominent Illuminati member in Nigeria.
 D'Banj
The number one Illuminati member in Nigeria is no other person than Oyebanjo Daniel Oladapo, popularly known as D'Banj. D'Banj is probably the Nigerian artiste with the greatest exposure. He was the first  Nigerian contemporary artiste to be recognized by BET.
D'Banj, over the years, has developed a strong bond with likes of Kanye West, Snoop Dog and the likes. These American artistes are renowned Illuminati kingpins. Hence, it is believed that, D'Banj is the chief Illuminati in Nigeria.