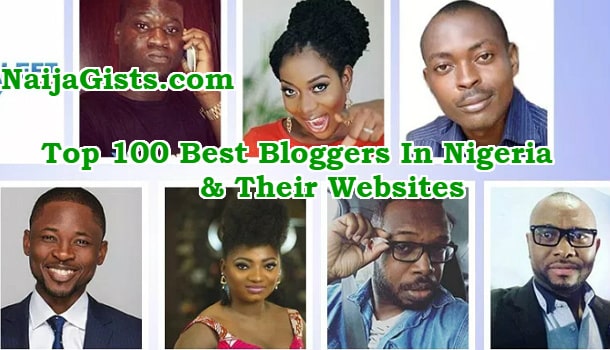 Top 50 Nigerian Newspapers & Bloggers… Online Blogs In Nigeria On Entertainment, Politics, Inspiration & Websites
If there is any venture that is thriving in Nigeria, it has to be unarguably the media- electronic, print, online. Which ever form it takes, the media is a force that has come to stay in Nigeria.
The print media especially since its inception in the 19th century has swept through the frontiers of Nigeria's economy and has increased tremendously. From government owned to private owned, Nigeria has to be among the African countries with the largest number of papers.
How did it all start? Who and what started the advent of newspapers in Nigeria? We will take a cursory look at the history of newspapers in Nigeria.
History of  Print Media, Nigerian Press & Newspapers in Nigeria
Reverend Henry Townsend was a Presbyterian church missionary who decided to establish a printing press in Nigeria. Half a decade later, it published the first Nigerian newspaper named "Iwe Irohin Fun Awon Aro Egba Ati Yoruba" which literally translates to "the newspaper for the Egba-speaking Yorubas".
Although the Reverend gentleman said his aim of creating the newspaper was to inculcate the culture of reading and seeking information through reading, it has been widely debated as untrue. This could be because the newspaper's contents were more about church activities, arrival and departures of religious  dignitaries, ordinations, marriages and deaths announcements.
So while many believe it was established to help spread the Christian faith, there is no denial that it played a significant part in the literacy level and the general history of Nigeria's newspaper history.
However after the clash of Britons with the Egbas, the printing press was burned down. But the important thing to glean from it was that it had sowed the seed of curiosity in the people such that they yearned for news and more news.
In the wake of this, the second Nigerian newspaper, the Anglo-African was established. It took another seventeen years before the third paper, the Lagos Times and Gold Coast Colony Advertiser would hit the stands and so it had continued till date.
List Of Government Owned & Privately Owned Newspapers In Nigeria
Fast forward to today, there is an avalanche of papers all begging for attention both private government owned. Let us take a look at some of the very popular ones:
 The Punch: The Punch definitely has to make the list for being the most widely circulated newspaper as at now. It was founded by James Aboderin and Sam Amuka. It is very popular and covers a variety of issues such as business, education, politics etc.
The Sun: This paper hit the Nigerian stands in January 2003 as a periodical. Months later, it became a daily. It was merged with Soccer Star in 2005, one of the most popular sports tabloids in Nigeria which helped increase its popularity.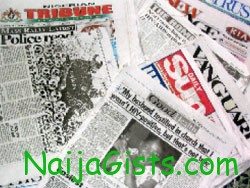 Although the Sun is often accused of being sensational, it still remains one of the most prominent Nigerian newspaper.
Vanguard: Now would it not be unforgivable if Vanguard is not here? It is arguably the most popular paper in Nigeria especially in teems of coverage and reportage. It prints nearly 150,000 copies daily and which is almost always sold out. It started publication in June 1984.
The Nation: This is another popular newspaper in the scene and has been in operation for  a while now. It is noted for the publication of credible news cutting across different aspects such as politics, health, education, crime etc. It is basically nonpartisan and does not show allegiance to any group or party and just as the name implies, it has a purely national out look.
This Day: This Day newspaper is currently twenty three years old. It first hit the news stand on the 22nd of January, 1995. Its primary focus is business and politics coverage.
The Guardian: Another very popular and credible newspaper is the Guardian. It is highly recognized and noted on a national scale. Its popularity stems from the scope of reportage. It is rated as being trustworthy, credible and very up-to-date. It covers mostly politics, business,crime and entertainment etc.
Daily Trust Newspaper: The Nigerian Daily Trust is a daily published alongside Weekly Trust Newspaper as a very innovative versatile paper. Both of them contribute and constitute the largest circulating newspapers in northern Nigeria. It was established in January, 2001.
Daily Times Nigeria: This is one of Nigeria's oldest newspaper. It started first as a printing firm under the  name- Nigerian Printing and Publishing Company Limited by Richard Barrow, L.A. Archer, Adeyemo Alakija and V.R. Osborne. It commenced operations in June, 1926.
Nigerian Tribune: Another very old newspaper in Nigeria, it was established in 1949). It is actually the oldest private newspaper in the country. It was founded by Chief Obafemi Awolowo with its focus being on the Nigerian masses.
Leadership: It came as a sort of 'saviour', an advocate for the Nigerian people. It is strictly dedicated to defending the interests of Nigerians against powerful politicians and business men. It has won some awards the most notable being the Newspaper of the Year.
Daily Post: It is gradually making a name for itself in the market. It recently commenced production in Nigeria but is already breaking grounds. It specializes in breaking and on-the-spot news.
National Mirror: This newspaper has both an online and offline presence. It is owned by billionaire business man, politician and lawyer, Jimoh Ibrahim.
The Nation Nigeria: Most people often confuse this with the Nation but they are in fact different papers. This was launched in July 2006. According to its statement, its focus is to offer the general public all the information they need to be independent and free in a civil and democratic society.
Nigerian Bulletin: It is still new in the stands but with its reach and in depth reportage there is no doubt that that its effect will be felt. It covers all areas in Nigeria and even international. Their consistency in news update and apt reportage of breaking news is highly commendable.
PM News: It has its head quarters in Lagos and is published by the Independent Communication Network Limited. They are also the publishers of Tempo and The News Magazine. They have been around since August, 1994.
As noted earlier, the newspaper business is really thriving so much so that many individuals own some of the major ones. A look at some of them:
Daily Independent: This came as a successor to the Diet newspaper which was established in 1997 by James Ibori. The Diet was relaunched but did not make much progress. Daily Independent finally took its place in 2001.
Nation Newspaper: This is owned by the National leader of All Progress Congress (APC) and former Lagos state governor, Bola Ahmed Tinubu.
Leadership Newspaper: It is owned by Sam Nda-Isaiah who was one of the opponents of President Buhari in the APC primaries of the 2015 general elections.
National Mirror: It is owned by politician and business mogul, Jimoh Ibrahim. He was a gubernatorial candidate in Ondo state at the last general elections.
Authority: Both the newspaper and the Authority Media and Publishing Limited are owned by Ifeanyi Ubah.
Daily Sun: This is owned by Orji Uzor Kalu, the former governor of Abia state.
With the advent of ICT and the world going digital, blogs are fast giving newspapers a run for their money with most newspapers having an online presence.
List Of Popular Nigerian Bloggers, Gossip, Entertainment, Inspirational, Political, Lifestyle, Information Blogs In Nigeria
A look at some of the top blogs, owners and areas of specialization:
NaijaGists.com : The blog was founded by Victoria Ade. An inspirational speaker and blogger with over 13 years of experience in blogging, content creation and search engine optimization.
WePayWriters.com: This blog pays freelance writers to write article. It is one of its kind in Nigeria.
NigeriaInfoGuide.com: Covers topics on day to day living in Nigeria
MakeMoneyOnlineLab.com: Blog about different ways to make money online in Nigeria.
BacklinkProfessor.com: This blog owned by a Nigerian teaches new webmasters how to market their website and give them blog post ideas. If you ever run out of ideas on what to blog about, head to this great website.
NaturalHealingGuides.com: Health and wellness site owned by a Nigerian naturopathic doctor. Very great site for those looking for natural health related advice.
BellaNaija: This was founded in July 2006 by Uche Pedro. It is regarded as Nigeria's number one lifestyle blog. She has successfully stamped her name in the history of Nigeria's blogging. Even the popular blogger, Linda Ikeji was reported to have said she is inspired by Uche Pedro's blog.
With millions of followers, BellaNaija does not seem to be slowing down anytime soon. It was she (Uche) who popularized the use of "Naija" by Nigerians.
TipsOnBlogging: He is a very brilliant Nigerian webmaster. This genius knows a lot about Search Engine optimization and blogging and has created a lot of helpful books.
Notjustok.com: This blog swept through the music scenes such that it is heard virtually everywhere music is played in Nigeria. It is owned by Ovie. He is arguably the number one music blogger in Nigeria.
TechLoy.com: This blog has proven to us that  it is not just entertainment that can thrive. In a time where every blog was about entertainment and celebrity gossips, Loy Okezie held his grounds and has now become our go to for everything happening in the IT world in Nigeria.
Linda Ikeji Blog: After all said and done, the list will never be complete about Nigerian blogging without an honourable of Linda Ikeji. She is regarded as the face of blogging in Nigeria such that when one thinks of blogging in Nigeria, she immediately comes to mind.
Her specialization is entertainment, celebrity gossips current events and controversial news some of which almost  landed her a suit. She was also recently called out for libel for a publication she did.
Despite all these, she remains Nigeria's top blogger and is the number one online source for corporate advertisers in Nigeria.
360nobs.com:It is an entertainment and lifestyle blog owned by Noble Igwe. It is also one of the few blogs with a very strong media presence. Noble is not just stopping at blogging, he is already spreading his tentacles with the establishment of 360Delivery- a courier service that delivers just about anything to you across Nigeria.
YNaija.com: It is a blog created for and with the youths in mind. It was founded in 2010 by Chude Jideonwo a lawyer. It is a youths culture platform. Its contents are trending news on virtually anything. Such news soon become a national chant because of the audience the blog has.
Ogbongeblog.com: The good thing about the blog is that it is a sort of do-it-yourself (DIY) blog. It is owned by Jide Ogunsanya. It is a highly educational tutorial site where you can find help with just about anything. Many people find it worth their while.
Naijaloaded.com: The founder is Makinde Afeez. What started out as a forum was later converted to a blog due to the fact that it was hacked. It turned to be a blessing in disguise because after its launch in 2009, it has garnered a lot of readers and followers making it one of the top websites for everything music in Nigeria.
SaharaReporters.com: If you want breaking news that is thoroughly researched and highly credible, then you should think Sahara reporters. It is one of Nigeria's most credible news reporters. It is owned by Omoyele Sowore- a human rights activist and presidential candidate under the African Action Congress (AAC).
Writersincharge.com: It started out as YoungPrePro.com in 2010 but was later re-branded as Writersincharge.com in 2013. The owner is a prolific writer whose works have been featured in Forbes, Digital Journal, Millionaire Magazine etc.
According to him, he wants to help writers take charge in Nigeria, hence the name of the blog. Head over if you are looking for quality content marketing.
PM News Nigeria.com: If you think  they are all about night news, think again. This blog publishes at anytime of the day just as it is happening. It is a premium news blog.
Stargist.com: Although relatively new in the blogging scene, it is already taking the business of entertainment by the horns. With an increasing number of readership daily, Stargists may just be the blog Linda Ikeji has to keep an eye on.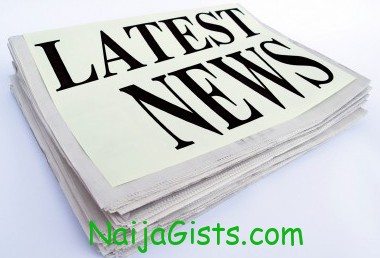 Olorisupergal.com: This blog is owned by Tosin Ajibade, a blogger and entrepreneur. It is strictly about lifestyle and entertainment.
Channels TV.com: It is a news blog belonging to the TV station, Channels. After being awarded the Television station of the year a couple of times, there is no doubt that its blog is doing quite well. Their in depth coverage and reportage of business, politics, education is second to none.
ContentMarketing.com:This is owned by Michael Chibuzor. He is a web copy writer. Despite the entertainment fad that seems to be  overtaking every blog in Nigeria, Michael has been true to his roots and is creating good contents on a daily.
Wedding DigestNaija.com: This blog seems to be the favourite for the ladies( don'task me why). It is surely your go to if you are in need of wedding tips and ideas. From wedding dresses to shoes, it takes care of the minutest details.
Yabaleftonline.com: It is an entertainment blog dedicated to celebrity gossips and lifestyle plus of course, the controversies surrounding them.
TipsonBlogging.com: Site owned by a young Nigerian SEO expert named Prosper Noah. He is one of the most respected SEO bloggers in Nigeria.
Maverickexcel.com: Although inspirational blogs are not as popular as their entertainment counterparts, this blog all the same is doing well for itself. It always churns out several inspirational contents that is sure to start your day in the right direction.
TechcityNG.com: Seeing a blog that is not all out with the entertainment is like a burst of fresh air. TechCity is a leading blog in Nigeria as far as technology is concerned. It focuses on tech news and reviews across Nigeria and beyond.
Nairametrics.com: It is a financial and investment blog. There are not many of its kind in Nigeria so it is already carving a niche for itself. With consistency and quality content, there is no doubt that there will be several more like it.
To add you blog to this list, please drop it in the comment box below. Please avoid link dropping.
If you link drop, your comment will be deleted.
For more breaking news in Nigeria, visit NaijaGists.com.