How To Pay, Activate, Recharge & Subscribe New GOTV Decoder Using Phone, Online, Bank Payment Quick Teller USSD Codes
With the world going digital, local content creation is fast giving way to foreign contents and as such, pay tv is fast gaining popularity the world over. These days, everybody in Nigeria has a satellite dish and decoder to view an array of foreign channels not available in the local stations. A lot of these exist in Nigeria but one seems to have gained a national acceptance- GOTv. Apart from being quite affordable, it still offers great content just like the rest.
[adinserter block="23″]
Just few years after it was launched, it caused a great stir in Nigeria's broadcast industry. Its promise was to provide "a low-cost digital television service, offering the greatest selection of local channels, made in Africa for Africans as well as the best international channels".
It all started when MultiChoice Africa commenced operations in Africa in 1986 specifically in South Africa when Africa's first pay TV channel, M-Net was launched. About twenty three years later, it launched DSTV on a new digital platform which has since expanded to over fifty African countries with a wide range of TV services, language preferences and unrivalled quality content.
DSTV comes in various packages such as DSTV premium, DSTV compact, DSTV Access, DSTV Family. As if this was not enough, the GOTv was launched in Africa in 2011. It is also a payTV transmitting on Digital Terrestrial TV (DTT). It is also Africa's first commercial operation with its advanced DVB-T2 digital standard. It is a low cost product which utilizes the latest DVB-T2 standard technology as against the archaic T1 system. This has elevated Nigeria's position as the country with the latest and best digital technology in Africa and the the world as, it is also the only digital Pay TV with this technology in the country.
[adinserter block="1″]
Its subscribers will have access to new and unlimited access to every foreign and even local channels. Gotv makes sure it selects channels that are in consonance with the different viewing tastes and cultures of its customers. The service was first launched in major cities such as Lagos, Port Harcourt, Ibadan etc but now, it has expanded and is even available in most rural areas.
GOTv is also available in Zambia, Uganda, Ghana, Kenya and a host of other African countries.
It offers viewers great programming choices across entertainment, news, religion etc. Some of these channels include Africa Magic Movies, E! Entertainment, Aljazeera, CNN, Islamic channels, ONE gospel etc.
One very good feature of this Pay TV service is that it does not require a satellite dish hence, it comes with no installation cost. All you need is the decoder and a good antenna and like the snap of the fingers, you have literally the entire world in your television.
Are you a new subscriber to GOtv? Or perhaps you wish to be one? There are certain useful information you need to have:
GOtv has several packages and plans. What this means is that it is not a one size fits all. Therefore, there is a package guaranteed to suit your individual needs and of course, they are all pocket friendly.
GOTV Subscription Plans And Packages
Currently, GOtv has four subscription plans:
The GOtv Max: It offers a wide variety of channels and it costs #3,200 per month.
The GOtv Plus: The subscription costs #1,900 per month
Next up is the GOtv Value which costs #1,250 to get while the last (and probably the least) is the GOtv Lite which costs #400 per month.
So now that you have the entire plans and subscription, the next step is acquisition and set up. The decoder costs #6,900 at the moment.
If you are a first time customer, you will be needing the GOtv starter kit. This consists of decoder plus the GOtenna and a one month free GOtv Max subscription. The free subscription is for the highest plan, so you can see all the channels. The aim is to offer you the best plan while allowing you make your choice. So the starter kit is #6,900, subsequently you pay for just the monthly subscription depending on what package you select.
As I said earlier, the four packages are all there to suit your needs and pockets depending on which you choose however, it is important to know what each plan has to offer.
The GOtv Max has the highest number of channels. With sixty nine channels spanning sports, entertainment, news etc, this is surely one you do not want to miss.
GOtv Plus: this has sixty four channels. Some of them include: Discovery Family, Fashion One, AIT, Channels, Nickelodeon, Nat Geo Wild, Spice TV, Spice TV, Super Sports Blitz, Super Sports Select 1, Super Sports Select 2, Super Sports Select 3, Super Sports Select 4, Disney Junior, Jim jam, MTV Base, Hip TV, Sound city, Planet radio TV, Dove TV, etc Africa, BBC world news, TVC, Arise tv, Aljazeera, Telemundo, E! Entertainment TV, Fox, Fox life, ROK 2, ROK 3, Televista, Trybe, Star life, Galaxy TV, Arise tv, Sony Max, CBS reality, Africa Magic Family, Africa Magic Hausa, Africa Magic Yoruba, Africa Magic Igbo, B4U movies and a host of others.
GOtv Value: This offers forty three channels including Silverbird, GO channel, E! Entertainment, Africa Magic Epic Movies, Sound city, Islam channel, Dove TV etc.
[adinserter block="21″]
Gotv Lite: This offers twenty four channels including six local channels.
Feeling like getting one already? Here are some very simple methods to recharge the GOtv online or using bank USSD codes. With these methods, you can recharge the GOtv on your phones or computers at the comfort of your home without going to the office.
How To Recharge GOtv Using Quick Teller
Using quick teller means you use the quick teller web link. Here are the steps to take:
Log on to www.quickteller.com/gotv, then select the package of your choice.
Be sure your decoder has been turned on.
Enter your email, IUC number (the one at the back of the decoder) and phone number.
Click on next then enter your subscriber's details.
Click on pay then select the debit card type and enter the card details.
Click on pay and within few minutes, your account will be credited.
How To Recharge GOtv Using eTranzact
This payment allows you to either make the payment straight from your bank account using both mobile and online means. For mobile, just dial *389*9*smart card number# then follow the instructions.
Online: the steps are a bit long though but it is simple all the same. Simply visit the GOtv website, then country of residence, smart card number then click to verify. Next, click to view payment summary page showing date and amount. Click on pay to get directed to the subscription page which will show your details. Select the payment options then input bank account number, generate a six digit code and submit. After this, dial *389*00# with the registered line to receive an OTP. Input the OTP and click payment. You will receive a payment notification in no time.
How To Recharge GOtv Using Eazy Money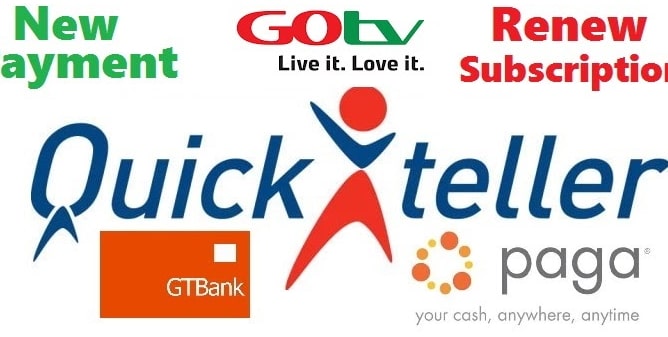 You can do this if you have the Easy MoneyMobile Wallet Online (if you do not have it, visit eazy.gotvafrica.com/en/ng/pay for details). After this, just enter your number and Eazy money pin. Alternatively you can register for the Eazy money wallet at any Zenith bank branch.
How To Recharge GOtv Using Paga ePay
Paga offers a wide range of payment options and one of them is the ePay. To use this method, visit easy.gotv.africa.com/en/ng then log into your account. A list of payment methods available in your country will pop up. Select Paga ePay and follow the simple steps.
How To Recharge GOtv Using Paga Mobile
Another variation to the Paga ePay is the Paga mobile. This is managed by PAGATECH. To make the payment, one has to have a registered mobile wallet. To make payment, log on to www.mypaga.com, fill in the required information and click go.
How To Recharge GOtv Using PayU
The process is really simple: log on to your account on the GOtv website, then go to the payment page, click on the logo, the payment page will pop up. Fill in your payment details then click send.
After the payment has been processed and confirmed, click on the GOtv's Eazy website for instant activation.
How To Recharge GOtv Using Konga Pay Mobile App
You can choose to visit their website alternatively, you can download the app, then register and log in to your account. Select Tv subscription, select type (GOtv, DStv, Startimes etc) and input your smart card number.
How To Recharge GOtv Using FCMB Bank Payment
If you wish to use FCMB to make payment, you can pay cash at any of their branches nationwide. The customer is then required to fill a form by the teller. The information needed is basically the registered name, phone number and the IUC number.
[adinserter block="24″]
Your details including the bouquet plan are automatically displayed on the screen. It is also possible to change from your current bouquet plan to another one. Simply click on the bouquet menu and select your new preference. If you please, you can then select automatic renewal to automatically renew your subscription every month. Select pay and put the Kongapay pin and OTP, select confirm. Your GOtv will then be activated.
How To Recharge GOtv Using GlobaPay
To use GlobaPay to make payment, simply visit the GOtv website at easy.gotvafrica.com/pay and then create an account or to sign in to an existing one.
Click on the PAY page, select GlobaPay and fill in the payment details as required then click on complete payment. You will then be directed to their website where you will select card number and type then click pay. You will be redirected to your account on GOtv Easy Website where it will then be reactivated.
Recharge GOtv Using Bank Short Codes USSD
A look at some selected banks:
Recharging GOtv Using Fidelity Bank
To pay for bills here, simply dial *770*code*smart card number*amount#. If you are subscribing for GOtv, the code is 1088. So simply dial*770*1088*decoder number*amount#.
Recharging GOtv Using GTBank
GT bank: Dial *737*amount*GOtv IUC number#. Be sure the IUC number is properly typed before clicking on send. You can also use the GT bank mobile app.
Recharging GOtv Using Stanbic Mobile
Stanbic Mobile: Dial *909#, select for registration. You will be asked to provide your customer details.
Stanbic Mobile Online: Simply visit the mobile money WAP site on stanbicibtc.com/Nigeria. Select mobile money, input your number, click register and provide your details as required. You will be redirected to GOtv page on the mobile to pay for the subscription.
Recharging GOtv Using Wema Bank
The Wema Bank: The code for payment is *945#. So to recharge simply dial *945# then wait for the options.
Recharging GOTV Using First Bank
First Bank: Dial *894*amount*IUC number # then follow the prompts.
In case you ever feel at loss as to what to do, their customer care support contact is 08039044688, alternatively you can send a mail to dstv@nigeria.multichoice.co.za.
How To Activate, Reset GOtv Decoder After Payment In Nigeria
After payment, the next step is to reset your decoder. This means activating it after payment so that you can continue enjoying all the services you used to enjoy. You can reset your decoder using the following process:
Resetting GOtv Decoder Via SMS, Text
send reset, GOtv, account number to 4688. The rest of the necessary details will be shown you. Simply follow them to have your decoder reset.
Resetting GOtv Decoder Online
Visit eazyGotv.
Log in to your account, you will see a pop menu asking if you wish to clear an error, click on the "clear error' then clear the E16 error.
Click on reset device, wait for some minutes and it will be done automatically.
Note, sometimes, this may take longer especially due to network downtime or if there is a lot of traffic congestion. Just be patient. It is usually preferable to do this in the early hours of the morning or late at night.
Resetting GOtv Decoder On Phone
Phone: dial *423# on any network. A prompt will come up asking if you need assistance from customer care. You can then speak with a customer care representative. The customer service are also available in local languages depending on your preference.
However, there are times where you may try the above methods and still hit a brick wall. In such a situation, you can simply visit their official twitter and Facebook handles and ask them to help you do the resetting. Be sure to have your GOtv account number handy when making the request.