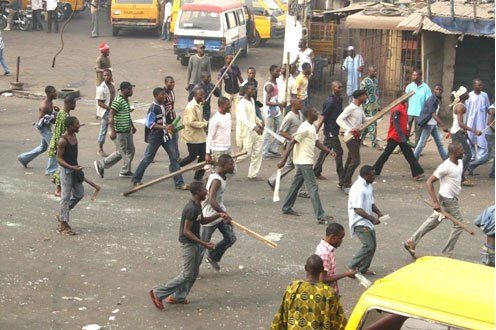 June 15, 2012 – Hoodlums Attack Ibadan Police Station, Set Inmates Free
Several Hoodlums today attacked policemen in the popular Bodija Market in Ibadan, western Nigeria, leaving two persons dead and the police post burnt. naijagists.com
They also set free detainees in the cell.
It took the intervention of men of the fire service, who put out the fire.
Fifteen vehicles, 10 motorcycles were also vandalized.
The bloody clash forced thousands of traders out of the market.
Some butchers whose shops were close to the place left their wares on the table and ran for dear lives.
The quick response of security men which included policemen, the security team tagged Operation Burst, men of the Nigeria Security and Civil Defence Corps, soldiers checked the escalation of the crises.
One of the officers on night duty at the police post, traced crisis to a clash between two men over a commercial sex worker in Bodija.
He said one of them was the regular visitor to the prostitute before the second person later won over the lady.
This led to a fight between the two men.
During the melee that later made commuters and other residents especially those living near the market run helter skelter, one of the men was stabbed.
Supporters of the stabbed man, arrested the culprit and brought him to the station Thursday night.
But, to the surprise of the policemen, early this morning, some visibly angry supporters of the culprit, stormed the station and demanded his release.
The policemen reportedly pleaded for a very long time with them to allow the law to take its course but all these fell on deaf ears.
"I was in the University of Ibadan when my colleague on duty made a distress call that some Hausa men had stormed the office. While we were talking, the invaders were struggling to disarm him and in the process he fired shots to scare them away. This further angered the miscreants who set fire on the station and forcefully took the suspect away. They broke the fence to gain access after locking the gate", said the police officer.
It was further gathered that the hoodlums started chasing the policemen who had to escape from them because they did not want to shoot them.
One of the policemen further narrated that he was disappointed that some other traders in the market were even betraying them to their attackers.