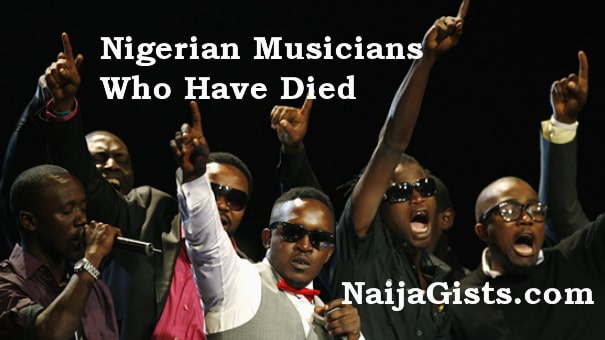 Dead Nigerian Musicians List: Nigerian Musicians Who Have Died 2018…See Late Naija Musicians
Over the past few decades, the Nigerian music arena has witnessed the loss of some of its artistes, most of whom died while at the peak of their respective careers. The death of many of these musicians were so tragic that, it left a huge hole in the hearts of music fans across the world. In this article, we are going to be taking you down the memory lane, to pay tributes to some popular Nigerian musicians, who died in recent time (2010 to date).
Death is inevitable – That is a fact! However, as emotional beings, we can't help but grief when a loved one is lost. This is the case of many Nigerian musicians, whose music and personality serve as a source of joy, happiness and inspiration for many Nigerians and Africans at large. Stay with us as we remember these artistes.
Ras Kimono
Nigerian reggae icon, Ras Kimono, whose actual name is Augustine Oseloke Onwubuya, was born in Delta state, on May 9, 1958. He died at the age of 60, earlier this year, on June 10, 2018 in Ikoyi Lagos.
The reggae king was buried amidst tears in his hometown, Onicha Olona, in Delta State, on August 25, 2018. Prominent personalities were in attendance at the burial, including politicians, musicians and reggae fans from far and wide.
Barely one month after Ras Kimono's burial, his wife, also died after a brief illness. The late singer is, however, succeeded by many children.
Ras Kimono has four prominent albums to his credit These include; Rub A Dub, What's Gawn, We No Wan and Under Pressure.
The reggae legend remains a music hero and a role model to many contemporary artistes.
Eric Arubayi
Eric Arubayi was a famous gospel singer, who became known in 2007, when he took 4th position at the West African Idols' music event. He went on to launch his career in the music industry (gospel), with his debut album titled, Redefined (2011). Since then, his profile keeps rising in the music industry, until his unfortunate demise six years later.
The singer died early last year, on 11th February, 2017 after a brief illness. Although, the cause of his death was initially unknown to the public, the late singer's family later came out to reveal his cause of death.
According to a reliable family source who was identified as Derrick, the late gospel singer died of complications from the use of expired malaria drug, which aggravated his already delicate liver conditions.
The late singer's notable songs include Mr. DJ, One Love One Voice, Mama Song and many more.
Eric left behind a wife, Chinonso, and a child. His name will forever be remembered.
Kefee
Kefee, whose real name is Kefee Obareki Don-Momoh, is a famous Nigerian gospel singer, whose death came as a great shock to music lovers across the country and beyond. She was born on 5th February, 1980 and died at the age of 34, in 2014. Her unfortunate demise came in the bizarrest of ways, to the astonishment of many.
It was gathered from reliable quarters that, the singer was on a flight to Chicago, United States, when she suddenly collapsed. She reportedly spent fifteen days in an unconscious state and eventually gave up the ghost on 12th June, 2014. Clinical diagnosis attributed her death to "Lung-failure".
Kefee's remains was flown home and given a befitting burial in her home town in Delta State, on 11th July, 2014 (a month after her death).
Before her untimely death, she was an active gospel singer, who also featured regularly in hip hop songs. One of her most prominent hip hop features was her collaboration with popular Nigerian hip hop artiste, Timaya, in a song titled Kokoroko.
The late singer will continue to standout as one of the best gospel artistes to have graced the Nigerian music arena. Her most prominent studio album, which shot her to fame is known as Branama. Branama was released in 2003.
Goldie
Goldie was born on 23rd October, 1981 and died at the age of 31, on 14th February, 2013. Born Harvey Oluwabimpe Susan, Goldie scrambled her way from being a reality TV star, to becoming one of the promising music artistes in the Nigerian music arena.
On Valentine day (14th February) in 2013, Goldie was rushed to the LASUTH (Lagos State University Teaching Hospital) after she complained of headache. She eventually gave up the ghost a while later at the hospital.
Autopsy reports revealed that, she died of heart attack. Prior to the revelation of the autopsy report, rumours were going round that she was a drug addict, which was what resulted in her death. However, her husband strongly dismissed the rumour.
Eleven days after Goldie's death, on February 25, 2013, she was laid to rest at Vaults & Gardens Cemetery, in Ikoyi Lagos.
The late singer died at the peak of her career; at a time when she was one of the few prominent female artistes in the Nigerian music industry. In fact, it was reported that, she just returned from the much-revered Grammy Awards (2013) in LA, United States, when she died.
Goldie released her first studio album, Gold, in 2010, before releasing the second album, Gold Reloaded, a year later, in 2011. Her albums got her nominated for numerous awards in 2010 and 2011. During this time, the late singer featured alongside several top Nigerian music artistes in the country, including the likes of Eldee the Don, J. Martins, Jaywon and many more.
Goldie left behind a strong legacy as, not only a musician, but also a philanthropist. It was gathered that, she willed her properties to Charity foundations in the country.
MC Loph
Mc Loph, whose full name is Obiajulu Nwaozor, was a famous Nigerian rapper. The rapper was one of the two victims, who died in a fatal auto-crash along Benin-Ore road on September 14, 2011. The other victim was MC Loph's younger sister, Chinwe Obiajulu.
It was gathered that, the late rapper was on his way to Enugu State (his home state), in the company of his sibling and fiancé, when tragedy struck. While, MC Loph and his sister died in the crash, his fiancé survived the crash.
Before MC Loph's death, he was arguably the most prominent Nigerian Igbo rapper/hip hop artiste. He mentored the likes of Favour, Mr Raw and many more, who are now making exploits in the music industry. He rose to prominence with his hit release, Osondi Owendi, which was a remix of a legendary song of Osita Osadebe.
Barely two years after the death of MC Loph and his younger sister, his mother, Mrs Obiajulu also died. However, he left behind his fiancé (now wife) and son, who reside in Lagos.
Notable songs of this rapper include Osondi Owendi remix, I Know What the Girls Want (with Faze) and many more.
DaGrin
Dagrin, whose full name is Olaonipekun Oladapo Olaitan, was a famous Nigeria rapper, who died at the peak of his music career. Born 21st October, 1987, the rapper died at the age of 22, on April 22, 2010. He was a victim of a fatal car accident.
On the fateful day, it was gathered that, the Nigerian rapper was heading home after a night out at a club in Lagos. On his way home, he rammed his car into a parked truck.
Although, the rapper didn't die on the spot, he sustained serious injuries and eventually gave up the ghost few hours later, at the hospital. He was buried at Atan Cemetery in Yaba Lagos.
Before DaGrin's death, he was arguably the best Nigerian rapper, having only made his way onto the big stage a couple of years earlier. During this time, DaGrin was arguably the hottest music star, using the Yoruba-styled rap, to promote Nigerian music to the global audience.
Da Grin, who was fondly called CEO (Chief Executive Omo-ita), released some top rap songs, which dominated (and are still dominating) the airwaves of the Nigerian music scene. He also featured in many top collabos, with the best-of-the-best in the Nigerian music arena. He featured alongside the likes of Mr Incredible (M.I), Naeto C, YQ, 9ice, Omawumi and many more. He was practically the most sought-after music artiste during this time.
The late Yoruba rapper's style of music, according to the rapper himself, was influenced by his rough childhood and his ghetto lifestyle. Some of the late rapper's prominent songs, which are still being aired across several media in Nigeria include, Pon Pon Pon, 123 (with DJ Neptune, M.I and Naeto C), Thank God (with Omawumi), Ghetto Dreams, If I die, Kondo, Efimile (with YQ) and many more.
The unfortunate demise of the self-named Barack O'Grin (coined from Barack Obama), paved the way for contemporary Yoruba rappers, who are being pioneered by Olamide Baddo, the CEO of YBNL Nation. Olamide is, without doubt, building on Da Grin's legacy; developing talents and raising the profile of Yoruba rappers, to the top of the Nigerian music arena.
Da Grin's career in the music industry, though short-lived, was highly successful. Several songs were released as a tribute to him after his death. This included a tribute single by top Nigerian rapper, Mr.Incredible (M.I). Today and forever, the name Da Grin, will never be forgotten!
Notable Mentions
Nomoreloss (died in 2016)
OJB Jeezreel (died in 2016)
Tony Harmony (died in 2016)
Dan Maraya (died in 2014)
Christy Essien (died in 2011)