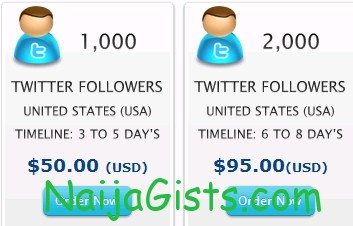 Jan 13, 2013 – Nigerian Celebrities Buying Fake Twitter Fans & Facebook Followers – IT Guru Reveals
According to a top Nigerian internet guru, several popular Nigerian celebrities are now into buying fake Twitter fans and Facebook followers to boost their social networking status. naijagists.com
The IT guy revealed this in an mail sent across on Friday morning with the title "How Nigerian Celebs are working hard to boost their social networking status". He said a lot of these highly celebrated Famous Nigerian celebrities are currently spending a lot of money to increase their Twitter fan based by buying computerized and fake Twitter fans and followers to make them seem very important.
In an analysis he attached to the email, he provided the names and the amount of fans some of them have purchased to make them look good on Twitter. Though he provided their names for privacy sake we can't list their names but as time goes on, we'll make this available to you.
A particular famous Nigerian Celebrity, the owner of a TV show (name withheld) moved from just 73 thousand Twitter followers to over 150 thousands fans within 3 days she joined Twitter.
Though Twitter is planning to get rid of this systemic Twitter fans increase fraud, but it might take quite some time to get a hold of all of them.
In December of 2012, Youtube got rid of over two billion video views from popular celebrities like Rihanna, Justin Bieber, Michael Jackson and Beyonce just to name a few.
Infact, Youtube cancelled the channel of major music promoter after allegations of fraud using Youtube video viewing software.
As a matter of fact, these Nigerian Celebrities buying fake Twitter fans and followers are using this as a channel to promote themselves without taking into consideration the dire consequences of their actions.