Rice and stew is a popular delicacy in Nigeria. Most family enjoy rice and stew as a Sunday afternoon tradition and for obvious reasons. Rice and stew can be made with any kind of rice, either foreign or local Nigerian rice and would be thoroughly enjoyed either way.
RICE AND TOMATO STEW
INGREDIENTS
4 cups of rice
7 medium sized tomatoes
5 large red peppers
1 large onion
½ kg chicken
Ginger and garlic
1 bunch of curry leaves
Seasoning cubes
Vegetable oil (as required)
Salt to taste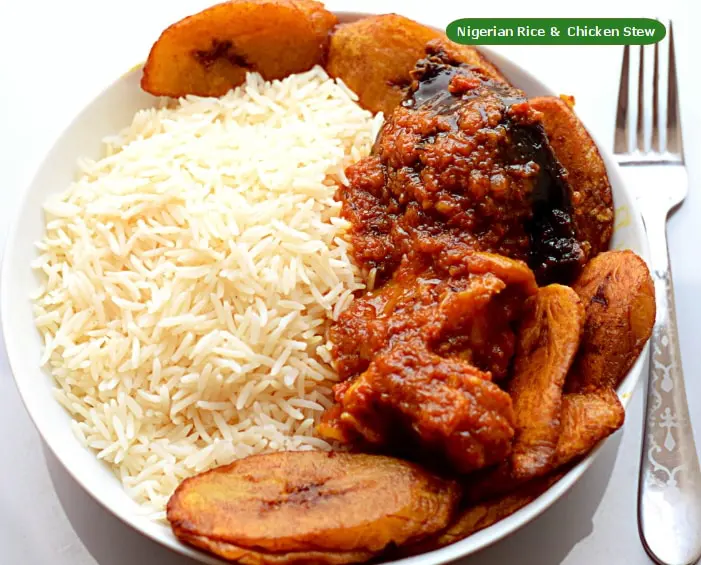 Nigerian Chicken Stew & Rice Cooking Instruction
Parboil rice in a clean pot. Wash and set aside.
Heat 3 cups of water in a separate pot. When the water has boiled pour in the rice and leave it to cook for 5 minutes.
Check to ensure the rice is tender and ready to eat.
Wash and season the chicken with seasoning cubes, onions salt, ginger and garlic.
Set the chicken to medium heat and allow to cook for 10-15 minutes.
When the chicken is ready, remove from heat and set aside.
Chop onions and pluck the curry leaves.
Wash and cut tomatoes into large chunks.
Wash the pepper and place in a blender along with the tomatoes and a little water. Following instructions on your blender, blend till a smooth paste is formed.
Pour the tomato and pepper paste into a clean pot and set on high heat for 10 minutes.
In 10 minutes or less the excess water in the tomatoes must have been cooked off and a thick tomato and pepper paste is formed. Remove from heat and set aside.
To another clean pot add about 4 cooking spoonful of vegetable oil.
Set on medium heat. When the oil is hot, add onions to fry for one minute then add the tomato and pepper paste. Allow to cook for 5 minutes.
Stir constantly to ensure it does not burn.You can try adding a pinch of salt to the hot vegetable oil before adding the onions. This is meant to help ensure the tomato paste doesn't burn when it is finally added to the oil but you still have to stir constantly.
Taste the tomato to ensure the raw, tang taste has been cooked off. Add curry leaves and cook for another 3 minutes all this while ensuring that you keep stirring.
Add the seasoning cubes and a little salt to the mix.
Finally pour the chicken and its stock into the pot of stew or the stew into the chicken depending on which pot is bigger and can fit both.
Cover the pot and allow to simmer for about 3 minutes.
Remove from heat and serve alongside the rice.