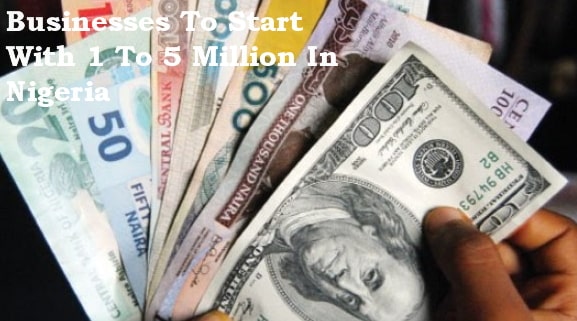 If you're proposing to start a business in Nigeria and you've saved up to a sum of N500 000, then you'll be shown what to do in this report to make the most out of that investment.
At first, you need to know that certain small scale businesses may require up to N500 000, whereas, there are large scale businesses that wouldn't even require up to that sum at all. Whether you want to operate on a small scale or on a large scale, the most important thing is that you're starting up something and you're investing money in something that must yield a lot of profits for you.
If you wouldn't ever want to invest with such a huge amount of money and run into losses eventually, don't hesitate to learn the right ways to set up a profitable business in Nigeria some of which will be highlighted in this post for your consumption.
What Business Can I do with 500 000 Naira in Nigeria?
Below is a list of the businesses you can do with N500 000 in Nigeria:
Sell used and brand-new commercial motorcycles
Start rental services
Import laptop and desktop computers
Open an electronics store
Start a lending service
Open a cybercafé
Start an instant noodle distribution business
Start a publishing business
Sell Used and Brand-New Commercial Motorcycles In Nigeria
Are you aware of the rate at which the Nigerian youths are using the commercial motorcycles called 'Bajaj" to do transport business? Yes, the commercial motorcycles now outnumber the taxi cars that are being used for commercial transportation in the Nigerian cities and towns.
A lot of people now prefer to board a bike to wherever they are going rather than waiting for a taxi cab to come from nowhere. The commercial bike is now preferred to the taxi cabs because it takes people even to places the taxi cabs cannot reach.
Because of the high turnover rate in this business, the demand for a commercial bike has gone up geometrically and the business has become more profitable than ever in Nigeria.
Though the bike has already been banned in some states in Nigeria due to accident occurrences all over the places, the business is moving on in other states and a lot of youths have had enough reasons to relocate to those states where people are still allowed to use the bike for commercial purposes.
Start Rental Services In Nigeria
The business of renting out the various rental tools and equipment are becoming more and more profitable in Nigeria as people keep organizing occasions for wedding ceremonies, funeral programs, birthday parties, convocation anniversaries, valedictory services, convention programs and lots more.
It requires hundreds of thousands of Naira to start this business properly in Nigeria.  You'll start spending from the building of canopies, plastic tables, plastic chairs with and without arms, plastic drums in which ice blocks are kept to serve drinks, and many more. Currently, it costs about N100 000 to build a canopy room which is approximately equal to N300 000 if you're starting with three rooms only. So, the remaining money may be used to purchase some chairs, tables, and other demanding equipment.
Import Laptop and Desktop Computers Into Nigeria
Importation of used and brand-new laptop and desktop computers is a lucrative business that sells fast in Nigeria. So many people use the laptop and desktop computers for many reasons. People use it for commercial purposes such as:
Web design business
Online examination registration business
Online result checking and processing business
Business centers
Administrative work
Personal use; and many more.
Because of the high demands around, the importation of used laptop and desktop computers is worth investing your N500 000 with. It's such a profitable business that will never let you make losses at all.
Open an Electronics Store In Nigeria
Because Nigerians generally love electronics to be set in the living rooms, bedrooms, offices, churches and everywhere, it becomes a safe and profitable business for anyone to venture into.
The hot selling electronic items you may invest your money with should include:
Curved-screen television sets
Flat-screen television sets
New model stereos
Audio and video compact disc players
Mixer
Amplifiers; and other hot selling electronics
To make the most out of the business, you may decide to start importing these items in order to maximize profits. You'll make much more profits and sell much less than your counterparts by importing.
Start a Lending Service In Nigeria
If you are interested in the lending business, you can start with N500 000 and earn much more interests monthly. If you don't want to operate on your own yet, you may, of course, operate under platforms like::
One Finance Ltd
KiaKia Bits Ltd
Aella Credit; and many other lending agencies in Nigeria.
Open a Cybercafe In Nigeria
Though a cybercafé is more exposed to the risk of losing a lot of money, it has to be carefully managed lest it folds up within a short period of time.
It involves buying a large volume of data from the internet service providers and resell in tickets to make profits.
The Do's and Don'ts of Running a Cybercafé Business in Nigeria include:
Employing an experienced cybercafé manager or operator.
Avoiding the giving of free airtime to the customers who request for such.
Selling the right tickets to the right persons
Adding a business center to maximize profits
Getting an operating permit from the constituent authority
Start an Instant Noodle Distribution Business In Nigeria
The instant noodle distribution business is another profitable business you may invest your N500 000 with. To start distributing instant noodles;
Visit the instant noodles office
Make your intention known to the administrative authority
Find out how much will be required to be a distributor
Find out about the profit potentials
Find out about the challenges attached.
Start a Publishing Business In Nigeria
Are you ready to a publisher having a personal printing and publishing company? You can start somewhere even with a sum of N500 000.
Though it may require millions to set up a printing and publishing business due to the high costs of buying and installing the giant printing, cutting, binding, and laminating machines, you may do other necessary things such as registering as a company, renting a building suitable for printing and publishing, and others while you may continue using the giant machines installed by other publishing firms for a little time.