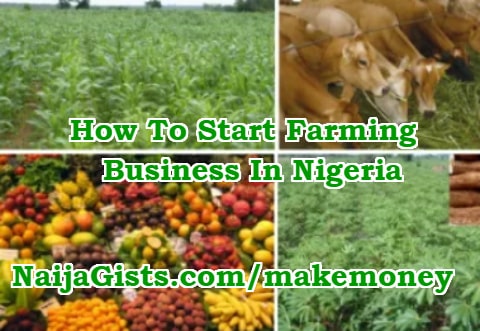 How To Start Farming Business In Nigeria: Guide To Investing In Agriculture In Nigeria
Due to the recent economic recession in Nigeria, and as part of the effort of the Nigerian government to diversify the economy, business attention has been shifted from the oil sector to other sectors of the economy in which the agricultural sector has been focused upon the most. The government has tried all effort to ensure that people are empowered to invest much more into agriculture by giving grants, loans, as well as introducing a lot of programs to make people go back to the farm.
Starting a farming business has now become the passion of so many people in Nigeria and I will show you, in this article, how you can venture into the various entrepreneurial agricultural ventures in Nigeria as well as the practical steps you must follow to set up a farming business successfully in Nigeria.
The following are the practical steps to follow while planning to launch a farming business in Nigeria:
Figure out the farming challenge
Identify the major key for success which is understanding your farming entrepreneurial business
Get ready the start-up capital
Set up the business officially
Figure Out a Farming Challenge
The pioneer step in starting a farming business in Nigeria is trying to figure out the major problems or challenges other people have been facing so far and finding a lasting solution to the problems. I personally interacted with a lot of farmers ever before I started my own farming business and was able to figure out where most farmers are facing certain challenges in farming.
The major problem I figured out was the insufficient production of agricultural products to meet the basic and manufacturing needs.
Farmers could not produce enough agricultural products to meet the final consumer's demand due to the fact that they couldn't scale their businesses properly. This was as a result of the fact that they couldn't manage their funds efficiently and most farmers couldn't differentiate revenues from yields. Eventually, they couldn't meet the consumer's needs.
On the other hand, there are manufacturing companies that require some agricultural raw materials to produce such as agro-allied industries which deal in the production of certain chemicals that are used by farmers and by other categories of business entrepreneurs. Unfortunately, farmers couldn't meet their needs too in making those raw materials available on time.
Aside from the companies that produce farm products and chemicals, we also have the other industries that require some agricultural produce for making other products such as manufacturers of Ankara. They too needed products like Kolanut and other similar products to manufacture Ankara while some may need bananas to produce Yoghurt and similar items.
Thus, I was able to figure out all these challenges faced by farmers and tried to make a difference by establishing a forum that focuses on sensitizing the generality of farmers on how they can manage funds efficiently while investing into agriculture as well as differentiate revenues from yields.
Identify the Major Key to Becoming Successful which is Understanding Your Farming Entrepreneurial Business
Once you've figured out where the major challenges are in farming and have got a lasting solution to them, the next step is to understand your farming entrepreneurial business which is the major key for becoming a successful farmer.
The two major areas you need to work upon are:
Obtaining proper agricultural education by reading eBooks: There are a series of free eBooks all over the internet through which you can get properly educated before you start your farming entrepreneurial business at all. Getting the proper education will reflect in all of your steps and will impact positively on your success.
Consulting authorities in the field: There are a lot of experts in Nigeria and, of course, in your locality that you can consult on any area of the enterprise you're willing to venture into. They will encourage and sensitize you properly and you'll be fully equipped to start successfully.
For instance, a friend of mine launched a poultry business in 2009 and invested a sum of #750,000 in this business. He made a lot of gains from the sale of eggs as well as from the sale of chickens at festive seasons.
Two years later, he decided to re-invest the sales proceeds to re-fill the cage again all because of the impression and success he got initially. Unfortunately, over 75% of the live chickens died of a strange disease attack and he made a horrific loss in the end. This happened to him only because he didn't seek proper education about the business before he ventured into it.
Get Ready the Start-Up Capital
Once the major key to success is identified, the next step is to raise the capital needed for the start-up. The aspect of raising capital has been the major challenge for most people who have wanted to start the farming business a long time ago.
No one really started big or, simply, as he wanted but you have to understand the fact that taking actions by starting somewhere is all you need to ensure the business starts. Taking a bold step or being an action taker will lead you to start whether you are able to get enough capital or not.
However, there are various ways in which you can raise capital in Nigeria. Some of these ways are:
Obtain credit facilities: You can obtain credit facilities from the microfinance banks around you. We also have the Bank of Agriculture (BOA), a bank established purposely to strengthen people's desire to venture into the farming business and to give credit facilities to those who need it.
Raise the capital from personal savings: If you've been able to save some amounts of money for the business, you can use that as your start-up capital, though this may not be as enough as you want, it will guarantee that you can start somewhere.
Obtain a cooperative society loan: If you've belonged to a cooperative society in your locality or at the workplace, you may take advantage of this and apply for a loan with the purpose of using it for farming.
Set Up the Business Officially
To set up your farming business officially, you may need to visit the Ministry of Agriculture for the start-up requirements and to get other useful details about starting up a farming business in Nigeria.
Unless you decide to take actions, you may not be able to set up the business on time. If you're really convinced to venture into this business, then follow the steps explained above and set up your business officially taking a very bold step.
The top farmers today became successful because they started somewhere. You can become a top 10 farmer in your state soon if you believe in the beauty of your dreams.