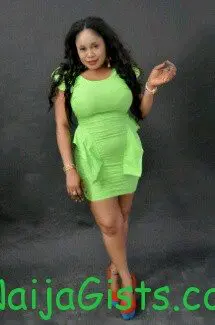 Updated February 2016 – Sikiratu Sindodo – Tayo Odueke Biography,  Latest News , Profile, Movies & Life History

Tayo Odueke, the popular Yoruba actress from south west Nigeria is known for her controversial lifestyle on and off the movie industry. Her biography reveals that she was on the 21st of February 1976 in Ijebu ode, Ogun state- South western part of Nigeria. The light skin busty Yoruba actress has featured in over 50 movies and remains one of the most sought-after actresses in Yoruba-Nollywood because of her abilities to switch in-between different roles with ease and professionalism.
Sikiratu Sindodo's marital status?
Is Sikiratu Sindodo married? This is the question on the mouth of her teeming fans. She has been romantically linked with several men in and outside of the chores of Nigeria at different points in time and Sikiratu Sindodo wedding date announcements has always been in the news ; the most controversial of her relationships was her romance with a popular leader of Lagos state Road transport workers who has gained so much fame and wealth from the lucrative transport trade.
Tayo Odueke married the popular "street urchin" a couple of years back , and as a matter of fact, she was said to have lost a 6 month old pregnancy for him- a situation that put a strained to her relationship with MC Oluomo.
Sikiratu has also been linked with a Nigerian born Chicago based show promoter and owner of TOLAD Promotions- this show promoter was reported to be responsible for the return of Sikiratu to the movie business after a protracted illness that nearly took her life in 2011.
Tayo Odueke Movies
The Sikiratu Sindodo Husband saga seems not to bother this intelligent Yoruba actress as she continued to make exploits in the movie industry. Her most recent movie flick is believed to be her major work since recovering from a major illness which set her career back in 2011. The new movie is still in the making and it is set to be released in the last quarter of 2011 or the first quarter of 2012, the movie features popular top Yoruba actors and actresses such as ; Eniola Badmus, Aremu Afolayan , and Dayo Amusa.
Sikiratu Sindodo News- the many controversies of Tayo Odueke
Sikiratu Sindodo has been a Nollywood celebrity of a sort but she seems to be more popular off the movie industry than in the industry. The tayo odueke husband saga is not only controversial thing about her, It was rumoured that sikiratu's fair complexion resulted from her penchant for bleaching creams- she denied using bleaching creams though and has also absolved herself from several other controversial allegations levied against her.
The most devastating Sikiratu Sindodo news was reported in the media earlier in 2011 when the actress was announced to be suffering from a terminal illness which made her bed-ridden for almost 12 months. Just before she was reported to have fallen ill, sikiratu was arrested for killing a 16-month old male in Lagos under mysterious circumstances.
These two events shook the Yoruba Nollywood industry as many of the actress' associates believed that the sad fate that has befallen Sikiratu Sindodo might not be unconnected with her controversial lifestyles that has made her stepped on many toes.