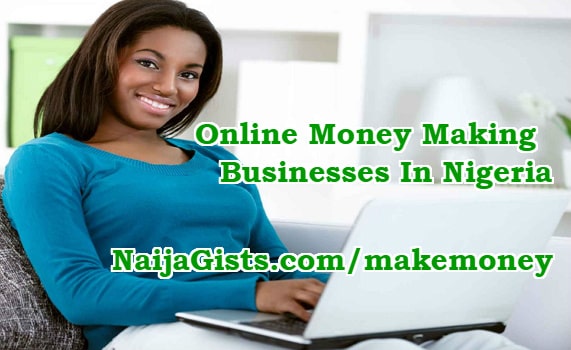 Free Ways To Make Money Fast Online In Nigeria
The Internet is basically the game changer in the world today with lots of money making businesses available online which requires no money or basic skills to start up.
Making money online from the comfort of your home is like a breath of fresh air. It is what everyone practically wants.
In Nigeria, unemployment is like a heart wrenching villain crippling the minds of people and as such this online businesses is like a ray of sunshine in a really dark time.
People are making a whole lot of money from online businesses nowadays that it has become more of a basic trend.
Starting a business online requires nothing out of the ordinary, all you need is a computer or your mobile device and a good Internet connection which is not difficult to come by and viola! you are a step closer to becoming financially comfortable.
The days when difficulty was the keyword to doing things is long gone and now making money is like taking a walk in the park.
Entrepreneurship in essence just got a whole lot better with this online businesses on display.
The Internet has become a global market where varieties of business opportunities are on display and you are at liberty to choose the one best suitable for you.
You don't need to fret anymore thinking on how to earn money because basically the answer is standing right in front of you trying to gain your attention.
Availability of money to the populace is one of the major problem in Nigeria and as such people want businesses they can do that requires no money.
In this article, i will take you on a short trip to know the online businesses you can start with no money.
Hop in and let me take you on an informative ride where you will have every little bit of fun in which i know you will.
Hold on tight because it is going to be a bumpy ride.
In all seriousness, here are the businesses you can start online without money.
Online Businesses To Start With No Money In Nigeria
1.Freelance Writing
This shouldn't be anything strange because there are lots of freelance writers offering their services online and getting paid without having to pay a dime.
Freelance writing is what is in vogue now but that doesn't mean that it has not be around for sometime. It just got pushed a little bit into the spotlight.
You can start writing for blogs or other websites and get paid for each content you write.
The great thing about this online business is that you don't need to be a professional writer before you can earn money.
It is favorable to everyone that has an idea about writing but not on a professional level.
2.Blogging
This is another online business that requires no money but your passion and dedication and you can earn from it.
You can start up a blog for free with platforms like blogger, wordpress, tumblr, etc
Blogging about topics that interests you and putting that creative topping to it will not only give you an online presence but be as a source of income for you.
You can earn money from blogging through ads, sponsored content or product sales.
Free Ways To Make Money Online In Nigeria In 2019
3.Affiliate Marketing
To be an affiliate marketer doesn't require money to startup.
It is more like earning commission for promoting other people's or company's products and services on your blog, website or social media platform.
Promoting other people's products or services earns you a commission once sales is made.
And the great side to this online business is that you get to partner with big companies in the world which in return guarantees more earnings.
4.Web Design
The world is a competitive place and businesses, individuals, companies, schools, medical institutions are trying to dominate and not be left out of the race.
This is the Internet age and companies are going global by putting their mark on the Internet.
And for them to gain that online presence, they need a website which in return requires the services of a web designer to generate that interface that would boldly spell their name.
This is where you come in, if you have a programming knowledge and an artistic talent and you are thinking on how to start up, there are lot of opportunities on the Internet just waiting for you to explore.
Just look for your target audience and you would be earning big in no time.
Being able to set up a blog, website or forum from the scratch and turn it to a big thing online for companies, individuals or other sectors looking to be online doesn't require money to start up.
And if you have no knowledge in this aspect, don't look so gloomy because if you can get your way around the web design software then you are game.
5.Graphic Design
The world of graphic designing can never go stale because graphic designers are very much needed online.
There are many companies looking for graphic designers to rebrand their products /contents for advertising and if you have a skill in graphic designing then what are you still waiting for?
You don't need to give the world before you can earn from this online business.
Serving a particular target audience with your specialized skills can have you earning in no time.
If you have no skills whatsoever in graphic designing and you are thinking this is definitely not for you, then you are wrong because even with little or no skills you can still venture in to graphic designing.
Thanks to apps like canva and adobe stock, you can gain a thing or two from creating your own designs and you can use that knowledge even if it is not professional to still earn money.
6.Ebook Publication
You can make money from information marketing.
Business people and consumers sort for information in lucid form and with your writing skills put to good use, you can earn money.
Writing about interesting content that would keep a reader hooked till the end will pave a way for you earn money.
Now it isn't difficult to get your book published and have it sold because there are free online platforms that helps in the publication and sales of your ebook over an agreed quota to be given to them for every sales made.
7.E-commerce
This is the buying and selling of goods on the Internet.
How does it work? All you need is an online store which you can easily get from platforms like Amazon, eBay, etsy, etc at no cost.
But in Nigeria, we have swapix and jiji.ng
Uploading images of products you would like to sell in your store with the price attached to it and once sales is made you would receive your pay.
It is a two way system, either you are solely responsible for the shipping in which all the money goes to you or the platform helps in sales and shipping in which you are to pay a certain amount of commission which is kind of cool.
In other words, venturing into this online of business is not a bad idea because it certainly pays without any stress whatsoever.
8.Selling Photos Online
Photography is a lucrative form of making money nowadays. Long gone are those days when photography didn't spark interest in the minds of people as it does now.
If you are a professional photographer or you love taking good pictures then you can sell your photos online.
Apps like dreamstime, snapwire, foap, 500px, etc have created that platform for you to sell your photos.
This is a wonderful online business you should try.
9.Vlogging On YouTube
Should i say that this is the most popular way of earning money now in Nigeria with lots of people creating videos for viewers pleasure.
People like watching videos especially informative and educative videos that includes DIY (do it yourself) and monetary value for these videos comes from ads and the number of views each videos has being able to amass.
You are not aiming for a viral video but one that can attract views which in return will open doors for your earning.
Young people presently are making huge money from videos they post which is able to attract more views depending on the content and quality of such videos and they don't have to pay through their teeth to earn immensely from this online business.
10.App Development
Are you an app developer then this is your field. There are many online businesses that have the app version of their website.
The owner of these online business are looking for people to develop the app version for their website and this is where you come in to offer your services.
They can pay you handsomely for your service.
With the few online businesses aforementioned, you don't have any excuse to remain idle.
Just pick anyone that is best suitable for you and start earning that money.
Unemployment can no longer be a barrier to you as such wonderful online business opportunities are swimming on the Internet waiting to be caught.