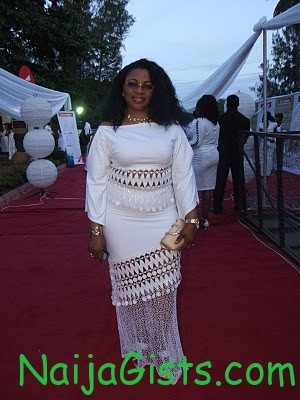 Updated in December 2012 – Nigerian Oil Billionaire Folorunsho Alakija Biography, Profile & Life History
This biography of Folorunsho Alakija is brought to you by NaijaGists.com
Nigerian oil Billionaire Folorunsho Alakija was born on the 15th of July year 1951 in Lagos Nigeria according to her profile.
She travelled to London in the 80's to study fashion design before returning to Nigeria to start her own fashion design business.
Her then business called Supreme Stitches caters to fashion needs of wealthy Nigerians and military wives which include socialites.
Her business that started in a 3-bedroom flat in Surulere area of Lagos, Nigeria won her an award in 1986 as the best fashion designer.
Folorunsho Alakija was born into a polygamous family of 52 children.
Her father had 8 wives. Her mother was the first wife and she is the 2nd born of her father.
Folorunsho Alakija and her sister Doyle were sent abroad by their wealthy father at age 7 to study in Wales.
After 4 years of study at the private school in Northern Wales, she returned to Nigeria with her sister at the request of their parents.
Alakija returned to Nigeria at the age of 11. Her parents didn't want her and her sister to lose their African culture, values and tradition.
She got married in 1976 to her loving husband, Modupe Alakija and the couple have four handsome boys together.
All of her children studied abroad before returning to Nigeria.
How Folorunsho Alakija Started Her Famfa Oil Business
On her involvement in the oil and gas industry, she explained that through a friend she met while was still actively involved in the world of fashion, they got involved in the business of oil.
There was an oil bloc no one wanted at that time for several reasons, it was this same oil bloc they got allocated. They were approached in late 1996 by the then oil giant Texaco who were sure the bloc had potentials as they had done their home work well, and after negotiations that spanned 3 months we all agreed on terms and the rest like they say is history.
Later Texaco became Chevron and we struck oil in commercial quantity and we were told the oil had been collecting in that field for 17 million years. We consider ourselves lucky that we were allocated that particular oil field. That's the early history of FAMFA OIL.
Folorunsho Alakija, Owner Of Rose Of Sharon Non-Profit Foundation
On philanthropy- She became a more religious person at the age of 40 & from then on found passion in caring for the under-privileged. And this passion led to her establishing a foundation-Rose of Sharon Foundation. The foundation's main focus is in helping widows, orphans and their families any which way possible, she believes there is a particular stigma widows face that affects them adversely, so her idea is to be a stop gap for these marginalised set, who by African culture and tradition lose out immediately after the death of their husbands.
So her idea is to help provide a platform that aids by helping with interest free loans to at-least start a business or continue with one. A most welcomed development we think, if a few more of our well to do (rich, wealthy) would endeavour to stand in the gap and help the less privileged then the world would be a much better place to live in. Her foundation also hopes to do more, by building schools or vocational centres.
FOLORUNSHO ALAKIJA is indeed The Nigerian. Most of us know her and most of us don't. But Folorunsho Alakija started from a very humble beginning, as a mere local bank secretary/typist to becoming a multi-billionaire today.
As you will get to find out later, from her personal acknowledgment, she had her finger in many pie, had a short stint in many careers, distinguished herself in all, eventually made it to a billionaire and today a philanthropist . She is this week's, The Nigerian- A good role model to all , a Nigerian, both Nigerian women and men should borrow a leaf from and aspire to be like, as against few corrupt, Nigerian bad eggs we have in our society today, who pull us down and tarnish our image.
She is the delight-some lady behind such brands like Supreme Stitches, Rose of Sharon and Executive Director at FAMFA Oil, an indigenous Nigerian oil and gas exploration and production company, which is owned by her family. She was recently interviewed by the crew of African Voices at her apartment located at Knightsbridge in the UK.
The eponymously named Knightsbridge is the district where some of the super-duper rich of London resides, it comprises of the south of Hyde Park, the east of South Kensington and West of Sloane Street. It is known to be an ultra-expensive residential area.
We loved that gorgeously black grand piano that was showing behind her as the revealing interview was going on. Always stylish and on point, the gorgeous Philanthropist, former award winning designer of note and now oil magnate revealed her background, highlighting her growing up years, her educational background, her foray into the business of oil and the journey prior to hitting oil in commercial quantity. As an introduction, the producers of the show African voices described-Mrs. Folorunsho Alakija as a Nigerian Billionaire.
Hear her- "I am a proud Nigerian". On how she started- I started as a secretary, a career path chosen for me by my dad. I was the personal secretary to a bank MD. The first corporate affairs person, at the now defunct IMB. She later moved on from the corporate affairs department to the treasury department of the same company, it was from here she later moved on to set up her own business.
Talking about why she took up fashion and her fashion sense, she credits that to her family. Her mom used to be a fabric merchant and she used to help out, and through that she learnt a lot. After leaving the corporate world in the early 80's (1984), she left to go the UK to study fashion designing. She came back to Nigeria in 1985 a year after her training and started her fashion house-Supreme Stitches at a 3-Bedroom apartment in Surulere, Lagos and a year after establishing the company, she emerged as the best Designer in the country in 1986.
Folorunsho Alakija's achievements till date and her philosophy on life and hopes for the future are all in a book- The hand that gives a rose which would be launched soon.
What a smart woman!