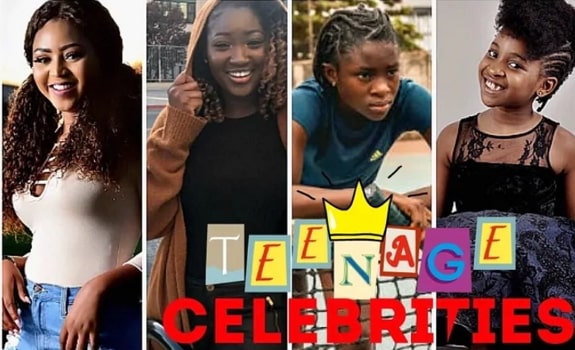 Popular Nigerian Teenage Celebrities, Actors & Actresses And Their Impressive Life Stories
The road to stardom and fame can be difficult, tough and scathing. Most often start in their mid years and work their way to the top. Some are however lucky enough to start from a tender age to becoming a household name while still very young.
In Nigeria, especially in the entertainment industry, there are quite a lot of such people – teenagers who have managed to carve a niche for themselves in their respective industries.
Looking at them and how effortless they go about their lives, it seems so easy and a walkover to them. The truth is, being a teenage celebrity is even tougher than being an adult celebrity. The early exposures, constant intrusion from the public and social media and of curse lack of privacy can have a harmful effect on these youngsters.
Some end up making very tough decisions and even have to grow up way faster than their ages. We however love them for their strength of character and the ingenuity they bring in their delivery.
Below is a list of selected teenage celebrities from all walks of life:
Regina Daniels: It is no surprise that she tops the list of our teenage celebrities. She is the highest paid teen actress in Nollywood, earning a whooping #500,000 per movie. She was born on October 16, 2000 to a family of five. She started acting at the tender age of 7 thanks to her mother, Rita Daniels the chairwoman of Actors' Guild of Nigeria, Delta State chapter.
Not willing to jettison her education, she is currently a Mass Communication student at the Igbinedion University, Okada, Edo state. She has starred in several movies where she plays leading roles.
Amarachi Uyanne: This petite lady won a TV talent show contest and since then, she has continued to climb even higher. She is one of Nigeria's most famous dancers. She plays the violin too and even incorporates dances in her violin plays. She is also Nigeria's youngest millionaire.
In 2013, she recorded a single titled "Amarachi Dance" where she featured foremost Igbo rapper, Phyno.
Merairah Ekeinde: Her name says it all. This teenager is the second daughter of screen goddess, Omotola Jalade Ekeinde. She was born on the 7th of February, 2000. She is an aspiring model and fashion designer. To make her  dreamscome true, she is studying at a Fashion  Institute in California. Her favourite colours are blue and white and she can be sewing wearing them as she shares fashion tips on her Instagram page to motivate other teens.
Aside from modelling and her dream of being a fashion designer, her culinary skills are exceptional and this why she made a brand ambassador for Knorr in 2015 alongside her mother.
She has a lot of works and designs she is yet to showcase and we cannot wait to wear her artistry.
Michelle Gentry: This teenager is the daughter of  popular Yoruba movie star, Mercy Aigbe. She is a model and fashionista who recently launched her lip gloss line and which received massive appraisal. And she is just 17!.
The teen is working hard towards being an international model and making a name for herself because according to her, she does not want to be absorbed in her mother's own fame and live in her shadow. We wish her all the best for her resilience.
Marylove Edwards: This slim lady can be summed up as  the best thing that happened to tennis in Nigeria yet. Born in 2005, she started playing at the tender age of four thanks to the coaching she receives from her father, Eddie Edwards who is also a tennis player and doubles as her coach  and personal trainer.
She won the US trophy and was reported by NAN as the first junior to make it to the finals of the CBN Women's Seniors. She has also made history as the youngest player on the Nigerian Tennis Federation (Snr) where she ranks #4 knocking off top and long standing players to clinch the position
We believe we have not seen the last of this prodigy. Who knows, this may be our very own Serena Williams.
Fewa Otedola: He is the only son and last child of business tycoon and Forte Oil owner, Femi Otedola. Although he was diagonised with autism, it has not stopped the youth from leading his normal life. According to his immediate elder Temi, with whom he is very close with, she says he is learning to become more independent and this is strengthening their relationship.
The 16 year old is very artistic and lives music and arts. Needless to say why he made the list. Plus, his father's enormous wealth, we can safely say the kid is probably the richest teenager in Nigeria.
Mj Ekeinde Aka Captain E:  This name surely rings a bell, what is more his sister already made this list and we present you another Omotola kid who is not letting age get in the way of his dreams. Popularly known as Captain E, he is a music producer and has produced over sixty (60) beats with about eight artistes.
The youngster who recently graduated from secondary school says he would love to go Aviation School when he is 18 to become an airline pilot like his father. Till then, he promises to keep his hustle real and continue to work hard towards achieving his dream.