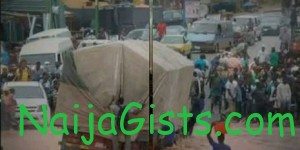 Oct 28, 2012 – NaijaGists.com Latest Nigerian News Update
Thanks for visiting NaijaGists.com. For the latest news update on events and current happenings in Nigeria, please visit our home page at Naijagists.com.
Do not forget to follow us on Facebook @ https://facebook.com/naijagists and via twitter @ https://www.twitter.com/naijagists
For our Youtube channel visit https://youtube.com/naijapalava
This week alone, a lot of things have happened in Nigeria and it will only take God to restore things back to order in our dear country.
Can you imagine in the early morning hours of Sunday Oct 28, 2012, a suicide bomber attacked St Rita Catholic church in Kaduna killing 20 people.
Let's remember this nation in our prayers.
With God on our side we shall overcome all obstacles.
Don't forget to visit NaijaGists.com for latest news update