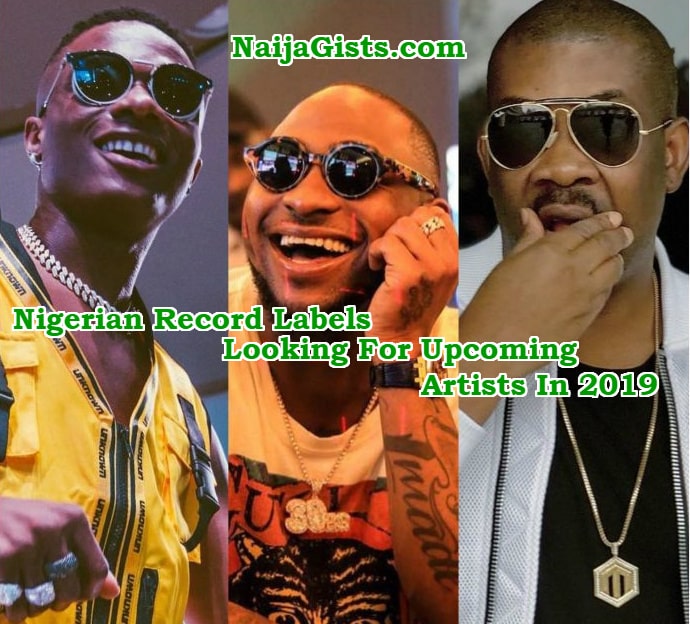 List Of Nigerian Record Labels Looking For Upcoming Artists, Musicians To Sign 2018-2019: How Much They Pay Artistes in Nigeria
The Nigerian music industry has, no doubt, witnessed significant upturn in fortune over the past half a decade or thereabouts. Today, the Nigerian music scene is awashed with numerous record labels seeking to tap from the good fortunes of the industry. Some of these record labels have been successful in their quest, while others have not been so successful. The key to the success of these record labels lies in their ability to attract talents from every nook and cranny of the country and beyond. Hence, most (if not all) of these record labels are always looking for emerging and established music talents. In this article, we are going to be looking at the list of Nigerian record labels who are looking for upcoming artistes to sign and how much they pay the artistes under them.
List of Nigerian Record Labels Looking for Upcoming Artists to Sign
Founder: Olamide
YBNL Nation tops our chart and rightly so. Founded many years ago in 2012, the record label has grown in  prominence, to the very top of the Nigerian music arena. The founder, Olamide Badoo, is a product of Coded Tunes; a record label which, at that time, was being pioneered by ID Cabasa. In 2012, Olamide took the bold step and set up his own record label. Six years down the line, his label has become the hub of talent discovery in Nigeria. The likes of Lil Kesh, Adekunle Gold, Chinko Ekun, Victor and others will always relish the day they met Olamide.
YBNL Nation is always on the look out for upcoming artistes, especially street-wise indigenous rappers. Hence, if you are one and you believe in yourself, contact YBNL Nation's management team by sending an MP3 file of your song to info@praisemama.com.
Mavins Records
Founder: Don Jazzy
Don Jazzy is arguably the biggest talent developer in  Nigeria music industry today. Countless top names in the Nigerian music arena rose to prominence under him. Some of these artistes include D'Banj, Wande Coal, Dr.Sid, Tiwa Savage, Reekado Banks and many more. Today, Don Jazzy's Mavins group has one of the youngest set of music talents in Nigeria and the label is always looking to add to its ranks.
To join the likes of Dija, Reekado Banks, Korede Bello, Tiwa Savage, Poe, Dr.Sid and others, simply send a mail (with a flash or CD containing a sample of your song) via the post office to Mavins head office in Lekki Phase One, Lagos Island.
Also, you can try the unconventional way by sending a DM (on Twitter or Instagram) to Mavins founder, Don Jazzy. This method, as reported, actually worked for Reekado Banks and he's one of the top rated artistes in Nigeria today. You may be next!
DMW – Davido Music Worldwide
Founder: Davido
 Davido is obviously one of the few Nigerian artistes renown for discovering and developing music talents in Nigeria. Currently, DMW has the likes of Mayorkun, Dremo, Ichaba, Peruzzi, Idowest and others under its sponsorship. The Davido-led music group is probably one of the best to join as an upcoming artiste.
DMW, just like other record labels, does not advertise vacancies for artistes. Hence, if you are passionate about joining DMW's group of talents, you will have to get the attention of Davido. Getting in touch with the DMW boss is not a herculean task, as he's very active on Social Media, basically on Instagram and Twitter. So you can try your luck.
Empire Mates Entertainment
Founder: Banky W
Empire Mates Entertainment (E.M.E) is the ingenious creation of popular Nigerian music artiste, Banky W, whose real name is Bankole Wellington. The group is unarguably one of the most prominent record labels in Nigeria today. Under the leadership of Banky W, the music group has discovered and groomed many top music artistes. Prime among these artistes is Wizkid, who is arguably the biggest music star in Nigeria today. Others include Niyola, Shaydee and DJ Xclusive.
E.M.E is one of the best platforms in Nigeria for an upcoming artiste to launch his/her career. Interestingly, they are always looking for talented upcoming artistes to add to their ranks. If you are one and you have confidence in your music, send a mail or you can deliver a sample of your song in person, at E.M.E's management office in Omole Estate, Ojodu in Lagos.
Starboy Music
Founder: Wizkid
 After Wizkid's separation from E.M.E, he decided to go solo and set up his own record label, which he named Starboy. The label has served as a launching platform for few Nigerian artistes. The most prominent artistes under Starboy record are LAX and London-based producer, Maleek Berry.
While Wizkid is always out of the country, he has a team on ground whose primary responsibility is to source for musical talents. If you an aspiring musician, you can try your luck by taking a sample of your song to Starboy's Lagos office in Lekki.
Capital Hills Music
Founder: Clarence Peters
Capital Hills is a creation of renowned Nigerian music video director. The label has produced popular Nigerian music stars like Illbliss (Oga Boss), Chidinma, The Suspect and a few others.
If you are interested in joining this record label, you can try your luck by reaching out to Illbliss or Clarence Peters on Social Media. To improve your chances, however, you can take a sample of your song to their office in Omole-Ojodu in Lagos.
Chocolate City Music
Founder: Audi Maikori
 Chocolate City is arguably one of the most prominent record labels in the country. It is known as the "home of rap" in Nigeria. While Audu Maikori is the original owner of the group, the label is now under the leadership of M.I Abaga, who was the first top artiste signed by Audu Maikori.
Chocolate City has produced many top Nigerian music stars, including the likes of M.I Abaga, Jesse Jagz, Ice Prince Zamani, Brymo, Victoria Kimani Dice Ailes and more. Currently, M.I's vision for the music label is to develop the best generation of Nigerian artistes. To join the record label, you can try your luck by sending a DM to M.I Abaga on Twitter or Instagram.
To improve your chances, take a sample of your song (MP3 file) to Chocolate City Records' Lagos office in Lekki Phase One.
Triple-M G – Made Men Music Group
Founder: Ubi Franklin
Made Men Music group made a name for itself some years back; with the emergence of Iyanya and later Tekno. Overall, the record label has produced artistes like Tekno, Iyanya, Emma Nyra, Selebobo (producer) and more.
Ubi Franklin, the record label's CEO is always looking for new, talented artistes, as most of his music stars have left the platform. If you have confidence in your music, simply send a sample of your song via email to ubifranklintriplemg@yahoo.co.uk
Aquila Records
Founder: Shina Peller
Aquila records is a subsidiary group of Quilox club, which is owned by Shina Peller. Although, the group is not one of the most prominent in the country, it is a good stepping stone for upcoming artists. The founder, Shina Peller, is a renowned show promoter; hence, his platform provides a durable avenue for upcoming artistes to launch their career.
If you are interested in joining this group and you have what it takes, simply try your luck by reaching out to Shina Peller on Social Media or you can send a sample of your song to Shina Peller's office in V.I, Lagos.
DB Records
Founder: D'Banj
DB Records was created by D'Banj shortly after his separation from Mo'hits group. The label has signed a couple of young and upcoming Nigerian artistes over the past few years. DB Records is still growing and the platform is open to exceptionally talented young artistes.
To register your interest, send a sample of your song, via email to contact@dkingsmen.com
Other notable mentions are outlined below.
5 Star Music (founded by E-Money)
1960 Music (founded by Mark Redguard)
Storm 360 (founded by Obi Asika)
Tinny Entertainment
Trybe Records
Hypertek Records
G-Worldwide
How Much Do Nigerian Record Labels Pay Artists in Nigeria
 An average musician in Nigeria is head and shoulders above an average Nigerian citizen, financially. On average, a newly signed upcoming artiste is usually paid in the region of 3 million Naira to 20 million Naira, as signing fee by the record label. Most times, this deal often involves material gifts like cars and/or an apartment.
Most music contracts' details are usually classified; hence, it is practically impossible to know how much each deal is worth. However, there is usually a workable range for each record label. We have compiled for you how much some Nigerian record labels pay their new artistes.
YBNL Nigeria: 3 million Naira to 10 million Naira
Mavins Records: 5 million Naira to 20 million Naira
DMW: 5 million Naira to 15 million Naira
M.E Records: 4 million Naira to 10 million Naira
Starboy Records: 5 million Naira to 15 million Naira
Capital Hills: 3 million Naira to 10 million Naira
Chocolate City Records: 5 million Naira to 15 million Naira
Triple MG: 3 million to 10 million Naira
Aquila Records: undisclosed
DB Records: 5 million Naira to 15 million Naira