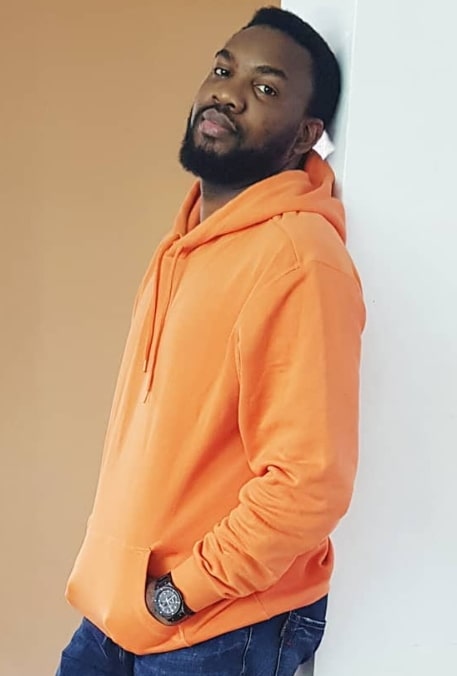 Meet Ibrahim Suleiman, Nollywood actress Linda Ejifor's Husband.
Nigerian Tinsel Actor Ibrahim Suleiman Biography Profile, Life History, Education Background
The graduate of Architecture of Ahmadu Bello University in Zaria Kaduna was born in 1983 in Kaduna.
After dancing professionally for 11 years, he decided to venture into acting where he met his wife Linda Ejiofor.
Here is the content of his recent interview with Pulse TV
I'm Ibrahim Suleiman. I was born in the '80s. I studied Architecture in Ahmadu Bello University, Zaria. I worked for a couple of years before deciding to go professional with dance. I've been dancing for 11 years. I'm a choreographer, writer and dancer. I'm also into graphics. I get bored easily so I find stuff to do hence the numerous talents.

Why didn't you just start dancing at once?

It's a long story. I started dancing at age 18 and I was already in the university. I never used to dance so you could say I was influenced by my friends who were quite interesting people

How did people take the news of you wanting to dance professionally?

The only person I had to talk with is my mother. I told her of my intention to try this out while I could as I wouldn't be able to take such a risk when I'm thirty. She believed in me and so far it's been great.

How has the experience been so far?

I'm not a man of regrets; I don't beat myself up if things go wrong, I just move on. I believe my steps are ordered by God ; nothing is by my own doing and so far, I'm blessed to have the opportunity to build a career in dancing. I went pro in 2008 and have done better than most people expected. I've been dancing for 11 years and for me its part of God's plan.

Did you have any form of professional training?

There was no official training as there isn't any established dance school for my style which is basically hip hop but a blend of different styles. I think that creating my own style is why I've grown so much in the industry.

What influenced you to move to dancing professionally?

I didn't want to wake up at age 35 and ask myself what if. I hate what ifs. I like adventure, experiencing new things and places. I was influenced by Michael Jackson's performance at the MTV 1995 awards. I watched it over and over and a lot of images were burned into my head but I didn't start dancing until my third year in the university. My friends started a dance crew 'Xhibit' and I had to fill in for one of them who had issues with the time for the rehearsals. When he couldn't make it two days to the performance, I filled in for him and it was a wonderful experience. Things sort of moved on from there and my dance crew, 'Soul Quest' went on to win the first Malta Guinness street dance National championship 2008. We are from a faith group YWAP (Youths With A Purpose). There was a bit of hesitation going in for the competition but we prayed about it and God saw us through.

Would you say that was the highest point of your dancing career; winning the Malta Guinness dance competition?

I wouldn't say so; everyone has gone off to do their different stuff. I believe there are still more things to come.

What are the challenges of being a Choreographer?

Respect for the art. Quite a number of dancers don't understand that what they have is a unique ability. The dancers do not respect their art so people do not take the art seriously. Another thing is that because it is not an established industry so people do not ascribe value to it financially. They feel like you are doing dancers a favor but the art is evolving, just as it has with music. That is because some people came together to make music an organized body. People are not looking at the future but at the now. The world is music crazy, every human has rhythm as so dance has a potential to blow up.

What is the best part of dancing?

Thought it is cool to have the crowd screaming and going wild after a performance, there are other parts to it, mainly being passing the message of my work. I perform because people expect a particular standard but when I minister with my dancing and people get the message of my work, then it is fulfilling for me.

How lucrative is it?

Well, there is a food chain as there is in everything. The most established chorographers like Wale of Spirit of David, Kaffy and others are on top of the food chain and then after them the rest of us come in; the freelancers, those with crews and those that don't get paid for dancing. So it depends on what part of the ladder you are in.

What are your plans for the future?

I plan to go back to architecture. I have people who I mentor and now I'm in a better position financially and mentally to start off my own firm. So in a couple of years, I plan to get back into architecture. I always loved architecture, the way one space led to another. It's not just about building; it's about creating an experience with building.