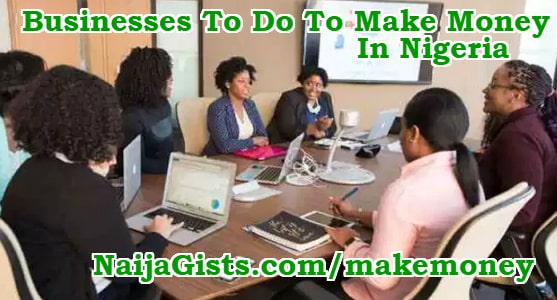 What Businesses Can I Do To Make Money In Nigeria: 6 Easy Ways To Make It In Nigeria (2019)
Are you ready to start making money in Nigeria? Do you really want to make the most out of the several money-making opportunities you have at your disposal in Nigeria? To be a money maker, you must be an action taker. This is the real truth about making money.
What Can I Do to Make Money in Nigeria
A major problem that prevents a lot of people from making cool and consistent money in Nigeria is that they look for free things around. Most people are not ready to invest with their hard-earned money in this country and they want to make money. It's surprising to see a lot of people remain ignorant of the fact that it takes money to make money.
Once you're ready to spend money to make money, you'll have the right mindset to become a legitimate money maker in Nigeria. In this article, we shall be looking at the various ways in which you can make cool money in Nigeria.
Quickest Ways To Make Money In Nigeria
The following are some of the things you can do to make cool money in Nigeria:
Become an internet entrepreneur
Learn blogging
Become a professional freelance writer in Nigeria
Write guest posts for many websites in Nigeria
Start an offline entrepreneurial business
Become a sales representative for giant book publishers in Nigeria
Write for the top five Nigerian publishers
Become an Internet Entrepreneur In Nigeria
When it comes to becoming financially-free in a lifetime, being an internet entrepreneur is the sure way. Much emphasis has to be made on this, particularly, because a lot of Nigerians don't really understand what it takes to be a successful internet entrepreneur.
Most Nigerians believe in the "Get rich quick" schemes alone and wouldn't ever want to painstakingly and persistently build up something that will earn them a lifetime income opportunity at all.
I introduced a Nigerian into a Canadian online business community recently and he happily joined and started working, but quit when he couldn't make a cent in his first two weeks. You should understand pretty well that building an internet brand takes some time, effort and little spending. But most Nigerians are not ready to build anything.
So, if you're not willing to build, you can't be a money maker. Money makers are builders. They work on their businesses persistently when convenient and when not convenient, whether they are making a penny or not. To make money as an internet entrepreneur in Nigeria, you must be persistent in what you're doing.
It may take you months and years doing what you know consistently and persistently before getting the awaited financial freedom.
Learn Blogging In Nigeria
Once you've got the right mindset to become a successful internet entrepreneur, the next line of action for you is to learn blogging.
Because WordPress is known as the favorite blogging/hosting platform in the sight of Google, Bing, Yahoo, and other major search engines, it's become the favorite blogging tool for more than 80% of bloggers worldwide. So, you'll be building a professional WordPress website for your business.
You'll be leveraging the WordPress content creation tool to write all of your content. This is the same tool that is being used by pro bloggers around the world. Google and other major search engines index your content quickly when it is created using this professional content creator.
There are a lot of technicalities to learn about blogging, but to ensure that you focus on what matters which is making money, you need to join an internet entrepreneurial business community whereby technicalities are already handled for you by default so that you concentrate on building out your blog for financial freedom.
Become a Professional Freelance Writer in Nigeria
Do you know that freelancing job opportunity is increasing daily in Nigeria? Currently, so many companies are hiring writers in Nigeria and this can be a good way for you to make cool and legitimate income doing what you love doing at the comfort of your home.
If you're interested in writing, why not commercialize this potential of yours. Once you have passion for the writing and can write in correct English, making proper use of English grammar, this is your job.
Some companies are paying per article while others will only share from their monthly revenue with you. Whichever you'd love to choose, complete a search on Google for freelance writing jobs or guest posting job opportunities and you'll get more than enough results to choose from.
Start an Offline Entrepreneurial Business
Aside from working online, you should also find an offline business to venture into pending the time you'll get your financial freedom. When you're just starting up with something in life, it usually comes with lots of challenges and trials, but with time, you'll win so far you believe in the beauty of your dreams.
Look for anything you're passionate about, be it tutoring, business center, or just any other promising business you may think about.
Become a Sales Representative for Giant Book Publishers in Nigeria
If you love distributing educational materials to schools, a job opportunity is awaiting you at many book publishers in Nigeria. They are always looking for sales representatives who will convey and distribute those materials to the schools far and near.
I've seen a sales representative in Nigeria that built a four-bedroom flat fenced all round distributing books for a giant book publisher, whereas, a lot of people don't focus on this too as a promising business in Nigeria.
It's required by some book publishing companies in Nigeria to leave a deposit first before the request to become a sales representative can be granted. Asking you to pay this deposit is to see whether you will be a responsible and trustworthy sales rep for their company.
Write for the Top 5 Nigerian Publishers
Are you a writer? Do you have passion for writing story books, poem, poetry and the likes? You have the numerous opportunities at your disposal to write for so many publishers. This is because these categories of publications sell like hotcakes in Nigeria.
Two giant book publishers among the top 5 are Evans Publishers Limited (EPL) and University Press Plc (UPP). Walk boldly into any of these companies and present a proposal to write for them. You'll be guided on what to do next and you may start the job sooner than you think.