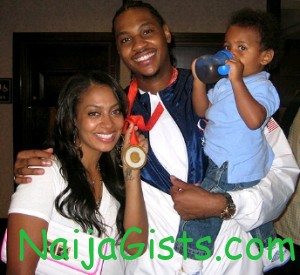 Jan 8, 2013 – LaLa Vasquez Divorces Husband Carmelo Anthony
According to a report from Sandra Rose blog, TV queen Lala Vasquez might be heading to divorce her NBA star husband, Carmelo Anthony.
Below is a detail report from celeb blogger Sandra:
Don't ask me how I know this but reality TV star La La Vazquez and her NY Knick husband, Carmelo Anthony, are headed for divorce court. Friends say La La has been living the life of a single woman after separating from Anthony last year. Insiders say La La is keeping herself busy by focusing all of her attention on her son, Kiyan, and filming the 3rd season of her reality TV show, La La's Full Court Life, which premieres in February. La La recently returned to her old stomping grounds in Atlanta, and tongues were wagging about a certain chick in La La's entourage who she couldn't take her eyes off.
Then La La jetted off to Miami, where she rang in the New Year at a luxury South Beach hotel without Melo, who partied in New York with friends. Insiders say La La and Melo are still courteous to each other, for the sake of their son.
And they still go out in public together to keep up appearances. But La La has reportedly moved on — with Melo's blessing!
In 2004, the celebrity couple had their engagement and they official tied the knot on the 10th of July year 2010, few years after their son, Kiyan Anthony was born.