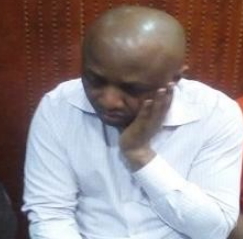 Kidnap Kingpin Evans The Kidnapper whose story made headlines all over Nigeria and some part of the world last year is still in detention.
The notorious kingpin who was among those who carried out the most fatal abductions in Lagos and all across the country was caught last year when Police used his girlfriend to get him.
Forward to today May 7 2018, Evans appeared at a High Court in Igbosere Lagos where he lamented that he is being maltreated by warders at Kirikiri Maximum security prison.
He also accused the police and the judiciary system of single handling his case and maltreating him.
Many were shocked today Monday the 7th of May 2018 when the kidnap kingpin refused to come down from the prison van aka Black Maria on arrival at the premise of an Igbosere High Court.
It was the Chief Magistrate that later ordered officials to take him down by force.
For security reasons, his trial continuation date was not mentioned in the media.
For now that is the latest about his story.
For timely update on Evans the kidnapper latest news, visit NaijaGists.com crime watch.