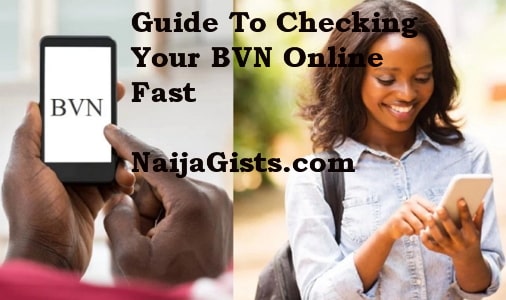 How To Check BVN Details Online Fast: Procedure For Checking Bank Verification Number
Do you want to check your BVN and you don't want to go through the stress of going to your bank? Follow this article with rapt attention, as we bring you the various procedures to easily and quickly check your BVN details online, from the convenience of your phone or laptop/desktop.
The BVN – Bank Verification Number project is one of the recent and most advanced security protocols in Nigeria, designed to secure bank accounts (and their owners) against identity theft and bank fraud. The underlying aim of the project is to ensure every bank account owner is traceable. The project was launched about four and half years ago by the CBN, in collaboration with all commercial banks in Nigeria, on 14th February, 2014.
A typical Bank Verification Number is an eleven-digit unique ID, and it is, as stressed by the CBN, a sensitive information that should not be shared or disclosed to a third-party. For personal consumption, however, you can easily check your BVN by following the steps outlined below.
BVN Online Portal & BVN Online Registration
To enroll for BVN, you need to visit a bank to register your details and have your biometric captured. However, you don't need to leave your house before you can check your BVN. There is an avenue for checking BVN via a generic short code (USSD) on mobile phones. This service is supported by all major network providers in Nigeria i.e. MTN, Globacom, Airtel and 9mobile.
To run this service:
Ensure you have up to 20 Naira airtime on your phone.
Type *565*0# and press send.
After a few seconds, you'll receive a pop-up prompt with your BVN
Note: This only works on BVN-registered phone numbers. As such, you can not access your BVN via someone else's phone.
Also, bank account holders can easily register an account on NIBSS (Nigerian Inter-Bank Settlement System). To register an account, follow the steps below:
You can also validate your BVN on NIBSS dedicated BVN portal. To validate your BVN on the portal, simply follow the steps outlined below:
Navigate to NIBSS BVN Online Portal.
In the first box provided, input your BVN.
In the second box, input your date of birth, in this order – Date-Month-Year.
Click "Search".
How to Check BVN Online First Bank
FBN – First Bank Nigeria is the largest bank in Nigeria, in terms of asset and spatial distribution. They have in excess of 700 branches across the country and beyond. Hence, they expectedly have one of the largest client-base in the Nigerian banking industry.
The fastest means of checking BVN on First Bank via the above outlined USSD method, which costs only a token of 20 Naira. Also, to validate your BVN, the safest method is via NIBSS portal. You can access more information from First Bank's dedicated BVN webpage.
How to Check BVN Online UBA
United Bank for Africa is one of A-class banks in Nigeria. As such, it has one of the largest customer-base in the industry. The bank has one of the most refined banking system and they also provide their customers with a convenient avenue for checking their BVN.
Aside the generic short code for checking BVN, UBA offers its customers a unique USSD code for linking their BVN to their bank accounts. To use this code, follow the steps below:
Dial the short code – *919*6# from your BVN-registered phone number.
A response will be sent to you almost immediately, confirming the authenticity of your BVN.
Upon confirmation, your BVN will be automatically linked to your UBA's account.
How to Check BVN on GTBank
Guarantee Trust Bank, conveniently called GTBank, is arguably one of the best financial institutions in the country. However, to quickly check your BVN on GTBank, you may have to go through the USSD route, which seems to be the easiest.
Nevertheless, you are provided with plethora of options for linking your BVN with other banks. Some of these optioms have been outlined below.
Via SMS:
Type in your BVN in the message box.
Type in "08076665555" in the recipient box.
Click on send.
Via Online Banking:
Note: This process requires internet connection
Navigate to GTBank's internet banking site.
Navigate to the left-hand corner of your screen and select the BVN Linker.
On the displayed page, click on New Request
Select Bank Verification Number from the drop-down options.
Select the bank (FBN, UBA, Access and so on) where your BVN was generated.
Follow the command prompt from there.
Via ATM:
Slot in your MasterCard (debit card) in the ATM
Click on the BVN menu on display
Input your BVN
Confirm & Submit your BVN
If all the procedures above look too cumbersome for you, you can easily visit your bank to check your BVN and link it to your account(s).
How to Check BVN Date of Birth
Date of birth is one of the main details required for BVN enrollment. For some reasons. people often want to check their registered date of birth, with the aim of changing it. You can do all these by going to the branch where you registered for your BVN.
In essence, checking of BVN date of birth can not be done remotely; it can only be done by visiting the branch where you registered it.
How to Enroll for BVN
While this article is aimed at enlightening us on the various means of checking BVN online, it is also important to point out how to enroll or register for BVN. Hence, if you are yet to enroll for your BVN, kindly do so as soon as possible.
To enroll for BVN in any Nigerian bank, follow the steps below:
Visit any commercial bank where you operate an account. Remember to go along with a valid means of identification (National ID card, Driver's License, Voters card, NIN slip, Passport and others).
Collect the BVN enrollment form and fill it on the spot.
After filling the form, your photograph and biometric data (fingerprints) will be captured.
Upon successful registration/enrollment. you will be issued a temporary slip.
After few days, you will be notified of successful enrollment and your Bank Verification Number will be sent directly to your phone via a text message.
Final Words
BVN enrollment is not just necessary, but also mandatory. Every bank account owners are required, by law, to have their biometric captured. Failure to comply with this would result in the immediate blockage of such account(s).
This article has provided solutions to facilitate the registration, validation and more significantly, retrieval of BVN when needed, at anytime.
If you have any question, please drop it in the comment box below.