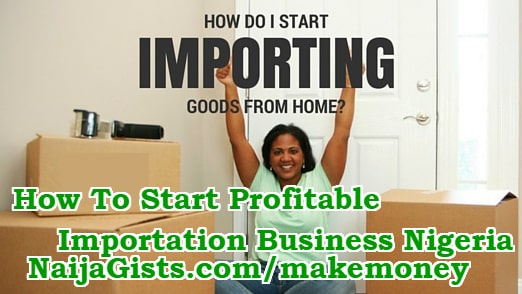 If you're planning to start importation business in Nigeria with as low as N6000-N10000, that is possible now that you can start importing certain items worth the capital range.
Though you can truly start importing things with as little amount as stated above, I wouldn't be restricting the post to the said capital range alone as you can actually invest much more than that to start the importation business.
Things you can import include shoes, cosmetics, bags, wrist watches, clothes, electronics, computers and computer accessories, phones and phone accessories, androids, tablets, laptops, and many other captivating items that Nigerians are willing to buy at reasonable amounts.
Here are the main steps to follow while preparing to start importation business in Nigeria:
Identify your favorite items and advertise it
Open a domiciliary account and activate internet banking on it
Browse the online stores and open trading accounts with them
Order items
Make payment for the items you want to order
Pick up your items.
Identify Your Favorite Items and advertise it
While planning to start importing items from overseas stores, you need to identify what you'll be selling here. You need to find out what items are selling faster and which are more profitable.
A good way to go about this is to conduct a market research into the various imported products that are highly demanding in the Nigerian markets. You must find out what most Nigerians are desperate to buy.
For instance, Nigerians love phones so much and can use everything they have in accounts to get phones. Examples of phones that sell most in Nigeria are Blackberry, Android phone, Tablet, iPad, and iPhones.
If you are importing phones to Nigeria, know that you are going to sell fast. To Nigerians, phones are essential than food.
Some people specialize in importing laptop and desktop computers to Nigeria and make substantial profits from that too. Though this requires much more capital than what you'll need for importing phones, you can graduate into this one once you've sold a lot of phones and have made so much profit already. The higher you go in this business, the more your profits.
Look into the market and wisely pick some items you believe will sell like hot cakes. This is the only way to become a successful importer right from the onset. Make sure you open a shop where those items will be sold.
Open a Domiciliary Account and Activate Internet banking on it
Aside from using the online payment gateways such as PayPal, Skrill, Payoneer, and others to order or shop online, the major way to pay online is via a foreign currency domiciliary account. So, if you haven't yet opened an account, quickly visit the bank and request for the domiciliary account opening form right away.
While filling the account opening form, make sure you tick the appropriate foreign currencies you're going to be paying with. You'll be given the options to choose from US dollars, UK pounds, Australian dollars, and many more.
Remember to get an attester/referee ready as this will be required to activate your account for you. In addition, the referee must have been a current account holder with the bank or with a third party bank for a certain period of time. You will also be required to pay in a deposit with the same currency you've chosen for the account.
Your referee will be called on phone by your bank for verification and attestation. Once the call is answered, your domiciliary account will become active within a period of 1-2 weeks only and you can start using it to make online payments.
Whenever you want to make payment online, you're going to be paying with your dollar MasterCard or Naira MasterCard if you opened an account with Guaranty Trust Bank Plc, First Bank Plc, Diamond Bank, or Zenith Bank Plc. You may also use cards issued by any other bank not mentioned above depending on their strengths for processing online payments.
Browse the Online Stores and Open an Account with them
These are the online shops where you'll be ordering your items from. We have stores like eBay, Amazon, BestBuy, NewEgg, and many more. All you need to do is to create an account with each of these stores. Once you've opened accounts, placing orders becomes easy. The only thing you need to do is to ensure you compare and contrast prices between stores and go for the best.
Since most of the products that are sold in these online stores are manufactured in China, you may decide to import directly from China to boost your profit potential.
An easy way to order from China is to visit platforms like Alibaba or Ali express and create an account just the way you did at those stores.
Order Items
This is the very stage at which you'll need to make specifications on what you're ordering. Once you've specified the items and have stated the quantity you want, the next step is to place orders and await your items. This may take up to a few days for items to go through shipping and for them to arrive at your destination.
If you order and the items delivered were not as you described, you may return such items immediately or ask for a refund depending on the dialogue between you and the supplier.
Make Payment for the Items You Want to Order
After placing orders, you'll be prompted to make payment. This is the stage after which your order will take off. The exact amount you'll see in the shopping carts is the very amount you're going to pay. No more! No less!
Sometimes, pictures of the items you ordered will be sent to you via email as they reach one destination or the other. So, you'll be so comfortable seeing that your items are on the way home.
Pick up Your Items
On arrival, you'll have options as to whether you should pick up in Lagos, or use the express courier delivery services like FEDEX and others through which the items get delivered at your doorsteps. This will save you the extra time you'll have spent, the extra cost you'll have incurred and the risk of traveling you'll have faced if you were to travel to pick up those items from your own destination.